Strong SUV and Pickup Sales Propel Automakers Into Fourth-Quarter Earnings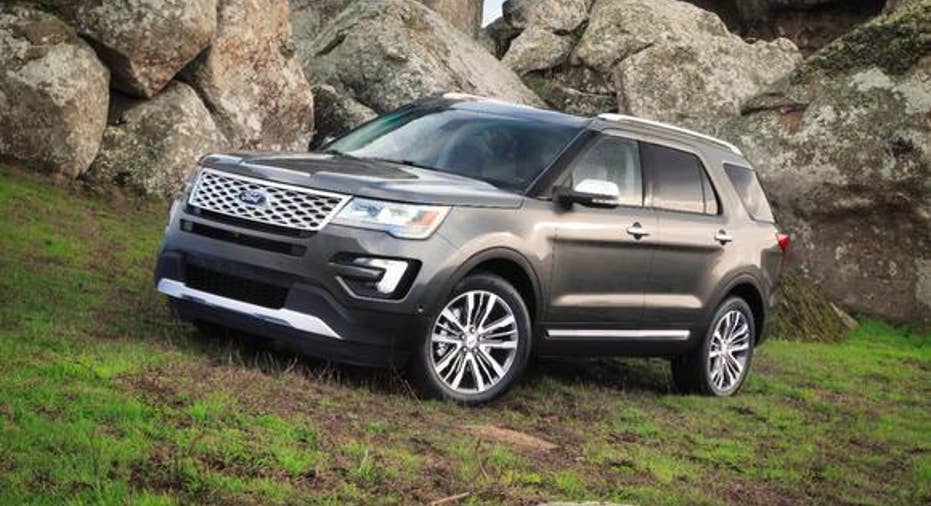 Just as many journalists and analysts throughout the automotive industry had predicted, the U.S. auto industry has officially set a sales record in 2015, with December results pushing the year's tally of vehicles sold to 17,470,659 -- just above the previous record's 17,402,486 units set in 2000, according to Automotive News.
As consumer confidence continues to climb with improving employment data, gasoline prices remain low as oil prices plunge, and cheap financing (especially during the holiday season) remains available, it's no surprise that sales of higher-priced pickup trucks, SUVs, and crossovers moved 19% higher last month. That's a boon for Detroit automakers. Here are some highlights for Ford Motor Company (NYSE: F), General Motors (NYSE: GM) and, yes, even Fiat Chrysler Automobiles (NYSE: FCAU).
Ford Motor Company The folks at the Blue Oval, Detroit's second-largest automaker, recorded the company's best U.S. December monthly sales results since 2005. Total sales for December checked in at 239,242 units, an 8.4% increase compared to last year's December.
The biggest story was without a doubt Ford's most profitable and popular product, the F-Series pickup truck. Sales of the F-Series soared 15% in December compared to last year, to more than 85,000 units -- a mark the F-Series hasn't surpassed in a decade. In fact, to emphasize how great a month for F-Series sales December was, during the past 72 months, sales of the F-Series have only surpassed 72,000 during two other individual months and never beyond 75,000.
Ford's 2016 Explorer Platinum. Image source: Ford Motor Company.
Also posting a strong December for Ford was the Escape, which sold nearly 28,000 units, a 9% gain over last year, for a record December as well as a record year. Ford's Edge also posted a significant 29% sales gain over last December, with more than 10,200 units sold, and the Explorer's sales rose 14% during the month for a total of 18,892 units.
Thanks to surging truck and SUV sales, Ford's average transaction prices rose $2,160 in December compared to the prior year, to a healthy $35,700 per unit. December was a strong end to a holiday season for the folks at the Blue Oval and should give investors reason to believe its fourth-quarter results will be strong.
General Motors Detroit's largest automaker delivered 290,230 vehicles last month, good enough for a 5.7% gain over last year's December. General Motors' success was driven by the same story as crosstown rival Ford: strong pickup and SUV sales.
While GM's best-selling pickup, the Silverado, managed to increase its sales in December by a healthy 8.9% compared to last year, its total of 62,992 units still trailed Ford's F-Series. However, when you combine sales of the Chevrolet Silverado with the 27,438 units sold of its sister truck, the GMC Sierra, GM managed to sell more full-size pickups than Ford's F-Series by roughly 5,000 units last month.
The new XT5 begins production in spring 2016. Image source: General Motors
Beyond GM's Chevrolet and GMC trucks, the Buick brand also quietly posted its best December retail sales month since 2005 and Cadillac recorded its best December sales performance since 2007. In fact, with Cadillac's sales increasing nearly 29% last month, it pushed the brand, which has treaded water all year long, to a meager gain of 2.6% for 2015.
Looking at average transaction prices, GM's were up $1,150 last month compared to the previous year, for a record-high $37,000 per unit. In addition to surging average transaction prices, GM continues to focus on reducing the number of sales to rental deliveries, which were down 11%, or roughly 50,000 units, for the full-year 2015. Those developments should spell good things for GM's profitability in the near term.
Fiat Chrysler Automobiles Wrapping up the Detroit automakers' highlights, despite having its headquarters outside of the U.S. these days, is FCA. In terms of total sales volume, last month FCA trailed its two crosstown rivals, with U.S. sales of 217,527 units, but led in terms of year-over-year gains, checking in 13% higher than last year's December. According to FCA, that makes last month its best December in 90 years and its 69thconsecutive month of year-over-year sales gains.
FCA's Ram Truck has work to do in 2016 to catch competition in sales. Image source: Fiat Chrysler Automobiles.
It's therefore no surprise that eight FCA vehicles set sales records in the U.S. during December. Furthermore, as the trend has been throughout 2015, FCA's success last month was powered by its popular Jeep brand, which posted another staggering month of sales gains -- up 42% compared to last year, for its best monthly U.S. sales ever and its 27thstraight month of year-over-year sales gains.
Despite multiple magazines and surveys showing the Jeep brand lagging competitors in quality, consumers continue to flock to the off-road-oriented brand. In fact, the Jeep brand has set a sales record every single month since November 2013,which is pretty mind-boggling. Jeep's Cherokee, Compass, and Renegade recorded their best monthly sales ever, and the Jeep Wrangler and Patriot put the stamp on their best December sales ever.
Outside of the Jeep brand, another critical part to FCA's success, the Ram pickup, had a strong month but still trailed the Silverado and F-Series. Sales of the Ram pickup fell 2% last month to 43,135 units but did manage to squeak out a 3% gain for the full year.
Ultimately, December was another strong month for the auto industry, and Detroit automakers are well poised to post strong fourth-quarter numbers on the back of soaring SUV and pickup sales. Fortunately for investors, the general consensus from the automakers is that this trend looks set to stick around during the near term.Enjoy the ride.
The article Strong SUV and Pickup Sales Propel Automakers Into Fourth-Quarter Earnings originally appeared on Fool.com.
Daniel Miller owns shares of Ford and General Motors. The Motley Fool recommends Ford and General Motors. Try any of our Foolish newsletter services free for 30 days. We Fools may not all hold the same opinions, but we all believe that considering a diverse range of insights makes us better investors. The Motley Fool has a disclosure policy.
Copyright 1995 - 2016 The Motley Fool, LLC. All rights reserved. The Motley Fool has a disclosure policy.