Strong German Sentiment Data Lift European Shares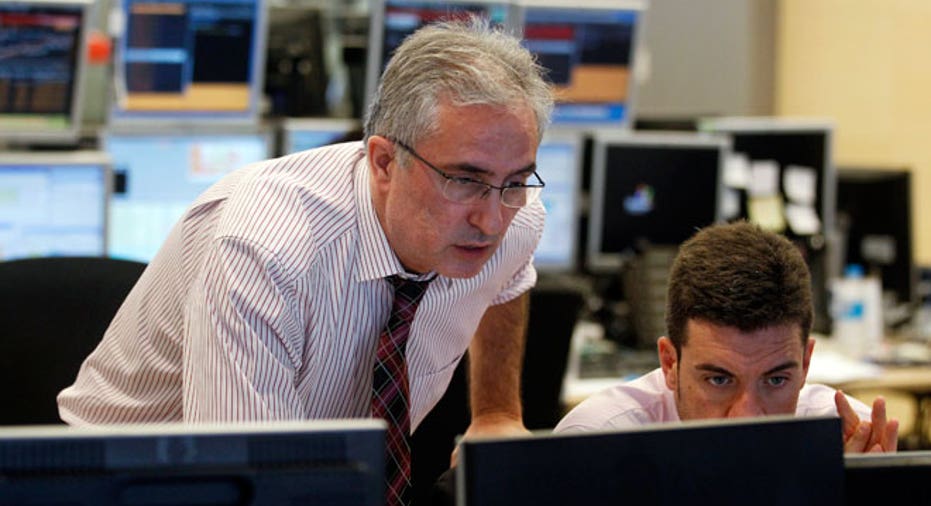 European shares saw their strongest gains in a week on Tuesday after a pick-up in German economic sentiment data bolstered hopes the region's biggest economy would rebound quickly from its recent bout of weakness.
Following last week's GDP figures showing that the euro zone saw a weaker end to 2012 than expected, Germany's ZEW survey of investors and analysts brightened the mood as it comfortably beat expectations to hit its highest level since April 2010.
"Financial market experts have made their peace with the weak fourth quarter of 2012," said ZEW president Wolfgang Franz. "In their opinion the German economy faces less of a headwind from the euro crisis than throughout the last months."
European stock markets, which have lost around 1.5 percent since the end of January, extended early morning gains after the figures were released to put them on track for their biggest gains in a week.
The FTSEurofirst 300 .FTEU3 had added 0.7 percent by 1120 GMT, led by 1 and 0.8 percent gains on Paris's CAC-40 .FCHI and Frankfurt's DAX .GDAXI and 0.3 percent rises in London .FTSE and Madrid .IBEX.
"Even if the real economy only lives up to half the expectations recently created by soft indicators, any fears of a technical recession (in Germany) should turn out to have been unjustified," said ING economist Carsten Brzeski.
The euro also rose and German government bonds turned negative after the figures, though both moves proved to be brief, with the euro quickly back to $1.3340 and benchmark Bunds back in positive territory at 142.80.
European Central Bank President Mario Draghi's reiteration on Monday that the bank would continue to monitor the euro's recent strength kept downward pressure on the currency, as some took the comments as a hint that a rate cut could be on the cards.
Underscoring the drag Europe's economic sluggishness is creating, new figures showed car firms had their weakest January since the records of the Association of European Carmakers began in 1990, with sales dropping 8.5 percent.
"What most people are now waiting for is what the ECB meeting brings next month and whether we get a rate cut," said Tobias Blattner at Daiwa Securities in London.
YEN FIRMS
Elsewhere in the currency market, the yen rose after Japanese ministers played down talk of foreign-bond buying by the country's central bank, and sterling, another currency in the spotlight, edged away from a seven-month low.
The yen has dropped 20 percent against the dollar since mid-November, sparking talk of a "currency war", though Japan's expansive policies, which have driven the fall, escaped direct criticism from G20 policymakers last week.
Finance Minister Taro Aso told a news conference that he was not considering foreign bond purchases as a part of monetary easing, while Economy Minister Akira Amari said Prime Minister Shinzo Abe's comments to that effect on Monday simply referred to policy options countries have in general.
Their comments sent the dollar down to 93.50 yen. The euro eased 0.5 percent to 124.74 yen, well below its peak since April 2010 of 127.71 yen touched on February 6.
The pound rose 0.1 percent to $1.5482, inching up from Monday's low of $1.5438. But with Bank of England minutes due on Wednesday, the recovery looked vulnerable to any further suggestion policymakers would like it weaker.
CONSOLIDATION MODE
MSCI's world equity index .MIWD00000PUS was slightly higher at midday, though markets have been falling for two weeks since a big run-up in January.
After a day off, U.S. stock index futures pointed to a higher open on Wall Street, with futures for the S&P 500 up 0.1 percent, Dow Jones futures up 0.1 percent and Nasdaq 100 futures up 0.2 percent.
The gradual improvement in the global economic environment has supported commodities, though concerns about Italy's election this weekend and talks in Washington over a package of budget cuts set to kick in on March 1 have helped limit gains.
Oil prices were little changed at $117.46 a barrel by midday as investors awaited the return of U.S.-based traders from a public holiday and the release of U.S. oil inventory data on Wednesday and Thursday.
Platinum prices, meanwhile, rose to near $1,700 an ounce, closing back in on the $1,740 high it hit earlier this month, after Anglo American Platinum (AMSJ.J) shut all its operations in South Africa after workers stayed away following violence at one of the mines on Monday.
Gold rose for a second straight session when traders in China, returning from a week-long break, bought up the precious metal, having seen prices drop 3 percent in their absence.
Spot gold edged up 0.2 percent to $1,612.56 an ounce, just above the six-month low of $1,598.04 hit late last week.
(Additional reporting by Richard Hubbard; Editing by Will Waterman)