Strong Fourth Quarter for IDEXX Laboratories, Inc.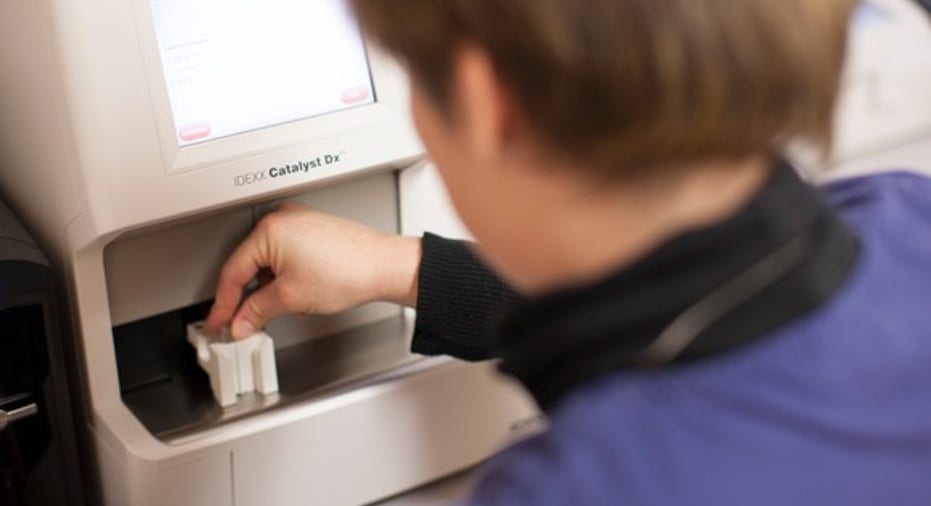 IDEXX Laboratories (NASDAQ: IDXX) reported earnings on Thursday, capping off another strong year for the animal diagnostic test maker.
Image source: IDEXX Laboratories.
IDEXX Laboratories results: The raw numbers
| Metric | Q4 2016 | Q4 2015 | Year-Over-Year Change |
| --- | --- | --- | --- |
| Revenue | $443 million | $400 million | 11% |
| Income from operations | $83.8 | $66.9 | 25% |
| Earnings per share | $0.58 | $0.48 | 21% |
Data source: IDEXX Laboratories.
What happened with IDEXX Laboratories this quarter?
Sales of instruments were up 24% organically. The new SediVue urine sediment analyzer continues to help boost the category. It'll be harder to sustain that level of growth when IDEXX laps the launch this year and the year-ago quarters have SediVue sales in them, but a rollout of its international launch -- U.K and Australia started last quarter -- should help sustain sales.
Those SediVue instruments -- and IDEXX's other instruments -- continue to produce revenue in the form of consumables for tests run on the instruments. In the fourth quarter, consumable sales were up 13% organically.
Revenue from tests run by IDEXX's reference lab, rather than in the veterinarians' offices, grew 13% organically, benefiting from the SDMA kidney test that was added recently.
Tests for livestock, poultry, and dairy were down 1% year over year, and water tests were up 1% year over year, but they produce a relatively small amount of IDEXX's total revenue.
What management had to say
IDEXX's decision to field its own sales force a few years ago seems to be paying off. "Two years ago, before we started the journey to an expanded field sales organization that came with the U.S. fully direct implementation, our customer count was about 58% of U.S. practices. And while this is an impressive level of penetration, it has since grown to 65% at the end of 2016," IDEXX's chairman and CEO Jonathan Ayers said.
Because of the fixed costs, the growth in sales at IDEXX's reference lab helps grow income faster. "This solid volume-led growth contributed also to the expansion of our global lab gross margins, a metric where we see opportunity for years to come," Ayers said.
Looking forward
Management is looking for revenue growth of 7.5% to 9% on a reported basis with earnings per share growing faster at 17% to 19%, owing to the increasing margins as sales grow.
IDEXX plans to launch the SDMA test on its Catalyst machines at the end of the year, which will allow veterinarians to do the test in-house. The launch should help grow consumable sales next year and could even spark instrument sales this year in anticipation of the rollout.
10 stocks we like better than Idexx Laboratories When investing geniuses David and Tom Gardner have a stock tip, it can pay to listen. After all, the newsletter they have run for over a decade, Motley Fool Stock Advisor, has tripled the market.*
David and Tom just revealed what they believe are the 10 best stocks for investors to buy right now... and Idexx Laboratories wasn't one of them! That's right -- they think these 10 stocks are even better buys.
Click here to learn about these picks!
*Stock Advisor returns as of January 4, 2017
Brian Orelli has no position in any stocks mentioned. The Motley Fool recommends Idexx Laboratories. The Motley Fool has a disclosure policy.