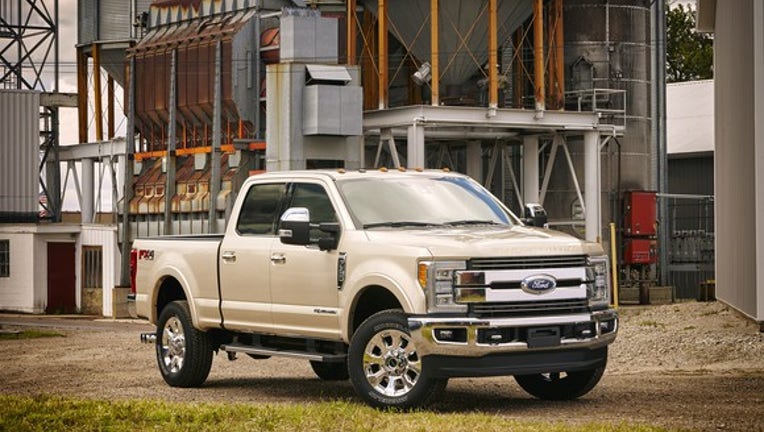 Despite a big sales gain for its pickups, Ford Motor Company (NYSE: F) said its U.S. sales fell 7.2% in March from a year ago, on weak sales of sedan models and a big year-over-year drop in sales to fleet customers.
Ford sales: The raw numbers
Data source: Ford Motor Company.
Sales of the new-for-2017 F-Series Super Duty pickups continued to be strong in March. Image source: Ford Motor Company.
Ford's sales in March: The short summary
Ford's overall year-over-year 7.2% sales decline fell significantly behind the overall market's expected 2% gain last month. But much of that decline was due to a sharp drop in deliveries to rental fleets (from an exceptionally high level a year ago). Ford's fleet sales were down 17% year over year in March, or roughly 16,000 vehicles, accounting for much of Ford's total overall decline of 18,461 vehicles.
Truck sales were strong, sales of key SUV models were good, but sales of Ford-brand cars were down significantly.
The good news for Ford's profitability
There were some bright spots for investors concerned about Ford's profitability.
Sales of the all-important F-Series pickup line rose 10.1% to a hefty 81,330 trucks sold. The F-Series' average transaction price rose over $2,500 from a year ago.
Sales of both the F-150 and the new-for-2017 F-Series Super Duty models were up year over year in all regions of the country, according to Ford's U.S. sales chief, Mark LaNeve.
The average transaction price for Ford-brand models overall was up about $1,800 from a year ago, to $34,640.
Retail sales of the revamped Escape SUV rose 13%.
Lincoln's retail sales rose 5%, driven by strong results for the Continental sedan and compact MKC crossover SUV.
High average transaction prices typically indicate that buyers are opting for better-equipped models, which generally have fatter profit margins than lower-spec models. Note that average transaction prices are net of incentives.
The not-so-good news
Auto sales are cyclical, and we're probably past the current cycle's peak. That means not all of the news will be good, and Ford had its share of less-welcome news to report for March.
Sales of Ford-brand car models were down 25.6% overall, 19% at retail. Overall sales of every model except the tiny Fiesta declined year over year.
Sales of Ford's Edge and Explorer SUVs were both down year over year, 16% and 6%, respectively -- a surprise in what has been a hot market for crossover SUVs of all sizes. Sales of the Edge's upscale sibling, the Lincoln MKX, fell 3%.
Ford GTs are shipping -- slowly
Ford delivered a total of two of its hyper-performing, hyper-expensive GT sports cars in the U.S. in March. So far in 2017, it has delivered a grand total of five of thehand-built exotics.
Deliveries of the Ford GT sports car have begun. Image source: Ford Motor Company.
The upshot: The first quarter is in the books
Ford has said that its first-quarter profit will be down significantly year over year. But sales of its most profitable products in the U.S. were good, despite the choppy market: F-Series sales were up 10.3% for the quarter, Ford-brand SUV sales rose 2.4%, and Lincoln sales gained 8.7%.
We'll know more when Ford reports its first-quarter results on April 27.
10 stocks we like better than FordWhen investing geniuses David and Tom Gardner have a stock tip, it can pay to listen. After all, the newsletter they have run for over a decade, Motley Fool Stock Advisor, has tripled the market.*
David and Tom just revealed what they believe are the 10 best stocks for investors to buy right now...and Ford wasn't one of them! That's right -- they think these 10 stocks are even better buys.
Click here to learn about these picks!
*Stock Advisor returns as of April 3, 2017.
John Rosevear owns shares of Ford. The Motley Fool owns shares of and recommends Ford. The Motley Fool has a disclosure policy.