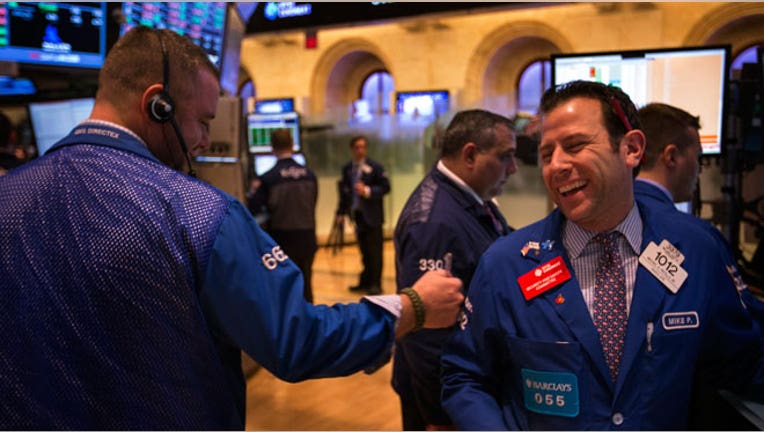 FOX Business: Capitalism Lives Here 
A batch of strong earnings from big-name companies sent the markets climbing more than 1% for the week. However, the broad S&P 500 snapped a five-day winning streak Friday.
Today's Markets
The Dow Jones Industrial Average rose 11.8 points, or 0.08%, to 14713, the S&P 500 fell 2.9 points, or 0.18%, to 1582 and the Nasdaq Composite slid 10.7 points, or 0.33%, to 3279.
For the week, the Dow rose 1.1%, the S&P 500 gained 1.7% and the Nasdaq rallied 2.3%.
The strong week on the Street came as traders have shaken off concerns about the global economy, and instead focused on generally upbeat corporate earnings.
The U.S. economy took center-stage on the day, however. The economy expanded at an annualized pace of 2.5% in the first quarter, up from 0.4% in the fourth quarter, according to a preliminary estimate from the Commerce Department. Economists expected the world's biggest economy to grow at a pace of 3.0% in the first three months of 2013.
Among the variables impacting growth was the across-the-board payroll tax hike that went into effect last quarter.
A final reading on consumer sentiment for this month rose to 76.4 from an earlier reading of 72.3, according to a survey by Thomson Reuters and the University of Michigan. Sentiment was expected to make a smaller gain to 73.2.
The earnings docket is relatively light on the day. Blue-chip energy behemoth Chevron (NYSE:CVX) posted better-than-expected profits, sending its shares rising. Online retailer Amazon.com (NASDAQ:AMZN) revealed mixed results after the close of trading on Thursday, with profits zipping by expectations, and sales coming in shy.
Energy futures were mildly lower. The benchmark U.S. oil contract slipped 49 cents, or 0.52%, to $93.16 a barrel. Wholesale New York Harbor gasoline dipped 0.17% to $2.81 a gallon. In metals, gold rose $1.80, or 0.12%, to $1,464 a troy ounce.
Foreign Markets
The Euro Stoxx 50 fell 0.79% to 13884, the English FTSE 100 dipped 0.51% to 6410 and the German DAX slipped 0.32% to 7808.
In Asia, the Japanese Nikkei 225 slumped 0.3% to 13884 and the Chinese Hang Seng climbed 0.65% to 22548.