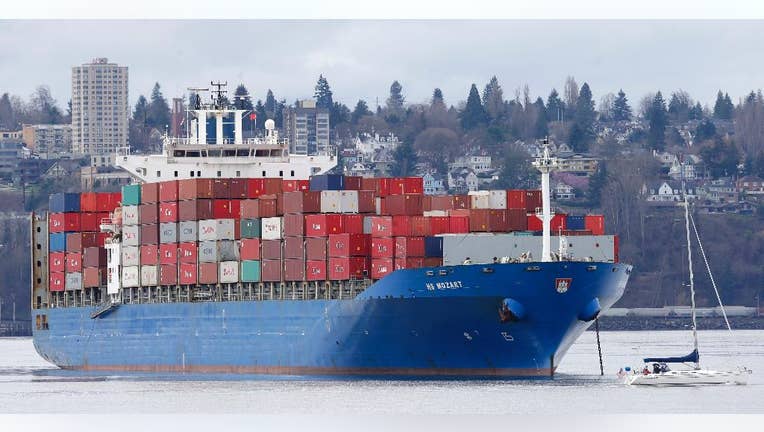 The Commerce Department reports on the international trade gap for June at 8:30 a.m. Eastern Wednesday.
TRADE GAP: Economists predict the deficit widened by just $1 billion to $42.9 billion in June from the previous month, according to a survey by data firm FactSet.
STRONG DOLLAR, MORE IMPORTS: A strong dollar and a recent pickup in U.S. consumer spending are likely the main factors driving the bigger trade deficit.
The dollar has increased 14 percent in value against a basket of overseas currencies in the past year, according to FactSet. That makes U.S. goods more expensive overseas, cutting into sales, particularly in the case of expensive capital goods such as airplanes and industrial machinery.
Exports of U.S. aircraft, a volatile category, fell $1.24 billion in May to $4.9 billion, a big drag on overall exports. Preliminary data released for June last week showed that exports of large capital goods fell further that month.
The stronger dollar also makes imports cheaper and more likely to capture market share from U.S.-made goods. Imports of consumer goods — a category that includes clothes, furniture, and mobile phones — rose sharply in June after a small increase in May.
More consumer spending may also be pushing up imports. Steady hiring has given nearly 3 million more Americans paychecks in the past year, boosting their purchasing power. Overall spending perked up in the April-June quarter after a weak showing in the first three months of the year.
Trade has been volatile this year, mostly because of labor disputes at West Coast ports in the first quarter that delayed shipping of U.S. goods overseas. That lowered exports and pushed the deficit to a three-year high in March of $50.6 billion.
Separately, President Barack Obama says a trade deal in the works with 11 other Pacific Rim nations will open more markets for U.S. goods and boost the U.S. economy.
Yet trade officials were unable to reach a final agreement on the Trans-Pacific Partnership last week, as intended, partly because of differences over the treatment of dairy goods. An agreement could be reached at future meetings, officials said.
Obama won a hard-fought battle in Congress in June to secure fast-track negotiating authority, which allows him to submit trade agreements to Congress for an up-or-down vote.
Critics of the agreement say that it will cost the U.S. manufacturing jobs and does not appear to hold countries accountable if they weaken their currencies to gain an unfair trade advantage.