Strong December Pushes Ford Motor Co. to a Record Year in China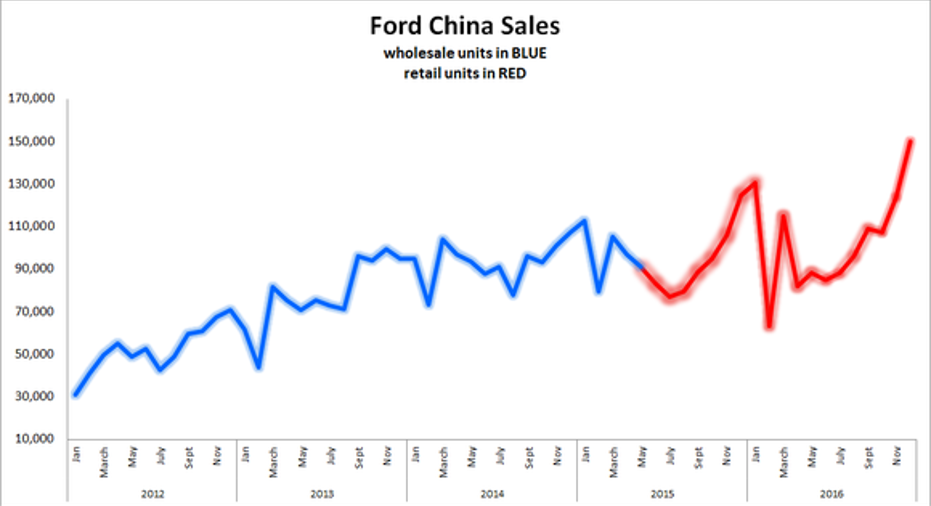 Image source: Getty Images.
Major automakers such as Ford Motor Co. (NYSE: F) -- and their investors -- realize just how important China is to their growth story. Not only is it already the world's largest automotive market in terms of sales, but its growth is expected to continue for years to come. That gives Ford a huge opportunity to build a second pillar of revenue and profit, as it began making serious progress in China only about five years ago.
Those automakers, along with every U.S. company, hope Donald Trump doesn't lead the country into a trade war with China anytime soon. If he doesn't, Ford's recent sales figures in China indicate a bright future. Here are the highlights.
A December to remember
In China, Ford and its joint ventures posted a stellar year-over-year sales gain of 21% to 149,856 units in December. Its total sales in the country hit a best-ever 1.27 million vehicles in 2016, up 14% from 2015. The graph below illustrates just how much progress the company has made in such a short time.
Data source: Ford Motor Company sales releases. Chart by author.
Ford attributes much of the success to its blossoming SUV portfolio, including the Edge and Explorer, as well as to the Mustang, which is only in the early innings of its global story. In fact, demand for the Edge and Explorer rose 123% and 36%, respectively, in 2016. Heck, even a vehicle we're used to overlooking in the States, the Taurus, had a pretty good year in China, posting its best-ever month in December and annual sales over 32,000 units.
Another interesting story has been the development of Ford's performance vehicle lineup globally. It continues to attract new consumers not only in China, but in Europe as well. Mustang sales were up 45% and the Focus RS and ST sales moved 12% higher during 2016.
Arguably, the most important developing story has been the initial success of Ford's Lincoln luxury lineup in China. Lincoln's sales totaled 32,558 units there during 2016, which was almost a threefold increase compared to the prior year. To put it in perspective, Lincoln launched in China just over two years ago, and already sells almost 30% of what it sells in the United States, where the brand has been around for decades. In terms of sales, half of Lincoln's top 10 dealerships and 11 of the top 20 were based in China during 2016, so it's entirely plausible that China will eventually become Lincoln's largest market.
What management had to say
"We have built some great sales momentum in China, particularly in the second half of 2016, on the strength of our expanded vehicle lineup," said Peter Fleet, vice president of marketing, sales and service, Asia-Pacific, in a press release. "Record numbers of customers are choosing our 3-row Edge crossover, elegant Taurus sedan, Explorer premium SUV and Lincoln luxury vehicles."
Kumar Galhotra, Lincoln's president, said separately in a statement, according to Automotive News,"We're pleased that clients are recognizing the superior experiences and vehicles that Lincoln offers."
What's in store for 2017?
With 2016 officially in the books, investors will now watch a couple of factors in China during the first quarter of 2017. First, it's difficult to predict the impact of Beijing's phasing out its discount on the country's vehicle purchase tax.
It was cut from 10% to 5% to fuel sales in late 2015. Now, it's ratcheting up to 7.5% before it returns to its normal 10% in 2018. Anticipation of the higher tax likely added fuel to December'sstrong sales, so early 2017 sales could be weaker as a result.
Second, it's equally difficult to predict what Donald Trump's strategies, policies, and tweets will have on trade with China. Initiating a trade war with the world's second-largest economy would presumably be a lose-lose scenario, but investors will have to wait and see how it all unfolds.
Ultimately, it's another strong year in the books for Ford in China, and at a time when the U.S. new-vehicle market is peaking, China will continue to be its best opportunity to build a new pillar of revenue and profit growth.
10 stocks we like better than Ford When investing geniuses David and Tom Gardner have a stock tip, it can pay to listen. After all, the newsletter they have run for over a decade, Motley Fool Stock Advisor, has tripled the market.*
David and Tom just revealed what they believe are the 10 best stocks for investors to buy right now... and Ford wasn't one of them! That's right -- they think these 10 stocks are even better buys.
Click here to learn about these picks!
*Stock Advisor returns as of January 4, 2017
Daniel Miller owns shares of Ford. The Motley Fool owns shares of and recommends Ford. The Motley Fool has a disclosure policy.