Streaming Pay TV Could Grow Tenfold by 2020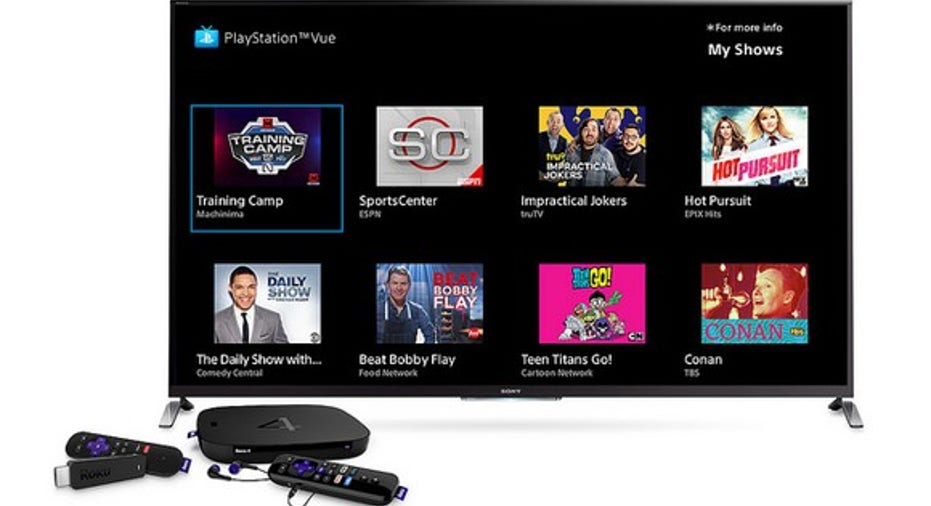 Image source: Sony.
If you thought cord-cutting was a problem for cable companies, just wait until streaming live TV over the internet goes mainstream. Dish Network (NASDAQ: DISH) and Sony are the two pioneers in the industry with their Sling TV and PlayStation Vue services, respectively. But several more tech and media companies are expected to join the fold in the near future, including AT&T (NYSE: T), Hulu, YouTube, and Amazon.
About 1.4 million households currently subscribe to a service like Sling TV or PlayStation Vue, according to analysts at UBS. That number is expected to grow to 14.7 million by 2020 as more services come online. The shift in viewers represents a significant threat to stalwart cable companies like Comcast (NASDAQ: CMCSA) and Charter (NASDAQ: CHTR), which have benefited from a de facto monopoly for years.
Breaking down barriers
One of the biggest moats for a lot of pay-TV companies is the barrier to entry, which is extremely high. If a competitor wants to offer a similar service, it will have to spend billions and take years to build out a viable infrastructure. We saw that last decade when AT&T and Verizon (NYSE: VZ) built out their own television services.
Streaming television over the internet, on the other hand, requires comparatively little in the way of capital expenditures. And with cloud-computing infrastructure like Amazon's AWS available on demand, services can quickly scale to meet demand with little in the way of start-up costs.
That's why UBS expects an influx of new services. The biggest hurdle is negotiating the rights to stream networks with media companies. And that might not be too difficult. Several large media companies like Disney have aggressively pursued getting their networks into skinny, over-the-top streaming packages like Sling TV. As long as customers are subscribing to a network one way or another, media companies seem not to care.
In fact, Disney thinks it could make even more money from digital distributors, thanks to the ability to use more targeting data and dynamically insert advertisements based on unique viewer data.
More competition is bad for the incumbents
Even though UBS expects Comcast, Charter, and Verizon to follow suit and launch their own over-the-top services, the increased competition is certainly going to impact their earnings capabilities. Competition has a tendency to reduce margins as market leaders fight to keep their customers.
What's more, since newer digital competitors won't have to spend as heavily on capital expenses or customer-acquisition costs (think cable or satellite TV installation), they can undercut the pricing of Comcast or Charter much more easily.
The old cable companies will be able to see the same benefits in customer-acquisition costs, but their existing infrastructure won't benefit them nearly as much for stand-alone TV service. Dish Network's management notes the significant cost savings in customer-acquisition expenses that allow it to make nearly the same profit from a $20-per-month Sling subscriber as a $100-per-month satellite-TV subscriber.
But they still provide internet service
While cable companies will see an influx of over-the-top services competing against their core product, customers still need internet service to use them. Cable companies, along with AT&T, Verizon, and a few other telecom companies, will remain the biggest companies providing internet service for some time. (Even that industry could come under pressure as wireless networks build out their 5G networks.)
As long as customers still require internet service in their homes, there will be demand for companies like Comcast and Charter with strong infrastructure set up to easily provide reliable home broadband. With the increased demand put on the network by these services, it's possible cable companies could even increase customers' bills. And customers may even willingly go along with the increase, if it means they can save on their TV bills.
In order to really take advantage of their present dominance of the internet service industry, cable companies must market television bundles even more aggressively than in the past. Otherwise, they'll see their market share evaporate to more nimble digital services.
A secret billion-dollar stock opportunity The world's biggest tech company forgot to show you something, but a few Wall Street analysts and the Fool didn't miss a beat: There's a small company that's powering their brand-new gadgets and the coming revolution in technology. And we think its stock price has nearly unlimited room to run for early in-the-know investors! To be one of them, just click here.
Adam Levy owns shares of, and The Motley Fool owns shares of and recommends, AMZN. Adam Levyowns shares of, andThe Motley Fool recommends, VZ. The Motley Fool owns shares of and recommends DIS.
Try any of our Foolish newsletter services free for 30 days. We Fools may not all hold the same opinions, but we all believe that considering a diverse range of insights makes us better investors. The Motley Fool has a disclosure policy.