Stratasys Suffers 2 Downgrades in 2 Days: What You Need to Know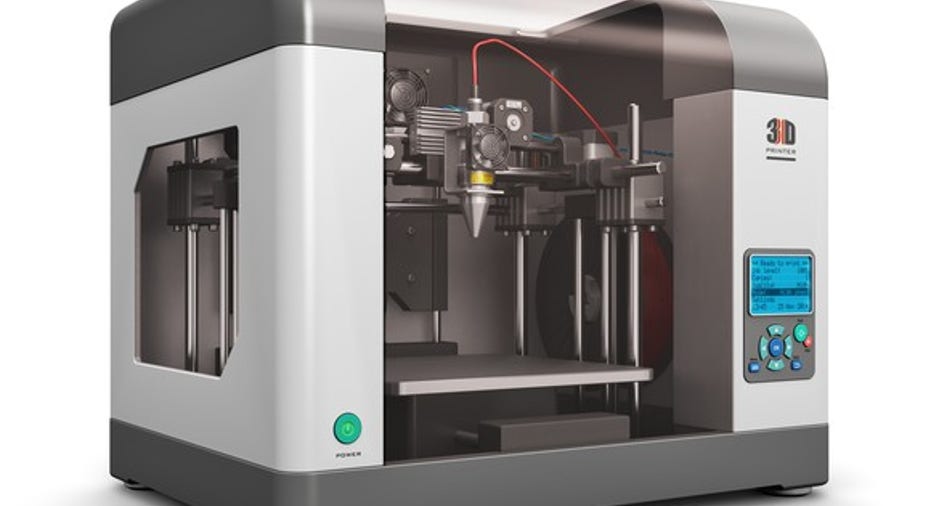 Every day, Wall Street analysts upgrade some stocks, downgrade others, and "initiate coverage" on a few more. But do these analysts even know what they're talking about? Today, we're taking one high-profile Wall Street pick and putting it under the microscope...
With Stratasys (NASDAQ: SSYS) stock up more than 50% since the beginning of April, shares of the 3D printing pioneer were already breathing rarefied air heading into earnings. So when those earnings came out on Tuesday, Stratasys stock was primed to fall -- and fall it did.
Stratasys stock tumbled as much as 11% in Wednesday trading after reporting earnings that met -- but did not exceed -- analyst estimates and showed revenue declining. It wasn't long before the analyst downgrades began rolling in. Here are three things you need to know about what Wall Street is saying about Stratasys now.
3D printing may be the future, but does 3D printer Stratasys have a future? Image source: Getty Images.
1. Needham leaves the bull camp
Investment banker Needham & Co.was the first to announce a downgrade on Stratasys' results. Citing a 3% decline in sales and "non-GAAP EPS" that only met the consensus target, Needham was fairly underwhelmed by Stratasys' numbers this week. (As well it should be. The $0.05 pro forma profit that Stratasys reported was belied by the fact that according to GAAP, Stratasys actually lost $0.26 for the quarter.)
Neither did Needham like what Stratasys management had to say regarding guidance for the remaining weeks of this year. Stratasys predicted that this year will end in a GAAP loss of between $0.73 and $1 per share, with a continued decline in revenue being only partially offset by a "modest improvement in non-GAAP" operating margins, chides Needham.
In the analyst's opinion, this simply isn't good enough news to justify the "recent sharp rise" in Stratasys' stock price. Accordingly, Needham is downgrading the stock to hold.
2. Jefferies joins the bears
Needham's move was quickly mimicked by Jefferies & Co., whichStreetInsider.com reports is also downgrading Stratasys stock to hold (and lowering its price target to $24). Although Jefferies says that by its estimation, Stratasys actually beat estimates for sales and earnings last quarter, it noted management's guidance for 2017 was cautious. Additionally, TheFly.com points out, Jefferies cites Stratasys' "recent rally" in share price as a cause for concern.
3. Damning with faint praise
Not all the news about Stratasys is bad -- but even the good news isn't great.Merrill Lynch actually reacted to Tuesday's news by raising its target price on Stratasys stock. But even so, Merrill's new and improved target only values Stratasys shares at $20, which is 29% below where they trade today. Accordingly, Merrill has reiterated its underperform rating on Stratasys stock.
Which is basically a sell.
The upshot for investors
As you can see, the prognosis for Stratasys stock isn't very promising. Q1's performance wasn't great, and the rest of this year doesn't look much better.
Although analysts polled by S&P Global Market Intelligence continue to believe that Stratasys will be able to grow earnings at a rate of 21.25% annually over the next five years, it's not clear exactly what "earnings" they expect Stratasys to grow. This company has in fact lost money in each of the past four years, is promising to lose as much as $1 a share this year, and -- according to the same analysts purportedly promising growth -- will keep on losing money in 2018 and 2019 as well. Given all this, is there any hope at all for investors in Stratasys stock?
Well, actually, there is. While it's true that GAAP earnings look pretty miserable at Stratasys, the company did succeed in generating about $17 million in positive free cash flow (FCF) last year. That was the first time Stratasys had produced actual cash profit since 2011. What's more, Stratasys generated $19 million in Q1 2017 -- more cash profit than it generated in all of last year.
True, with trailing FCF of just $12 million, and a market capitalization of $1.5 billion (a price-to-FCF ratio of 122), Stratasys is still a long way away from anything I could call a bargain at today's prices. But if the stock price keeps falling, and the free cash flow keeps growing, there's at least hope that one day, Stratasys stock will merit a buy rating.
Just not today.
10 stocks we like better than StratasysWhen investing geniuses David and Tom Gardner have a stock tip, it can pay to listen. After all, the newsletter they have run for over a decade, Motley Fool Stock Advisor, has tripled the market.*
David and Tom just revealed what they believe are the 10 best stocks for investors to buy right now... and Stratasys wasn't one of them! That's right -- they think these 10 stocks are even better buys.
Click here to learn about these picks!
*Stock Advisor returns as of May 1, 2017
Rich Smith has no position in any stocks mentioned. The Motley Fool recommends Stratasys. The Motley Fool has a disclosure policy.