Stratasys Q4 Earnings on Thursday: What to Watch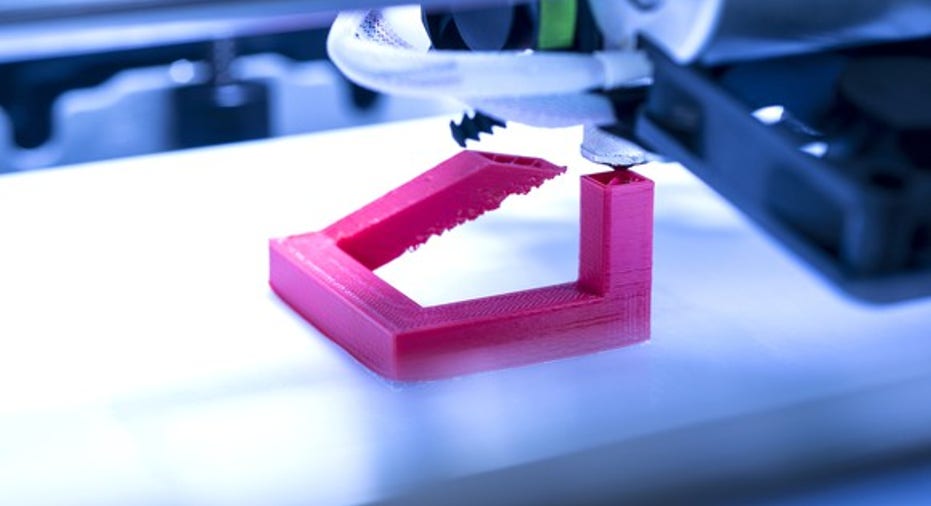 Stratasys Ltd.(NASDAQ: SSYS) is slated to report its fourth-quarterand full-year 2016 earnings before the market opens on Thursday, March 9.This will be the second quarterly report that covers a period in which Ilan Levin has been CEO. Levin, a longtime board member at the diversified 3D printing company, took the helm on July 1.
While Stratasys' stock is still down significantly from its all-time high, it's showing signs of life this year. It's gained 17% in 2017, through March 3, outpacing rival 3D Systems' (NYSE: DDD)9.3% gain and the S&P 500's total return of 6.9%. Shares of 3D Systems had been riding higher in 2017, through plummeted 10% after the company announced earnings on Feb. 28. Quarterly revenue and 2017 revenue guidance came in lighter than Wall Street analysts were expecting.
Image source: Getty Images.
Benchmarks for key quarterly numbers
Here are Stratasys' year-ago quarterly results, Stratasys' guidance, and Wall Street analysts' estimates to use as benchmarks.
| Metric | Q4 2015 Result | Stratasys' Guidance* | Analyst Consensus | Analysts' ProjectedYear-Over-Year Change |
| --- | --- | --- | --- | --- |
| Revenue | $173.36 million | $164.8 million to $175.8 million | $169.45 million | (2.3%) |
| Adjusted earnings per share (EPS) | ($0.01) | $0 to $0.08 | $0.05 | N/A |
Data source: Stratasys. *Calculated by author using full-year 2016 guidance and results for the first three quarters of the year.
As the chart shows, analysts are projecting a year-over-year 2.3% decline in revenue and for adjusted EPS to swing into positive territory. Stratasys' adjusted EPS guidance of $0 to $0.08 indicates the company also expects positive (or at least not negative) adjusted earnings.
For the full-year 2016, analysts are looking for adjusted EPS of $0.18 on revenue of $666.65 million. In 2015, Stratasys delivered adjusted EPS of $0.19 on revenue of $696 million. So, analysts' 2016 expectations translate to year-over-year adjusted EPS and revenue declines of 5.3% and 4.2%, respectively.
Long-term investors shouldn't place too much emphasis on Wall Street's near-term estimates. However, they can be helpful to know since, along with forward guidance, they often help explain market reactions.
In addition to the headline numbers, here's what to focus on in Stratasys' report.
3D printer sales
Like 3D Systems, Stratasys has been struggling to grow revenue for two years due largely to a widespread slowdown in demand for its enterprise 3D printers. Stratasys' management has attributed the market weakness to overcapacity in the field due to the large number of 3D printers sold in the years preceding the slowdown. Management has also said that more product choices has probably lengthened the sales cycle.
In the third quarter, Stratasys' revenue from 3D printers sales declined20% from the year-ago period. This number includes sales of printers made by MakerBot. Excluding thebeleaguered desktop subsidiary,it's probably safe to assume that 3D printer sales declined a percentage point or two less. Thisfollowed a 19% year-over-year decline in the second quarter. A notable improvement could signal that demand for 3D printers is picking up. However, one quarter never makes a trend, so I'd still be looking for two consecutive quarters of notably improved results before feeling fairly confident that demand has somewhat bounced back.
If 3D Systems' results are any indications, Stratasys' investors should not expect to see any notable improvements in sales of 3D printers. For context, 3D Systems' revenue from 3D printer sales continued their year-over-year decline in the fourth quarter, and ended the year down 21%.
MakerBot remains in the focus back seat
Investors shouldn't focus too much on MakerBot because Stratasys' enterprise business accounts for the bulk of its revenue and an even larger percentage of its profits. That is, when the company is profitable. If I were a Stratasys investor, my only wish for MakerBot at this point would be that it was tightly controlling expenses.
MakerBot's 29% year-over-year decline in revenue last quarter was disappointing because the second-quarter's slight 2% year-over-year decline preceded by a year-over-year uptick in the first quarter suggested that this business had likely bottomed. Management did, however, attribute last quarter's 29% decline to new product introductions in addition to market weakness. This quarter's results should shed some light on how much of last quarter's decline was due to market weakness and how much was due to timing factors.
All eyes on 2017 guidance
All eyes should be on Stratasys' all-important 2017 guidance. Based upon the company's recent history with guidance, however, investors should view its outlook with a degree of skepticism. Stratasys pared back 2016 guidance when it released Q3 results, and has made several additional guidance cuts over the last few years, as has 3D Systems.
For context, analysts are expecting Stratasys to turn in adjusted EPS of $0.49 on revenue of $693.67 in 2017, representing year-over-year growth of 172% and 4.1%, respectively, over their 2016 estimates. 3D Systems guided for 2017 revenue growth in the range of 2% to 8% and adjusted EPS growth in the range of 10% to 20%.
10 stocks we like better than StratasysWhen investing geniuses David and Tom Gardner have a stock tip, it can pay to listen. After all, the newsletter they have run for over a decade, Motley Fool Stock Advisor, has tripled the market.*
David and Tom just revealed what they believe are the 10 best stocks for investors to buy right now... and Stratasys wasn't one of them! That's right -- they think these 10 stocks are even better buys.
Click here to learn about these picks!
*Stock Advisor returns as of February 6, 2017
Beth McKenna has no position in any stocks mentioned. The Motley Fool recommends 3D Systems and Stratasys. The Motley Fool has a disclosure policy.