Stratasys Earnings: Some Solid Improvements, but a Tepid 2017 Outlook Causes Stock to Drop 9%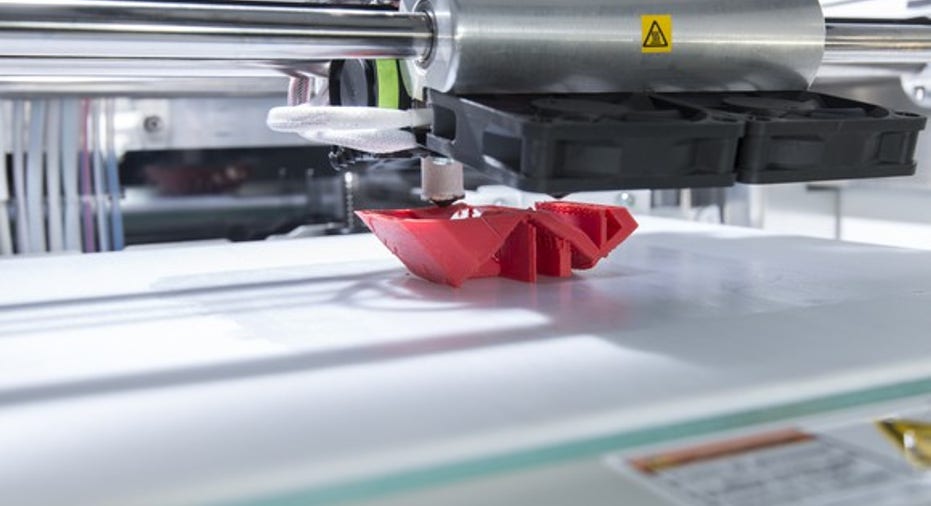 Stratasys(NASDAQ: SSYS)reported its fourth-quarterand full-year 2016 earnings before the market opened on Thursday. For the quarter, the diversified 3D printing company's year-over-year revenue increased 1.1% and adjusted earnings per share improved significantly to $0.15, from negative $0.01 in the prior-year period.
Along with fellow industry leader3D Systems,the company has struggled to grow revenue over the past two years. Management has attributed the slowdown in demand for 3D printers primarily to a glut of printers in the field, as well as to a lengthening of sales cycles due to an increasing number of product choices. So, while modest, a 1.1% increase in revenue is a positive.
This was the second quarterly report that covers a period for which Ilan Levin appointed last July -- has been CEO.
Shares of Stratasys closed down 9.4% on Thursday. The market's reaction can be attributed to the company's 2017 revenue and adjusted earnings guidance coming in lighter than Wall Street analysts were expecting. Despite the sell-off, the stock is still up more than 10% in 2017, versus the S&P 500's total return of just over 6%.
Stratasys' key quarterly numbers
| Metric | Q4 2016 | Q4 2015 | Year-Over-Year Change |
| --- | --- | --- | --- |
| Sales | $175.3 million | $173.4 million | 1.1% |
| GAAP operating income | ($29.2 million) | ($187.8 million) | N/A |
| Adjusted operating income | $11.6 million | ($8.9 million) | N/A |
| GAAP net income | ($14.8 million) | ($232.3 million) | N/A |
| Adjusted net income | $7.8 million | ($0.7 million) | N/A |
| GAAP EPS | ($0.30) | ($4.46) | N/A |
| Adjusted EPS | $0.15 | ($0.01) | N/A |
Data source: Stratasys. GAAP = generally accepted accounting principles. EPS = earnings per share.
For the quarter, Stratasys' GAAP gross profit margin jumped to 47.3%, up from 30.6% in the year-ago period, and adjusted gross profit margin improved to 53.6% from 48.1%. The company -- which has no long-term debt -- generated $26 million of cash from operations during the quarter and$62 million for the full year, and ended the year with $280.3million in cash and equivalents.
For the full-year 2016, year-over-year revenue declined 3.4% to $672.5million, GAAP loss per share narrowed significantly to $1.48from $26.64, and adjusted earnings per share jumped more than 47% to $0.28 from $0.19 in 2015.
Stratasys had guided for fourth-quarter adjusted EPS in the range of $0 to $0.08 on revenue in the range of$164.8 million to $175.8 million. So, the company's adjusted EPS greatly exceeded its guidance, while revenue came in at the high end of its guidance range. For some additional context --though investors shouldn't pay too much attention to Wall Street's near-term estimates -- analysts were looking for fourth-quarter adjusted EPS of $0.05 on revenue of $169.5 million, so Stratasys crushed earnings expectationsand comfortablybeat the revenue consensus.
Image source: Getty Images.
Segment results
| Segment | Q4 2016 Revenue | Q4 2015 Revenue | Year-Over-Year Change |
| --- | --- | --- | --- |
| Product | $127 million | $124 million | 2% |
| Service | $49 million | $49 million | -- |
Data source: Stratasys, which rounds segment results to the nearest million.
Within the product category, system (3D printer) revenue declined 4% year over year, consumables (print materials) revenue jumped 11%, and customer support revenue, which includes service contracts, increased 8%. These latter two categories reflect the power of Stratasys' razor-and-blade strategy: Despite the falling sales of 3D printers, the recurring revenue stream continues to flow nicely because of the increasing number of 3D printers in the field.
In the second and third quarters of 2016, Stratasys' revenue from 3D printers sales dropped 19% and 20%, respectively, so the fourth quarter's 4% slump is a positive sign. It suggests that the bottom could be near, or close to it.
What management had to say
In a press release, Levin commented on the company's considerably improved quarterly results:
He also had this to say about Stratasys' activities in 2016 that should position it for strong growth in the future:
Looking ahead
Stratasys provided full-year 2017 guidance as follows:
| Metric | 2017 Guidance | 2016 Result | Projected Year-Over-Year Change |
| --- | --- | --- | --- |
| Revenue | $645 million to $680 million | $672.5million | (4.1%) to 1.1% |
| GAAP EPS | ($1.00) to ($0.73) | ($1.48) | N/A |
| Adjusted EPS | $0.19 to $0.37 | $0.28 | (32.1%) to 32.1% |
Data source: Stratasys.
Going into earnings, analysts were looking for Stratasys to deliver adjusted EPS of $0.49 on revenue of $693.7 million in 2017. So, Wall Street was likely displeased with both the company's revenue and adjusted earnings guidance, which explains the stock's sell-off.
Nonetheless, the company turned in a decent quarter in light of the challenging market environment. Moreover, it made good progress in 2016 in increasing efficiencies and generating cash. It also partneredwith several industry leaders and launched some new products.
10 stocks we like better than StratasysWhen investing geniuses David and Tom Gardner have a stock tip, it can pay to listen. After all, the newsletter they have run for over a decade, Motley Fool Stock Advisor, has tripled the market.*
David and Tom just revealed what they believe are the 10 best stocks for investors to buy right now... and Stratasys wasn't one of them! That's right -- they think these 10 stocks are even better buys.
Click here to learn about these picks!
*Stock Advisor returns as of February 6, 2017
Beth McKenna has no position in any stocks mentioned. The Motley Fool owns shares of and recommends Ford. The Motley Fool recommends 3D Systems and Stratasys. The Motley Fool has a disclosure policy.