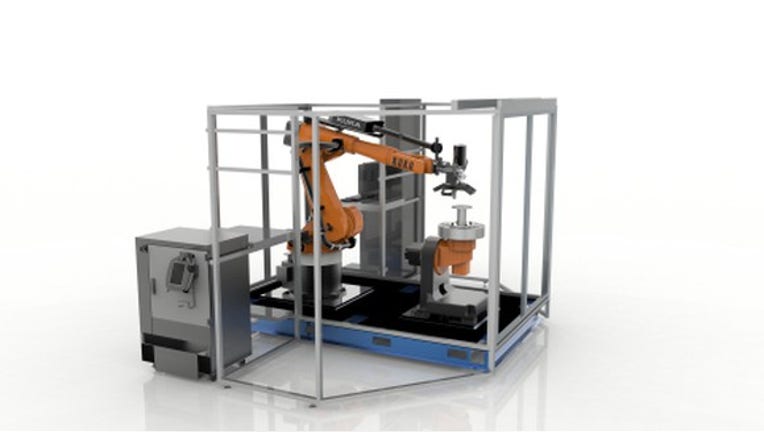 Stratasys(NASDAQ: SSYS)reported its third-quarter 2016 earnings before the market opened on Tuesday. The diversified 3D printing company posted a year-over-year revenue decline of 6.2%, driven by a 20% drop in 3D printer sales. Adjusted earnings per share -- the most important earnings metric -- declined from $0.01 to nearly $0.00.
In light of the weaker-than-expected results and what it views as a continuing challenging macroeconomic environment, Stratasys cut its full-year guidance for revenue and adjusted EPS and narrowed -- with the midpoint edging down -- its outlook for EPS based on generally accepted accounting principles (GAAP). Stratasys and archrival 3D Systems (NYSE: DDD) have struggled to grow revenue since early 2015 due to a widespread slowdown of 3D printer purchases among enterprise customers.
Shares of Stratasys plunged upon the earnings release and closed down 12.4% on Tuesday.
The Robotic Composite Demonstrator. Image source: Stratasys.
Stratasys' results: The raw numbers
Data source: Stratasys.
Investors should focus on the adjusted results, not the GAAP results.The adjusted results compare apples to apples, whereas the GAAP results are skewed because Stratasys took a huge goodwill impairment charge in the year-ago period. On an adjusted basis, there was one bright spot: Operating income flipped from a loss in the year-ago period to a gain in the quarter. This can largely be attributed to Stratasys' focus on improving efficiencies and cost-cutting this year.
To provide some context -- though long-term investors shouldn't give much credence to Wall Street's near-term estimates -- analysts were looking for adjusted EPSof $0.05 on revenue of $174.5 million. So Stratasys fell quite short on both the top and bottom lines.
Segment results
Data source: Stratasys.
Within the product category, revenue generated from 3D printer sales fell 20% -- which follows a 19% year-over-year decline last quarter -- while sales of consumables (materials) rose 12%. (Stratasys doesn't break out 3D printer sales by enterprise vs. MakerBot. However, since MakerBot's total sales fell by 29% year over year, we can probably safely assume that the decline in enterprise 3D printer sales was a little less than 20%.)
To provide some context, 3D Systems' year-over-year revenue generated from 3D printer sales declined 6% and materials sales grew 9% when the company reported its Q3 earnings earlier this month.
Like materials, customer support revenue was another bright spot, increasing 7%. These two recurring income streams are generated from a growing installed base and keep on flowing even as quarterly 3D printer sales decline on a year-over-year basis. Since these higher-margin revenue streams are driven from sales of 3D printers, the slowdown in printer sales is particularly concerning.
MakerBot's revenue was more hard-hit than the overallbusiness
Desktop 3D printer unit MakerBot's product and service revenue declined 29% from the year-ago period, which Stratasys' management attributed to overall market weakness and the timing of new product introductions.
Investors shouldn't focus too heavily on MakerBot, because the enterprise business accounts for the lion's share of Stratasys' revenue and is the profit engine of the company. That said, the 29% year-over-year decline was somewhat disappointing, as last quarter's 2% year-over-year decline and the sequential increases in the last two quarters suggested that we had possibly seen a bottoming at the beleaguered desktop 3D printer maker.
What else happened with Stratasys in the quarter?
GAAP gross margin was 46.9%, up from negative 47.7% in the prior-year period (that poor gross margin was heavily due to a huge goodwill impairment charge).
Adjusted gross margin was 54%, up from 50.8% in the prior-year period -- driven largely by cost-cutting -- but down from 55.9% last quarter.
Stratasys announced that Airbus"is standardizing on Ultem 9085 3D printing material for the production of flight parts for its A350 XWB aircraft."
The company demonstrated next-generation 3D manufacturing technologies at the International Manufacturing Technology Show 2016. These include theInfinite-Build 3D Demonstrator, developed with Boeing and Ford,"designed for low-volume production of large thermo-plastic parts," and theRobotic Composite Demonstrator, developed with Siemens,"designed for the automated production of composite material structures for advanced manufacturing applications."
It also launched and began shipping various new MakerBot 3D printing solutions.
What management had to say
Here's what CEO Ilan Levin -- who assumed the top spot on July 1 -- had to say in the press release:
Looking ahead
Stratasys pared back full-year 2016 revenue and adjusted EPS guidance and narrowed its EPS based on generally accepted principles outlook as follows:
Data source: Stratasys.
In short, Stratasys posted a disappointing quarter, though there were some bright spots -- namely, sales of consumables and an improved adjusted operating performance from the year-ago period. The company's overall results are unlikely to improve meaningfully until it has more success selling its enterprise 3D printers.
Forget the 2016 Election: 10 stocks we like better than Stratasys Donald Trump was just elected president, and volatility is up. But here's why you should ignore the election:
Investing geniuses Tom and David Gardner have spent a long time beating the market no matter who's in the White House. In fact, the newsletter they have run for over a decade, Motley Fool Stock Advisor, has tripled the market.*
David and Tom just revealed what they believe are the ten best stocks for investors to buy right now... and Stratasys wasn't one of them! That's right -- they think these 10 stocks are even better buys.
Click here to learn about these picks!
*Stock Advisor returns as of November 7, 2016
Beth McKenna has no position in any stocks mentioned. The Motley Fool owns shares of and recommends Ford. The Motley Fool recommends 3D Systems and Stratasys. Try any of our Foolish newsletter services free for 30 days. We Fools may not all hold the same opinions, but we all believe that considering a diverse range of insights makes us better investors. The Motley Fool has a disclosure policy.