Stratasys Earnings: 3D Printer Sales Decline, but Adjusted Earnings Rise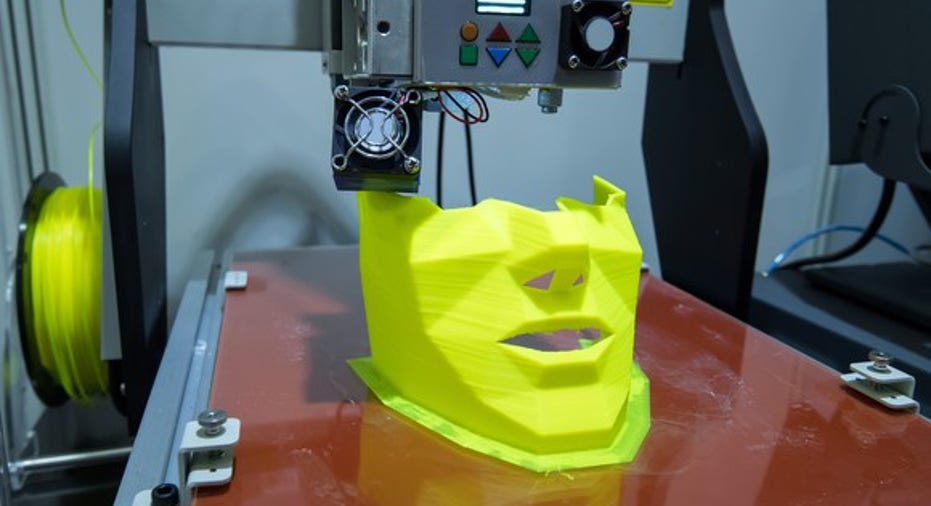 Stratasys(NASDAQ: SSYS)reported its first-quarter2017 earnings before the market opened on Tuesday. The diversified 3D printing company's revenue declined 2.8% and adjusted earnings per share quadrupled from the year-ago quarter.
Shares initially opened down on Tuesday, but climbed their way to a closing gain of 2.4%. Stratasys stock has been enjoying a buoyant market this year, with its shares up 85.4% in 2017 through Tuesday. Shares of main rival 3D Systemsare up a robust 75.3% for the year.
Here's how the quarter worked out for Stratasys and its investors.
Stratasys' results: The raw numbers
| Metric | Q1 2017 | Q1 2016 | Year-Over-Year Change |
| --- | --- | --- | --- |
| Sales | $163.2 million | $167.9 million | (2.8%) |
| GAAP operating income | ($12.6 mllion) | ($21.1 million) | N/A |
| Adjusted operating income | $4.0 million | $4.0 million | -- |
| GAAP net income | ($13.9 million) | ($23.1 million) | N/A |
| Adjusted net income | $2.4 million | $0.6 million | 300% |
| GAAP earnings per share (EPS) | ($0.26) | ($0.44) | N/A |
| Adjusted EPS | $0.05 | $0.01 | 400% |
Data source: Stratasys. GAAP = generally accepted accounting principles.
GAAP gross profit margin was 47.1%, down from 48.3% in the year-ago quarter. Adjusted gross margin was 51.2%, down from 55.1%. A decline in the service business' GAAP gross margin accounted for the entire decline in the overall GAAP gross margin. The decline in the adjusted gross margin was driven by a shift in sales mix, with both businesses experiencing declines: Product's gross margin decreased to 57.9% from 61.1% and service's to 40.4% from 35%.
Stratasys generated $25.4 million in cash from operations, versus $31.6 million in the year-ago quarter, and ended the quarter with $297.2 million in cash and equivalents. The company's balance sheet is solid, as it has no long-term debt.
Stratasys does not provide quarterly guidance. For some context --though investors shouldn't pay too much attention to Wall Street's near-term estimates -- analysts were looking for adjusted EPS of $0.05 on revenue of $162.7million. So Stratasys hit the earnings consensus on the bulls-eye and inched by the revenue consensus.
Image source: Getty Images.
Segment results
| Segment | Q1 2017 Revenue | Q1 2016 Revenue | Year-Over-Year Change |
| --- | --- | --- | --- |
| Product | $115 million | $119 million | (3%) |
| Service | $48 million | $49 million | (2%) |
Data source: Stratasys, which recently began rounding segment results to the nearest million.
Within products, 3D printer revenue declined 11% year over year, consumables (print materials) revenue increased 7%, and customer support revenue, which mainly includes revenue from service contracts, grew 7%.
CEO Ilan Levin said on the earnings call that the decline in 3D printer revenue was due to a shift in product mix toward lower-end printers, which was "mainly" driven by the success of the lower-cost F123 series launched in February for the rapid prototyping professional market. Stratasys' year-over-yearrevenue from 3D printer sales declined 19%, 20%, and 4%, respectively, in the second, third, and fourth quarters of 2016. So, while quarterly revenue results will be somewhat lumpy due to such factors as timing of new product launches,the reported quarter's 11% decline is a bit disappointing after last quarter's modest 4% decline.
Positively, recurring revenue (from consumables and service contracts) continued to increase, thanks to Stratasys' razor-and-blade-like business model.
What happened with Stratasys in the quarter (and more recently)?
Announced an agreement with SIA Engineering, a major provider of aircraft maintenance and repair services in the Asia-Pacific region, to help speed up the commercial aviation industry's adoption of 3D printing for production applications by establishing a 3D printing service center in Singapore that offers a variety of services to SIA's partners and customers.
Launched the Stratasys Expert Services Group in North America to help manufacturers build their 3D printing strategy and workflow.
Announced a strategic investment in LPW Technologies, a developer of metal powders and metal powder management systems.
In early May (or the second quarter), announced the Continuous Build 3D Demonstrator, which is an in-development scalable platform for low-volume parts production and mass customization. Along with Robotic Composite, it's one of Stratasys' two key next-generation 3D printing technologies.
In early May (or the second quarter), entered into a partnership with Desktop Metal, a manufacturer of metal 3D printers, whereas Desktop will sell its products via Stratasys' distribution channel. Stratasys doesn't make metal 3D printers, so this initiative along with the LPW investment mentioned above help boost its exposure to metal 3D printing.
What management had to say
Here's what Levin had to say in the press release about the quarter:
Looking ahead
Stratasys turned in a mixed quarter, with no big surprises either way. While revenue generated from sales of 3D printers seemed a bit light, quarterly revenue will always be somewhat lumpy. Investors should get a better feel in the next couple of quarters for how well Stratasys' 3D printer business is performing as there won't be the initial surge in sales of the new F123 series of printers like there was in the first quarter.
Positively, recurring revenue continued to grow modestly, management continues to focus on controlling expenses, and there were some initiatives announced in the quarter that have the potential to help drive long-term growth.
Lastly, Stratasys reiterated its previously issued 2017 guidance:
| Metric | 2017 Guidance | 2016 Result | Projected Year-Over-Year Change |
| --- | --- | --- | --- |
| Revenue | $645 million to $680 million | $672.5million | (4.1%) to 1.1% |
| GAAP earnings per share (EPS) | ($1.00) to ($0.73) | ($1.48) | 32.4% to 50.7% |
| Adjusted EPS | $0.19 to $0.37 | $0.28 | (32.1%) to 32.1% |
Data source: Stratasys.
10 stocks we like better than StratasysWhen investing geniuses David and Tom Gardner have a stock tip, it can pay to listen. After all, the newsletter they have run for over a decade, Motley Fool Stock Advisor, has tripled the market.*
David and Tom just revealed what they believe are the 10 best stocks for investors to buy right now... and Stratasys wasn't one of them! That's right -- they think these 10 stocks are even better buys.
Click here to learn about these picks!
*Stock Advisor returns as of May 1, 2017
Beth McKenna has no position in any stocks mentioned. The Motley Fool recommends 3D Systems and Stratasys. The Motley Fool has a disclosure policy.