Stocks Trim Losses, But Euro Fears Weigh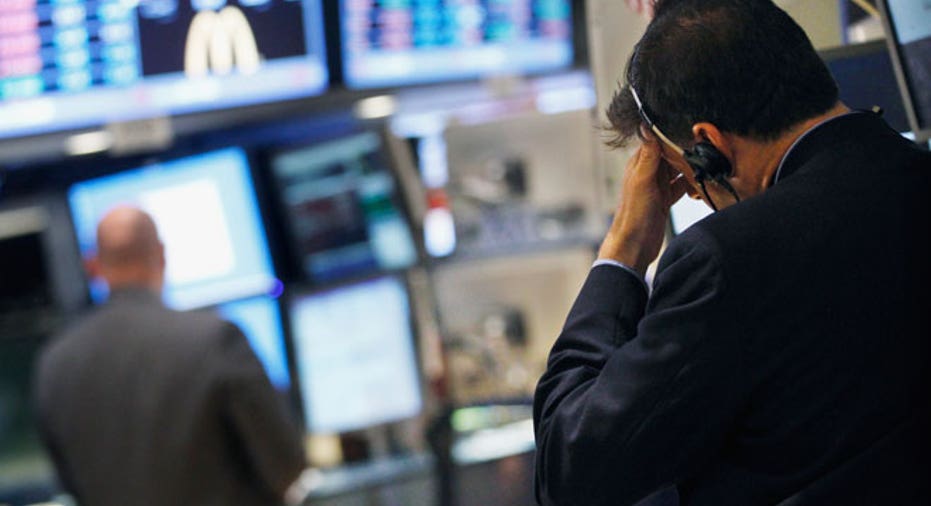 FOX Business: The Power to Prosper
The Dow ended with heavy losses on Monday amid worries about Europe, but the blue-chip average was able to shake off some of a 239-point drop taken in morning action.
Today's Markets
The Dow Jones Industrial Average sold off by 101 points, or 0.79%, to 12721, the S&P 500 slid 12.1 points, or 0.89%, to 1351 and the Nasdaq Composite dropped 35.2 points, or 1.2%, points to 2890.
Spain has once again taken the spotlight across global trading desks. Market participants ditched the country's bonds, sending the yield on its 10-year debt surging to a euro-era high above 7.4%. Analysts broadly agree that such high borrowing costs are unsustainable in the long run, meaning Spain might be in need of a sovereign bailout.
At issue were reports that more regional governments may need assistance from Spain's already strapped federal government. The country already got a $122 billion rescue package from the European Union to recapitalize its banking sector, and political support for more bailouts is running dry.
Meanwhile, there were also worries that Greece may not meet the terms of its bailout, which raises the specter that it may have difficulty making a bond payment due in late August. Many of these headlines are similar to ones from earlier in the year, and indeed last summer, as no concrete plan has been crafted to quell the debt crisis.
"We're back to square one again with all of these stories," James Hughes, a senior market analyst at Alpari said in an interview with FOX Business. "Nothing has necessarily changed."
The Euro Stoxx 50 shed 2.6%, while Spain's IBEX 35 slid 1.1%. In a sign of the flight to safety, the yield on the U.S. 10-year Treasury, seen as a safe haven, slid to a record low of 1.401%.
Meanwhile, earnings season continues this week.
McDonald's (NYSE:MCD) revealed a second-quarter profit of $1.32 a share on revenues of $6.92 billion. Excluding the impact of currency adjustments, the world's biggest fast food chain's EPS came in at $1.39. The Street expected the company to earn $1.38 on $6.94 billion. Shares were lower by 1.9% in pre-market action.
Commodities markets fell amid the global flight to safety. The benchmark crude oil contract traded in New York dropped $3.69, or 4%, to $88.14 a barrel. Wholesale New York Harbor gasoline fell 2% to $2.883 a gallon.
In metals, gold dropped $5.40, or 0.34%, to $1,577 a troy ounce.
Foreign Markets
The Euro Stoxx 50 slid 2.6% to 2179, the English FTSE 100 dropped 2.1% to 5334 and the German DAX tumbled 3.2% to 6419.
In Asia, the Japanese Nikkei 225 fell 1.9% to 8508 and the Chinese Hang Seng sold off by 3% to 19053.