Stocks Take Late-Day Slide Amid Euro Worries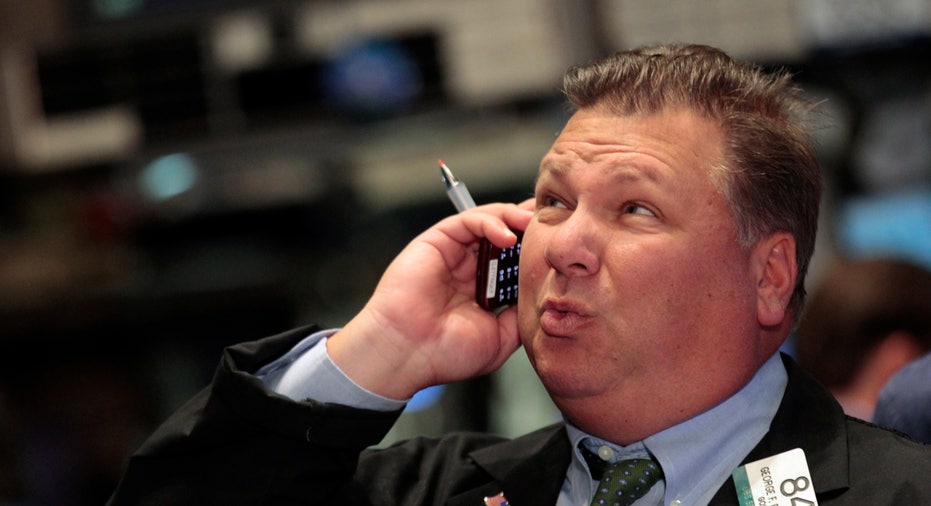 FOX Business: The Power to Prosper
The markets dropped sharply in a late-day selloff as optimism over the eurozone's support for a Spanish banking rescue turned to gloom over the deepening debt crisis.
Today's Markets
The Dow Jones Industrial Average fell 143 points, or 1.1%, to 12411, the S&P 500 dipped 16.7 points, or 1.3%, to 1309 and the Nasdaq Composite slid 48.7 points, or 1.7%, to 2810.
After posting the best week of the year, the Dow snapped a four-day winning streak on Monday. The stocks taking the heaviest selling were found among the financial, materials, technology, consumer discretionary, industrial and energy sectors. Meanwhile, traditional defensive plays like utilities and telecommunications firms were spared the brunt of the selling.
Energy futures sustained heavy losses as well.
The benchmark crude oil contract traded in New York slid $1.40, or 1.7%, to $82.70 a barrel. Wholesale New York Harbor gasoline fell 1.1% to $2.66 a gallon.
Traders bought U.S. Treasury bonds, pushing the yield on the 10-year lower by 0.045-percentage point to 1.594%.
In metals, gold gained $5.40, or 0.34%, to $1,597 a troy once.
Spain said over the weekend that it plans on seeking up to $125 billion in aid from the 17-member eurozone to support its banks. There have been concerns for weeks that banks there that are laden with under-performing European sovereign debt and poorly-performing real estate loans could fail and potentially dramatically worsen that debt crisis.
In a statement, eurozone leaders said that they are "willing to respond favourably" to such a request.
However, the details remained murky, making many market participants very cautious. In particular, it remains unclear which rescue facility will be used to provide the loans. There is the temporary European Financial Stability Fund and the permanent European Stability Mechanism, both of which come with their own strings attached.
In a sign of the anxiety, the yield on Spain's 10-year bonds hit a one-week high of 6.47%, according to data compiled by FOX Business. That represents a painfully high borrowing cost, and is close to levels that has locked other eurozone countries out of private lending markets.
On top of that, elections that are likely to determine Greece's fate in the eurozone are scheduled for Sunday. Indeed, analysts at Nomura said in a note on Monday that many of its clients are "deeply reticent to put on large trading positions until that particular uncertainty is resolved."
The docket of data on the U.S. economy is quite light over the first two days of the week. Later in the week, traders will get reports on retail sales, consumer sentiment, and the manufacturing sector.
Foreign Markets
The Euro Stoxx 50 fell 0.29% to 2138, the English FTSE 100 slid 0.05% to 5432 and the German DAX rose 0.17% to 6141.
In Asia, the Japanese Nikkei 225 soared 2% to 8625 and the Chinese Hang Seng surged 2.4% to 18954.