Stocks subdued amid North Korea concerns, European data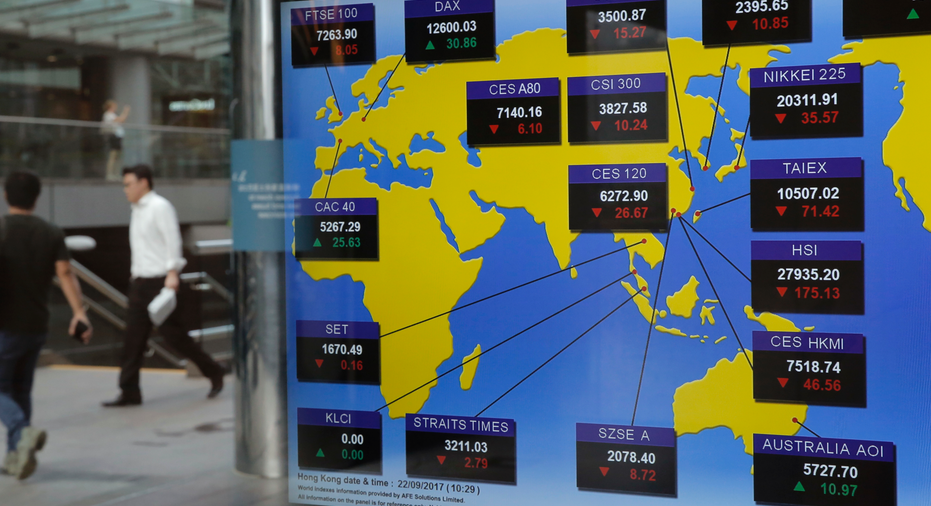 World stocks were subdued on Friday after North Korea said it could test a hydrogen bomb in the Pacific Ocean, though European markets were supported by upbeat economic data.
KEEPING SCORE: Britain's FTSE 100 rose 0.2 percent to 7,275 and Germany's DAX rose by the same rate to 12,624. France's CAC 40 gained 0.3 percent to 5,284. Wall Street was poised to open lower. Dow futures shed 0.1 percent and the broader S&P 500 futures lost 0.2 percent.
SANCTIONS: Geopolitical tensions ratcheted up after U.S. President Donald Trump authorized stiffer new sanctions in response to North Korea's nuclear weapons advances, drawing a furious response from Pyongyang. Trump's administration said it would punish foreign companies dealing with the North, including by expanding the Treasury Department's ability to ban anyone from interacting with the U.S. financial system. North Korean leader Kim Jong Un retaliated by calling Trump "deranged" and saying he'll "pay dearly" for his threats, while Kim's foreign minister reportedly said the country might plan to test a hydrogen bomb in the Pacific Ocean.
EUROBOOM: European stocks were supported by a survey that showed the eurozone economy accelerated at the end of the third quarter. Financial information company IHS Markit said its main gauge of the eurozone's business activity, the so-called purchasing managers' index, jumped to a four-month high of 56.7 points in September, a whole point above the previous months' rate. The firm's chief business economist Chris Williamson says that points to a high quarterly economic growth rate of 0.7 percent.
CHINA RATING: In Asia, investors were digesting Standard & Poor's downgrade of China's credit rating after markets closed Thursday. Citing rising debt levels, S&P lowered its sovereign rating by one notch, to A+ from AA-, saying credit growth increased China's economic and financial risks. Then it cut Hong Kong's rating Friday, citing risks posed by close ties between mainland China and the Asian financial center. The downgrade underscores challenges faced by China's Communist leaders as they cope with slowing growth in the world's No. 2 economy.
ASIA'S DAY: Japan's benchmark Nikkei 225 slipped 0.3 percent to close at 20,296.45 and South Korea's Kospi lost 0.7 percent to 2,388.71. Hong Kong's Hang Seng shed 0.8 percent to 27,880.53 and the Shanghai Composite fell 0.2 percent to 3,352.53. Australia's S&P/ASX 200 added 0.5 percent to 5,675.70. Taiwan's benchmark fell and Southeast Asian indexes were mostly lower.
ENERGY: Oil futures were down. Benchmark U.S. crude shed 12 cents to $50.43 a barrel in electronic trading on the New York Mercantile Exchange. The contract fell 14 cents, or 0.3 percent, to settle at $50.55 a barrel on Thursday. Brent crude, used to price international oils, fell 2 cents to $56.41 a barrel in London.
CURRENCIES: The dollar weakened to 112.03 yen from 112.49 yen in late trading Thursday. The euro climbed to $1.1965 from $1.1940.