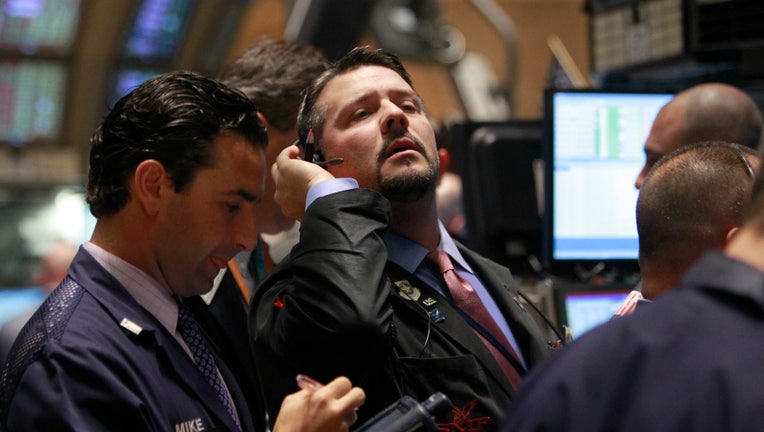 FOX Business: The Power to Prosper
After digesting a slew of mixed economic reports, Wall Street stayed in a tight trading range and bounced between slight gains and losses Wednesday afternoon.
Today's Markets
As of 2:53 p.m. ET, the Dow Jones Industrial Average rose 9.50 points, or 0.07%, to 13181.52, the S&P 500 added 2.76 points, or 0.20%, to 1406.69 and the Nasdaq Composite gained 13.09 points, or 0.24%, to 3030.89. The FOX50 picked up 0.40 points, or 0.04%, to 1056.26.
The back-and-forth action leaves Wall Street in jeopardy of a third consecutive decline and its first losing week after five weeks of gains. However, this week's slide has been very muted, erasing just a bit of the markets' recent hot streak.
About half of the Dow's 30 members gained ground, led by Cisco Systems (NASDAQ:CSCO) and United Technologies (NYSE:UTX). The index's biggest percentage losers were Merck (NYSE:MRK) and Caterpillar (NYSE:CAT).
Trading volume has dried up considerably on Wall Street, as is common during August when some market participants take extended vacations. Monday marked the lightest volume day of 2012 for the New York Stock Exchange volume has remained under 3 billion shares for the past three sessions, compared with 2012's average of 3.7 billion.
U.S. markets bounced off their lows after the National Association of Home Builders said its U.S. home builder sentiment index rose to 37 in August from 35 in July, marking the highest level since February 2007.
Home building stocks like Toll Brothers (NYSE:TOL) and KB Home (NYSE:KBH) traded mixed in the aftermath of the report.
Also, the Federal Reserve said industrial production picked up steam in July, jumping 0.6% from June -- the fourth consecutive monthly rise and largest since April.
On the other hand, the Empire Manufacturing index showed activity in the New York area unexpectedly turned negative for the first time since October, coming in at -5.85 in August from 7.39 the month before. Economists had been bracing for a more modest decline to 6.5.
"Numbers such as these provide no comfort. Economic data of late had been better than expected so let's hope today's number is not the start of a trend reversal," Dan Greenhaus, chief global strategist at BTIG, said in a note.
U.S. stocks received a slight boost on Tuesday after the government said retail sales broke a three-month slump in July, enjoying their strongest rise since February.
Also on the economic front on Wednesday, the Labor Department said consumer prices were flat in July from June, compared with forecasts for a 0.2% rise. Excluding food and energy, prices were up 0.1%, just under the expected 0.2% estimated increase.
In the commodities complex, crude oil rose $1.04 a barrel, or 1.13%, to $94.47. Gold advanced for the fourth day of the past six, gaining $4.30 a troy ounce, or 0.27%, to $1,603.70.
Corporate Movers
Target (NYSE:TGT) topped forecasts with EPS of $1.06 last quarter and upgraded its full-year earnings guidance above the Street's view. The discount retailer's outlook for the current quarter would also surpass estimates.
Staples (NASDAQ:SPLS) tumbled 16% after disclosing a worse-than-expected 32% tumble in earnings. The office supplies retailer also missed estimates with a 5.5% decline in sales to $5.5 billion and cut its full-year outlook.
Deere (NYSE:DE) retreated 6% after posting EPS of $1.98, widely trailing estimates for $2.38. The agricultural and construction equipment maker's sales rose 15% to $9.6 billion, narrowly beating the Street.
Abercrombie & Fitch (NYSE:ANF) disclosed a 52% plunge in second-quarter earnings, but topped the Street's beaten-down expectations. Sale-store sales contracted 10%, the first decline since 2009. A&F also boosted its share buyback plans by 10 million shares.
Carlyle Group (NYSE:CG) scooped up a controlling stake in Getty Images from private-equity firm Hellman & Friedman for $3.3 billion. Carlyle beat out rivals KKR (NYSE:KKR) and TPG.
Wal-Mart (NYSE:WMT), Target (NYSE:TGT) and a slew of other retailers unveiled a mobile-payments alliance. The venture, called the Merchant Customer Exchange, could rival similar systems from Google (NASDAQ:GOOG) and wireless providers like AT&T (NYSE:T).
Global Markets
The U.K.'s FTSE 100 fell 0.54% to 5833.04, the French CAC 40 dipped 0.03% to 3449.20 and Germany's DAX slid 0.40% to 6946.80.
In Asia, Japan's Nikkei 225 slipped 0.05% to 8925.04 and Hong Kong's Hang Seng retreated 1.18% to 20052.29.