Stocks Struggle To Hold Monthly Gains As Earnings, Data Weigh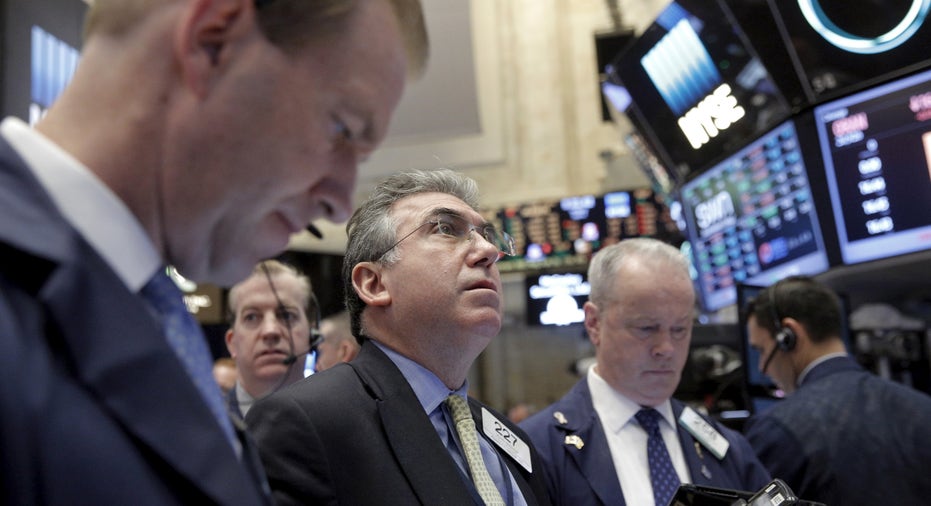 Stocks struggled to hang on to April gains as a series of sour earnings reports and disappointing economic data raised doubts about the strength of the U.S. economy.
The Dow Jones Industrial Average was down 112 points, or 0.6%, to 17,715, as sharp losses from Intel Corp. (INTC), Wal-Mart Stores Inc, (WMT), Cisco Systems Inc.(CSCO) and Apple Inc. (AAPL) dragged the blue-chip gauge lower. It was on track for an April gain of 0.2%.
Meanwhile, the S&P 500 dropped 17 points, or 0.8%, to 2,059, led by declines in health care and information technology shares. The Nasdaq shed 41 points, or 0.9%, to 4,764.
The S&P was on track for an April gain of 0.1%, while the Nasdaq--which has lagged behind its peers for most of the month--was set to lose 2.2%.
While the earnings flow was light in the early morning, stocks were still reeling from a sharp selloff in the second half of a Thursday session that was driven by a number of factors--including a weak reading on U.S. first-quarter gross domestic product, a surprise decision by the Bank of Japan to leave monetary policy on hold, and Apple Inc.'s first drop in quarterly revenue in 13 years.
The Dow industrials stumbled more than 200 points (http://www.marketwatch.com/story/dow-faces-near-100-point-loss-as-boj-surprises-market-with-no-change-2016-04-28) on Thursday for their worst drop in two months.
"When you get that kind of late-day price action when the market is higher most of the session then just pukes into the close, that means the tone has shifted under the surface," said Mike Antonelli, equity sales trader at R.W Baird & Co. "You've kind of run out of steam at 2,100."
Official data showed consumer spending barely rose in March as consumers opted to save, stoking concerns that second quarter growth might also disappoint after a report on first quarter growth released Thursday was weaker than expected.
The PCE price index, the Federal Reserve's preferred measure of inflation, showed price pressures abated in March, seeming to confirm fears voiced by Fed Chairwoman Janet Yellen that the rise in inflation seen at the beginning of the year might not endure.
"Consumers are two-thirds of the economy and they're not spending much. It's going to be hard to get the data to look much better without them," said Paul Nolte, portfolio manager at Kingsview Asset Management.
Data: Personal income and outlays data showed consumer spending rose a meager 0.1% in March, missing Wall Street expectations. (http://www.marketwatch.com/story/consumer-spending-rises-scant-01-in-march-2016-04-29)
The PCE price index, the Federal Reserve's preferred measure of inflation, showed that price pressures seen earlier in the year have abated somewhat, with the index rising just 0.8% in the 12 months ending in March.
Chicago PMI fell to 50.4 in April, yet another sign that manufacturing activity in the U.S. has softened so far this year. (http://www.marketwatch.com/story/chicago-pmi-falls-to-504-april-in-sign-of-economic-weakness-2016-04-29)
Stocks to watch:Apple--whose earnings (http://blogs.marketwatch.com/thetell/2016/04/26/apple-earnings-expected-to-show-first-iphone-sales-decline-live-blog/) earlier in the week disappointed investors--continued its slump after billionaire Carl Icahn said he dumped his entire stake in the iPhone maker over China worries (http://www.marketwatch.com/story/carl-icahn-dumps-apple-stake-amid-china-concerns-2016-04-28).
Strong earnings reports from Exxon Mobil Corp. (XOM) released early Friday and from Amazon late Thursday failed to lift the market.
Read: A new day for Amazon (http://www.marketwatch.com/story/a-new-day-for-amazon-2016-04-28)
LinkedIn Corp.(LNKD) shot higher after its earnings and its outlook surpassed analysts expectations. Read:LinkedIn not quite dead yet (http://www.marketwatch.com/story/linkedin-not-quite-dead-yet-2016-04-28)
But despite those gainers, the overall mood remained sour, hurt by weak reports from Twitter Inc.(TWTR) and Gilead Sciences Inc.(GILD) released earlier in the week.
Baidu.com Inc. (BIDU) shares soared after profit fell, but revenue soared for the Chinese Internet group (http://www.marketwatch.com/story/baidu-profit-drops-189-but-revenue-jumps-2016-04-29).
Chevron Corp.(CVX) shares slumped after a lackluster earnings report.
TiVo Inc.(TIVO) shares jumped after Rovi Corp.(ROVI) announced a cash-and-stock deal for the maker of the TiVo branded digital video recorder worth $1.1 billion.
Caterpillar Inc.(CAT) rose after saying on Thursday it would close five U.S. plants and shed about 820 positions (http://www.marketwatch.com/story/caterpillar-to-shut-5-us-plants-cut-more-than-800-jobs-2016-04-28)as part of a strategy outlined in September.
Gold soars: Disappointing data and mayhem after the BOJ decision routed the dollar also stressed out investors on Thursday. The dollar continued to weaken against the yen on Friday (http://www.marketwatch.com/story/yen-rips-higher-against-dollar-after-boj-shocks-market-with-no-action-2016-04-28), struggling to hang onto the Yen107 level even with Tokyo markets closed for a holiday.
Pressure on the dollar continued to drive up precious metals, with gold up $28, or 2.2%, to $1,295 an ounce, on track to finish at its highest level since January. Silver rose 37 cents, or 2.2%, to $17.93 an ounce.
Read: Why gold's upward march has everything in its favor (http://www.marketwatch.com/story/gold-has-everything-in-its-favor-2016-04-22)
Oil futures turned lower (http://www.marketwatch.com/story/oil-prices-fall-as-some-investors-cash-out-on-aprils-big-gains-2016-04-29), with U.S. crude down 22 cents, or 0.5%, at $45.82 a barrel.
The Stoxx Europe 600 index (http://www.marketwatch.com/story/european-stocks-slide-as-gdp-data-earnings-stream-in-2016-04-29) fell 2.1% amid the region's own data deluge, while the Hong Kong Hang Seng Index (http://www.marketwatch.com/story/asian-markets-keep-sliding-in-wake-of-japans-inaction-2016-04-28) slid 1.5%.
By Joseph Adinolfi and Barbara Kollmeyer, MarketWatch