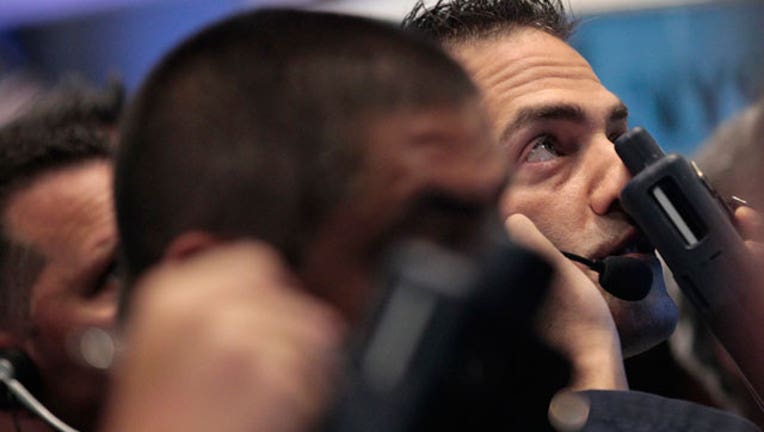 FOX Business: The Power to Prosper
U.S. equity market wobbled on Monday as traders awaited the all-important September jobs report, which was pushed back until Tuesday due to the government shutdown.
Today's Markets
The Dow Jones Industrial Average fell 7.5 points, or 0.05%, to 15392, the S&P 500 rose 0.16 point, or 0.01%, at 1745, and the Nasdaq Composite climbed 5.8 points, or 0.15%, to 3920.
The markets have finally gotten over their Washington, D.C.-sparked paralysis. That means the focus is back on the American economy and corporate earnings.
"We finally get back to some normalcy this week in both the economy, after last week's temporary political deal, and the analysis of it as previously held economic data starts to be unveiled again," Peter Boockvar, chief market strategist at The Lindsey Group wrote in an e-mail.
On the economic front, the National Association of Realtors said sales of existing homes fell 1.9% in September from the previous month to a seasonally adjusted annual rate of 5.29 million. August's numbers were revised down sharply to 5.39 million from an earlier reported figure of 5.48 million.
Despite the month-to-month decline, the two-month figures are the highest in four years.
Economists forecast a September sales pace of 5.3 million.
On Tuesday, traders will also finally get a peek at how the labor market held up during September. After being delayed by the government shutdown, the Labor Department is set to belatedly release last month's jobs report Tuesday morning. The government is expected to say nonfarm payrolls rose by 185,000 jobs, improving on August's pace of 169,000.
The report has taken particular significance as analysts look to handicap exactly when the Federal Reserve will begin tapering its vast bond-buying program. Wall Street expected it to come in September, but now new economic headwinds have pushed Fed watchers as far as March.
"If tomorrow's US employment report is strong enough, that will bring December back into contention for Fed tapering," analysts at Societe Generale wrote to clients Monday morning.
"The alternative is that the data will disappoint, the markets will not price in tapering until January, and the odds of the Fed staying sidelined until March get marked up."
In earnings news, McDonald's (NYSE:MCD) reported third-quarter earnings ahead of the bell Monday. The fast food chain reported profits of $1.52 a share, just slightly above Wall Street expectations of $1.51 a share. Revenues came in at $7.32 billion, matching expectations.
Halliburton's (NYSE:HAL) stock suffered even though the oilfield servicing giant posted posted earnings that narrowly topped expectations. Analysts pinned the dip on expectations on even stronger numbers on the back of results from rivals like Schlumberger (NYSE:SLB).
Meanwhile, oil prices slid under the $100 mark. The U.S. contract slumped $1.59, or 1.6%, to $99.22 a barrel. Wholesale New York Harbor gasoline fell 73 cents, or 0.73%, to $2.653 a gallon. Gold rose $1.20, or 0.09%, to $1,316 a troy ounce.
Foreign Markets
The Euro Stoxx 50 fell 0.15% to 2029, the English FTSE 100 rose 0.48% to 6654 and the German DAX climbed 0.02% to 8867.
In Asia, the Japanese Nikkei 225 jumped 0.91% to 14694 and the Chinese Hang Seng tilted higher by 0.42% to 23438.
Dunstan Prial contributed to this report.