Stocks Stage Stunning Comeback; Dow Soars 180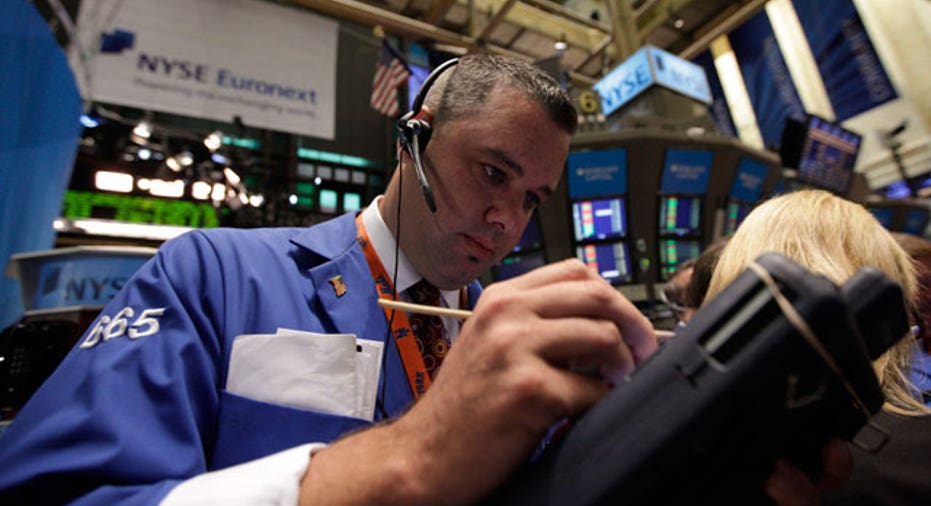 FOX Business: The Power to Prosper
Surging financial shares, coupled with reports that European authorities were nearing a deal to tackle the region's debt crisis, rekindled Wall Street's enthusiasm, setting off a buying frenzy that left the blue chips 180 points to the upside.
Today's Markets
The Dow Jones Industrial Average jumped 180 points, or 1.6%, to 11,577, the S&P 500 rose 24.5 points, or 2%, to 1,225, and the Nasdaq Composite climbed 42.5 points, or 1.6%, to 2,657.
In a stark comparison to the prior session, financial stocks soared.  Indeed, Bank of America (NYSE:BAC) was the best-performing blue chip by a wide margin, spiking 11%.  The sudden uptick comes as traders cheered relatively strong earnings from the nation's largest bank by assets, and overlooked weak quarterly performance by Goldman Sachs (NYSE:GS).  Industrials like machinery-giant Caterpillar (NYSE:CAT) posted solid performance as well.
Technology behemoth IBM (NYSE:IBM), however, fell more than 3% after its outlook spooked traders.
Trading on Wall Street has been tumultuous in recent weeks.  Jitters over the sovereign debt crisis in Europe sent the Dow diving more than 240 points in the worst rout since early-October on Monday, and the markets had been solidly to the downside for much of Tuesday before the markets rebounded.
Yields on U.S. debt, seen as a safe-haven investment, bounced back from heavy losses as well.  The yield the benchmark 10-year Treasury note rose to 2.185% from 2.157%.  Bond yields move in the opposite direction of prices, so as demand ramps up, yields fall. Volatility, as tracked by the VIX index, plunged more than 7%.
The Guardian reported late in Tuesday's session that France and Germany -- Europe's economic powerhouses -- agreed to increase the size of the euro zone's bailout fund to 2 trillion euros as the 17-member currency bloc grapples with a deepening sovereign debt crisis. However, some of the original enthusiasm faded after Dow Jones Newswires said the figure discussed in The Guardian's report was "totally wrong," according to unnamed sources.
The fund, which has been the subject of heated debate in Europe, would be able to purchase debt of countries like Greece and Spain, which have seen borrowing costs spike in private markets as they deal with incredibly high levels of debt.  Additionally, the fund may be a boon to troubled financial institutions, that have seen capital levels shrink as a result of the crisis.
The European sovereign debt crisis has been a cause of major uncertainty for Wall Street, and has prompted steep retreats and big gains in recent months.  A potential resolution, therefore, is seen by market participants as a positive.
The euro, which had been down sharply in earlier trading, turned sharply to the upside on the news, climbing 0.5% to $1.38. The greenback fell 0.41% against a basket of world currencies.
Earnings Season in Full Swing
Several blue chips reported earnings before the opening bell, including Bank of America (NYSE:BAC), Johnson & Johnson (NYSE:JNJ) and Coca-Cola (NYSE:KO). Intel (NYSE:INTC) is set to report after the close of trading.
Bank of America earned 56 cents a share in the third quarter, well higher than the 77 cent loss it reported last year.  However, an accounting gain and a pretax asset sale, two elements that wouldn't be expected to show up in continuing earnings, were the driver of much of the gains. Still, shares rallied 8% in afternoon trading.
Coca-Cola revealed adjusted profits of $1.03 a share, edging out analysts' estimates by a penny.  The world's biggest soft-drink maker also saw its sales jump 45%.
Medical giant Johnson & Johnson revealed adjusted third-quarter net profits of $1.24 a share, beating forecasts by 3 cents.
Goldman Sachs posted a much wider-than-expected quarterly loss of 84 cents a share for the third quarter, compared with calls by analysts of a loss of 16 cents.  The loss was the second in the investment-banking heavyweight's history as a publicly traded company.
Inflation Heats Up, Homebuilder Sentiment Rises
Prices at the wholesale level jumped 0.8% in September, according to the Labor Department, a much quicker pace than the 0.2% economists forecast.  Excluding the more volatile food and energy component, prices rose 0.2%, also topping forecasts of 0.1%.
The National Association of Homebuilders' gauge of sentiment rose to 18 in October from 14 in September, zooming past estimates of a reading of 15. Sentiment is now the highest since May 2010, representing a rare glimmer of light in a market that was slammed during the economic downturn, and has been slow to recover.
On the global front, China's economy grew at an annualized pace of 9.1% in the third quarter, short of the 9.3% analysts expected, and the slowest pace since 2009.  The specter of slowing expansion for the world second-largest economy initially sent commodities plunging, but many made a dramatic comeback.
Crude oil gained $1.96, or 2.3%, to $88.34 a barrel.  Wholesale RBOB gasoline rose less than a penny to $2.75 a gallon.
In metals, silver was up 0.03% to $31.31 a troy ounce. Gold slipped $23.80, or 1.4%, to $1,653 a troy ounce.
Foreign Markets
The Euro Stoxx 50 fell 0.39% to 2,307, the English FTSE 100 slid 0.48% to 5,410 and the German DAX gained 0.31% to 5,877.
In Asia, the Japanese Nikkei 225 dropped 1.6% to 8,742 and the Chinese Hang Seng plunged 4.2% to 18,076.