Stocks Soar, Notching Multi-Year Highs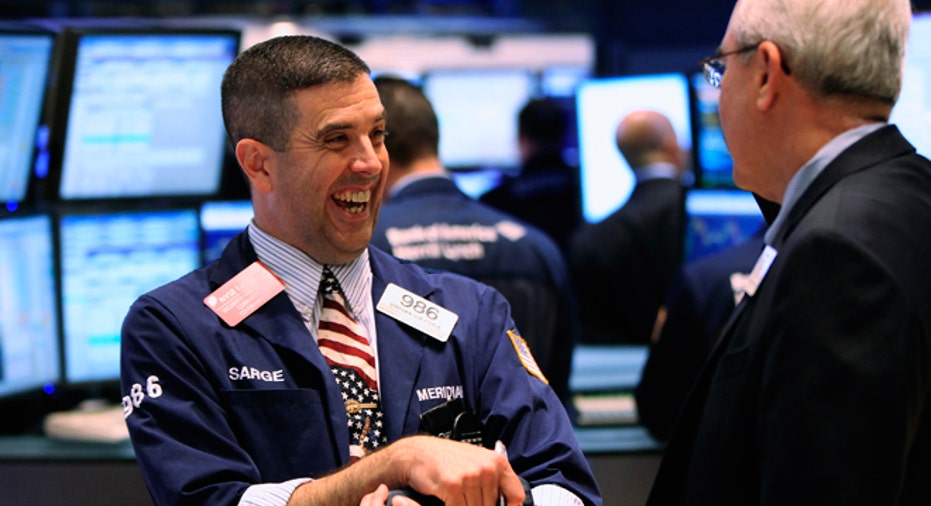 FOX Business: The Power to Prosper
The markets leaped on Tuesday, with the Nasdaq closing above 3000 for the first time in more than a decade, after JPMorgan's unexpected dividend hike and stock buyback added to enthusiasm over an upbeat economic assessment from the Fed.
Today's Markets
The Dow Jones Industrial Average jumped 218 points, or 1.7%, to 13178, the S&P 500 rose 25 points, or 1.8%, to 1396 and the Nasdaq Composite gained 56.2 points, or 1.9%, to 3040.
The Dow has risen for five-straight sessions, pushing the blue-chip index to its highest level since 2007. The broader S&P 500 is now trading at its highest levels in close to four years. Conversely, volatility has plummeted to the lowest level since June 2007, as tracked by the CBOE's VIX, data compiled by FOX Business show.
JPMorgan Chase (NYSE:JPM), the biggest U.S. bank by assets, unveiled plans to boost its quarterly dividend from 25 cents to 30 cents a share and buy back up to $12 billion in shares. The move sent shares of other banking giants including Bank of America (NYSE:BAC) and Wells Fargo (NYSE:WFC) zooming higher. Big investment banks like Goldman Sachs (NYSE:GS) and Morgan Stanley (NYSE:MS) lurched higher as well.
The Federal Reserve said that it will release the results of its eagerly-awaited stress tests on financial institutions half an hour after the market closes in New York. The central bank was expected to reveal them on Thursday.
Gains weren't limited to financials, however, as 71 stocks, or almost 15% of the S&P 500, traded at 52-week highs on the day, according to data complied by FOX Business.
Industrials performed solidly as well. Caterpillar (NYSE:CAT) and United Technologies (NYSE:UTX) both advanced more than 2% and added nearly 50 points to the Dow's overall performance.
The Federal Reserve on Tuesday held interest rates at exceptionally low levels as was widely expected. The central bank said it expects the economy to improve at a moderate pace, while the unemployment rate declines gradually and inflation remains subdued despite rising oil prices.
U.S. retail sales rose 1.1% in February, more than the 1% expected and the largest gain since September 2011, the Commerce Department reported. Excluding the auto segment, sales were up 0.9%, higher than the 0.7% expected. The data from January were revised higher as well, meaning first-quarter gross domestic product could be higher than initially anticipated, according to Dan Greenhaus, chief global strategist at BTIG. Greenhaus adds that there is "is much to like" in the report.
The Centre for European Economic Research's (ZEW) gauge of investor sentiment in Germany leaped by 16.9 points to 22.3 in March, its highest level since June 2010. Economists forecast a significantly lower reading of 10.
Germany is Europe's biggest economy, and indeed one of the larger economies in the world, and therefore tends to be very closely watched by investors in Europe, Asia and the U.S. There have been worries that the demand across the continent that has been severely weakened by the debt crisis might take a big toll on the country's important manufacturing sector.
"It seems as if the crisis in the [eurozone] has taken a pause for breath," ZEW President Wolfgang Franz said in a release. "In Germany, due to the good employment situation, domestic demand is likely to continue to stimulate growth."
In currencies, the euro fell 0.33% to $1.3111, while the U.S. dollar climbed 0.21% against a basket of six world currencies tracked by the dollar index.
Energy futures were mostly to the upside, helped by the strong data from Germany. The benchmark crude oil contract traded in New York rose 73 cents, or 0.69%, to $107.06 a barrel. Wholesale New York Harbor gasoline rose 0.98% to $3.356 a gallon.
A gallon of regular at the pump costs $3.81 on average nationwide, up from $3.64 last month and $3.70 last year, according to the AAA Fuel Gauge report.
Gold fell slightly to $1,699 a troy ounce. The yield on the 10-year U.S. Treasury note rose 0.021-percentage point to 2.053%.
Foreign Markets
European blue chips rallied 1.6%, the English FTSE 100 jumped 0.98% to 5951 and the German DAX climbed 1.3% to 6991.
In Asia, the Japanese Nikkei 225 edged higher by 0.09% to 9899 and the Chinese Hang Seng gained 0.97% to 21340.