Stocks Rise After President Trump Takes Oath of Office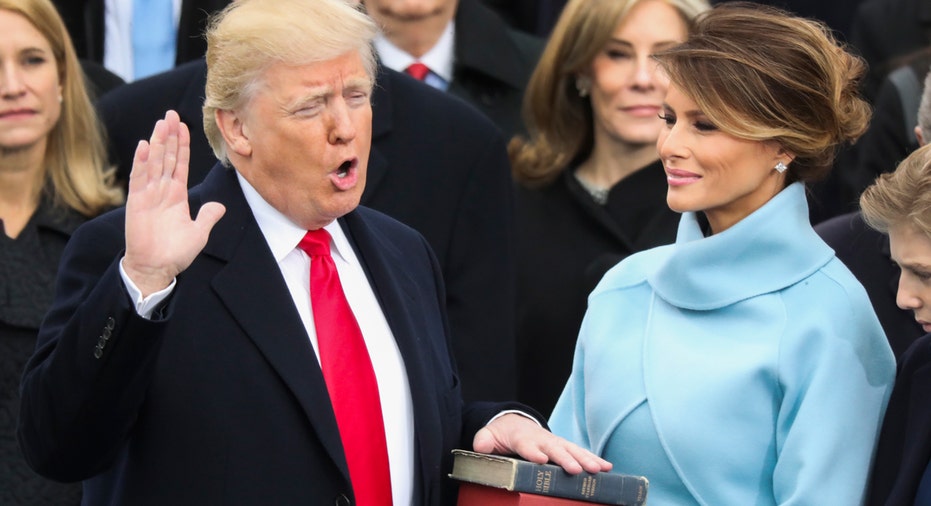 Stocks capped the trading day near session highs Friday as President Donald Trump began his unofficial honeymoon period with America.
Wall Street traded in a wide range as investors parsed the newly-inaugurated president's first speech. Trump said while the nation will confront challenges and hardships, he vowed to "get the job done" while giving power back to the American people. He again vowed focus on infrastructure and defense investments, border control, taxes, and trade.
The Dow ended the session up 94 points, or 0.48% at 19827, back in positive territory for the year. The broader S&P 500 gained 7 points, or 0.34% to 2271, while the Nasdaq Composite added 15 points, or 0.28% to 5555. The telecom, materials, and real estate sectors led the gains, while the health care, and industrials sectors lagged.
Following Trump's surprise election night win on Nov. 8, U.S. stocks rushed to all-time highs on a surge in optimism over his campaign promises to lower taxes, reduce regulation, and kick start more infrastructure spending. The benchmark S&P 500 index has risen about 6% since the former businessman's election, putting it on pace for the biggest gain since President Bill Clinton was re-elected in 1996, and far above the average change of 0.17% from Election Day to Inauguration Day, according to data from Dow Jones Market Data Group.
That data show, based on historical trends for incoming Republican presidents, there's a 40% chance the S&P will continue its climb from Inauguration Day over the next 100 days. The exuberance, though, has moderated over the last two weeks as the market appears poised for recalibration.
"Equities remain in a topping pattern near record highs…indicators have shown that the market is due for a small pullback…as we approach the inauguration…the risk of a larger pullback becomes greater," said Randy Frederick, vice president of Trading and Derivatives at the Schwab Center for Financial Research.
While stock-market gains have leveled off, with the new administration getting down to brass tacks as early as Monday, the possibility of heightened market volatility increases, warned David Joy, Ameriprise Financial chief market strategist. That's because what were previously opinions of private-citizen Trump now become policy expectations of the U.S. president. If Trump and his administration delay enacting those policies, odds of higher uncertainty become greater.
"What started out as the 'Trump bump,' which pushed stocks higher in the five weeks following the election, but has since turned into the Trump interregnum, will be tested to see if it has endurance," Joy said.
It's not just America's biggest companies that stand to benefit from Trump's fiscal-policy proposals. Smaller valued stocks in the Russell 2000 pay a 33% median corporate tax rate compared to 29% for the large cap S&P 500 companies, according to Burt White, chief investment officer for LPL Financial.
Small caps could stand to gain if a portion of manufacturing is brought back to the U.S. and a more favorable environment for mergers and acquisitions comes to pass under a relaxed regulatory environment.
"[Trump's] social media campaign to discourage offshoring is likely to continue and generally hurt larger companies, potentially to the benefit of smaller U.S.-focused suppliers," White said.
To that end, White pointed to the NFIB's monthly Small Business Optimism Index, which jumped a record 7.4 points last month to a 12-year high. Other factors including rising interest rates, the strong dollar, and consumer spending levels, also stand to influence the stock market's direction in the coming months.