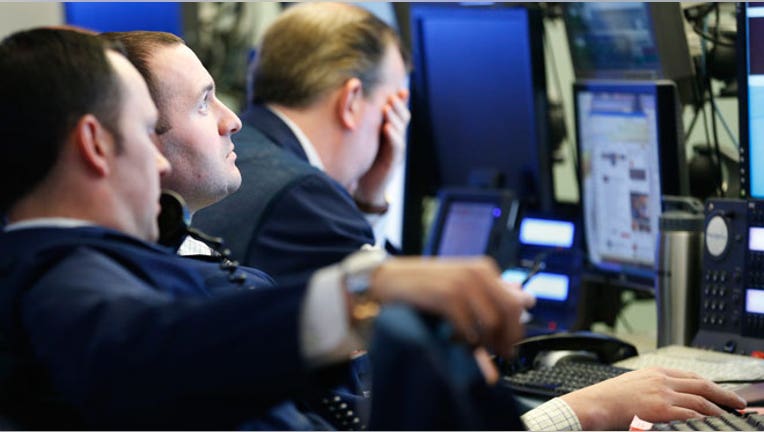 FOX Business: Capitalism Lives Here
The markets took a thrashing on Wednesday as worries swirled about the Federal Reserve's bond-buying program and the state of the economy.
Today's Markets
As of 3:27 p.m. ET, the Dow Jones Industrial Average fell 187 points, or 1.2%, to 14992, the S&P 500 dipped 18.7 points, or 1.1%, to 1613 and the Nasdaq Composite slumped 38.4 points, or 1.1%, to 3407.
For Wall Street, it's all about quantitative easing. Any hints on when the Federal Reserve will taper its vast bond-buying program have driven the markets higher and lower in recent weeks. The pace of economic data is heating up, giving traders fresh clues, as the big monthly jobs report looms on Friday.
"The real concern on trader's minds, has to do with the fact that this economy can not stand on its own without help from the Fed," said Todd Schoenberger, managing partner at LandColt Capital. "Everyone thinks if the Fed pulls back, we'll experience crushing earnings periods for most multi-nationals, and a realistic threat of recession here in the U.S."
A disappointing first look at how the labor market performed in May added to that gloomy backdrop. The ADP National Employment Report shows the U.S. private sector added 135,000 jobs in May, missing expectations of 165,000 being created. Digging into the report, small businesses added 58,000 jobs, while medium and large employers added 39,000 each.
Dan Greenhaus, chief global strategist at BTIG, noted that the data from ADP have undershot the official data from the Labor Department in eight of the last 10 months,  suggesting "Friday's number may still come in roughly in line with consensus."
The Fed is looking to push the unemployment rate -- seen as heading steady at 7.5% in May -- down through its conventional and unconventional monetary policy.
The Institute for Supply Management's gauge of service-sector activity ticked up to 53.7 in May from 53.1 in April, besting estimates of 53.5, and suggesting the sector is still growing. Readings above 50 point to expansion, while those below point to contraction.
The Federal Reserve said in its anecdotal Beige Book report that it sees hiring increasing at a 'measured pace' across its dozen districts, with some reporting slight increases in wage pressure. Overall, the central bank said the economy is continuing to expand at a 'modest to moderate' speed.
Economically-driven sectors were leading the selloff Wednesday, including materials, industrials and consumer discretionary stocks, are taking the biggest losses.
In corporate news, Apple (NASDAQ:AAPL) took a loss in its patent battle with Samsung. The U.S. International Trade Commission ruled against the tech giant and might impose an import ban on certain older models of iPhone and iPad devices. UnitedHealth (NYSE:UNH), the blue-chip health insurer, boosted its dividend 32% and restarted its share buyback program.
The Japanese Nikkei 225 was pummeled overnight, plunging 3.8%, as investors there grew concerned about Prime Minister Shinzo Abe's plan to revive the country's economy. Japanese markets are still up 23.3% for the year, widely outpacing the 14% gain seen in the S&P 500.
Oil and gasoline prices ticked up. The benchmark U.S. crude oil contract climbed 42 cents, or 0.44%, to $93.72 a barrel. Wholesale New York Harbor gasoline gained 0.12% to $2.822 a gallon. Gold was little changed at $1,397 a troy ounce.
Foreign Markets
The Euro Stoxx 50 sold off by 1.1% to 2727, the English FTSE 100 dropped 1.4% to 6470 and the German DAX fell 0.85% to 8225.
In Asia, the Japanese Nikkei 225 plunged 3.8% to 13015 and the Chinese Hang Seng tumbled 0.97% to 22069.