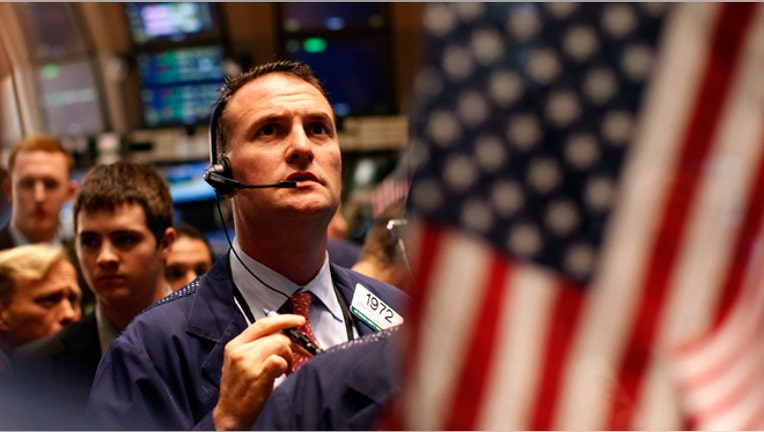 FOX Business: Capitalism Lives Here 
The markets capped the day little changed Monday in holiday-thinned trade as market participants mulled a smattering of corporate news and data from Asia.
Today's Markets
The Dow Jones Industrial Average fell 0.23 point, or 0.00%, to 12815, the S&P 500 gained 0.15 point, or 0.01%, to 1380 and the Nasdaq Composite declined 0.62 point, or 0.02%, to 2904.
The Dow, S&P 500 and Nasdaq all shed more than 2% last week after American elections largely reaffirmed the status quo in Washington, D.C. As a result of the sharp divides in Congress, traders remain deeply concerned about the looming fiscal cliff -- spending cuts and tax hikes that are set to go into effect at the beginning of next year. Analysts generally reckon that an agreement will be struck that will avert what could be a big drag on economic output, but it remains far from certain.
"Our baseline remains that the two sides will find an agreement before the end of 2012, but it is a close call," Goldman Sachs chief U.S. economist Jan Hatzius wrote in a note to clients this weekend. "A failure to settle before yearend would increase the drag on growth via greater uncertainty on the part of firms and consumers."
Monday is a federal holiday, meaning U.S. bond markets are closed. There is also no U.S. economic data on the docket. Market participants said they are generally expecting thin trading.
A report showed Chinese exports climbed more than expected in October, while imports increased by a lower-than-expected margin, helping to ease fears of a hard landing for the world's No. 2 economy. As a result, economists at Barclays warn that "external uncertainty remains the biggest downside risk to China's growth, and a key area to watch for is the sustainability of the growth" stabilization.
The rest of the week is set to be considerably busier for an economic standpoint. The Federal Reserve releases minutes from its last policy-setting meeting on Wednesday, an event that is expected to shed light on the central bank's thinking on the economy and monetary policy. There are also several important releases due throughout the week, including regional manufacturing gauges, inflation data and information on retail sales.
In corporate news, Leucadia National unveiled plans to acquire Jefferies (NYSE:JEF) in a deal values the investment bank at roughly $3.6 billion. Sherwin-Williams (NYSE:SHW) said it is acquiring Consorcio Comex for $2.34 billion as the paint company looks to extend its reach into Latin America.
Research in Motion (NASDAQ:RIMM) also said it will officially launch its much-awaited BlackBerry 10 platform on January 30.
Commodities were little changed. The benchmark crude oil contract traded in New York fell 19 cents, or 0.22%, to $85.88 a barrel. Wholesale New York Harbor gasoline rose 0.22% to $2.705 a gallon.
In metals, gold gained $5.50, or 0.32%, to $1,736 a troy ounce.
Foreign Markets
The Euro Stoxx 50 rose 0.07% to 2482, the English FTSE 100 gained 0.37% to 5791 and the German DAX climbed 0.39% to 7192.
In Asia, the Japanese Nikkei 225 slumped 0.93% to 8676 and the Chinese Hang Seng edged up by 0.21% to 21430.