Stocks Pare Losses, But End Lower for Sixth-Straight Day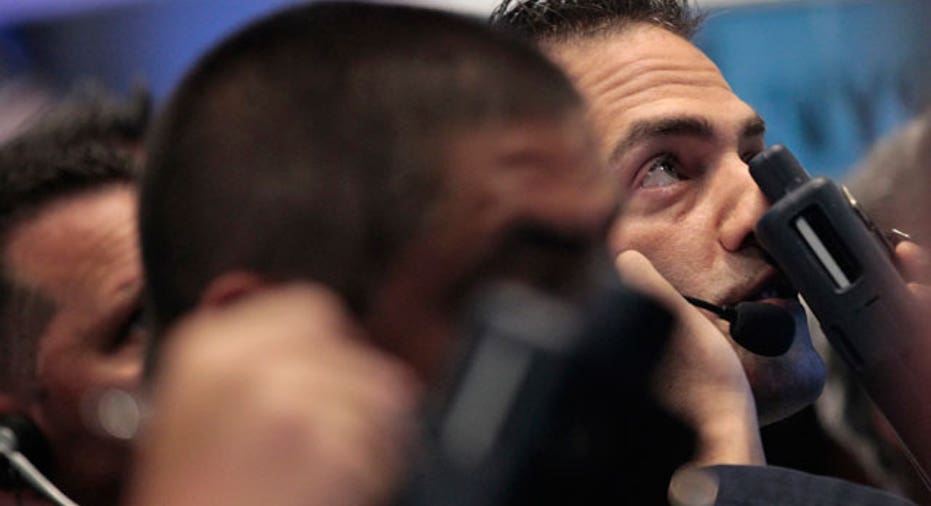 FOX Business: The Power to Prosper
The Dow managed to come back solidly from triple-digit losses, but the blue-chip average ended in the red for the sixth day in a row as traders remained cautious ahead of the first round of big bank earnings and economic data from China.
Today's Markets
The Dow Jones Industrial Average fell 31.3 points, or 0.25%, to 12573, the S&P 500 dipped 6.7 points, or 0.5%, to 1335 and the Nasdaq Composite slumped 21.8 points, or 0.75%, to 2866.
Wall Street failed to snap its losing streak as traders grappled with data pointing to a weakening in most of the world's biggest economies. There are also earnings from banking giants J.P. Morgan Chase (NYSE:JPM), Wells Fargo (NYSE:WFC) on tap for Friday, plus data on China.
In minutes released on Wednesday, the Federal Reserve said an outright contraction in Europe and dramatic cooling China, coupled with continued fiscal uncertainty, poses a substantial risk to the U.S. economy.
However, officials on the Fed's policy-setting board still remain sharply divided on whether more powerful easing measures are necessary. Right now, the central bank is lengthening the maturity of its balance sheet without adding to it.
"Disappointment has set in as the world's most powerful central bank still seems unwilling to provide another sugar rush of cheap money," Chris Beauchamp, a market analyst at IG Index in London wrote in an e-mail.
In a sign of the more subdued expectations, embattled U.K. bank Barclays said in a note to clients on Thursday that it is slicing its forecast for second-quarter economic growth to 1.5% from 2.5%.
A round of considerably better-than-expected data on the jobs market failed to whet Wall Street's buying appetite. New claims for unemployment benefits fell to 350,000 last week from an upwardly revised 376,000 the week prior, according to the Labor Department. That is the lowest level since March 2008. Claims were expected to fall to 372,000 from an initially reported 374,000.
A separate report from Labor showed U.S. import prices fell 2.7% in June, the biggest drop since December 2008 and a sharper decline than the 1.7% expected, as petroleum import prices fell 10.5%. June export prices fell 1.7%, more than the 0.3% decline expected.
Oil futures rose again after posting the best daily performance in more than a week on Wednesday. The benchmark contract traded in New York gained 27 cents, or 0.31%, to $86.08 a barrel. Wholesale New York Harbor gasoline jumped 1.4% to $2.806 a gallon.
In metals, gold dipped $10.40, or 0.66%, to 1,565 a troy ounce.
Foreign Markets
The Euro Stoxx 50 slipped 0.81% to 2228, the English FTSE 100 sold off by 1% to 5608 and the German DAX slumped 0.53% to 6419.
In Asia, the Japanese Nikkei 225 slumped 1.5% to 8720 and the Chinese Hang Seng tumbled 2% to 19025.