Stocks Pare Losses As Investors Weigh Brexit Threat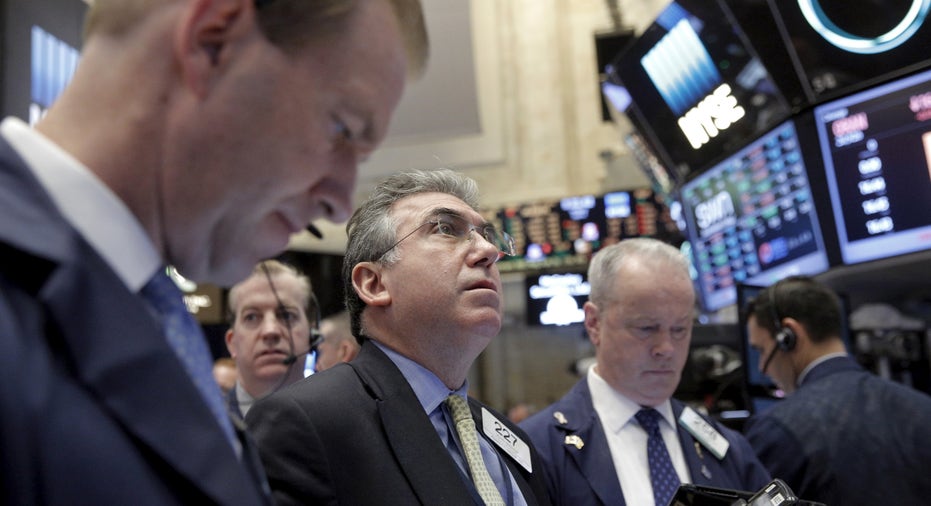 U.S. stocks pared losses Thursday, with the Dow Jones Industrial Average turning slightly positive, as financial markets tracked investor anxiety over Britain's referendum next week on whether to remain in the European Union.
Equities found support after both sides in the referendum debate suspended campaigning for the day after British lawmaker Jo Cox died following a shooting attack. The British pound bounced on speculation the development could bolster the "remain" campaign (http://www.marketwatch.com/story/pound-us-stocks-rebound-after-brexit-campaigns-suspended-2016-06-16).
But analysts downplayed the impact on U.S. stocks, noting the S&P 500 remains on track for a sixth straight daily decline. The market's bounce marks "a temporary respite in what is otherwise a risk-off day," said Art Hogan, chief market strategist at Wunderlich Securities.
The S&P 500 was down 4 points, or 0.2%, at 2,067, after trading as low as 2,050.27 earlier in the session. The Dow Jones Industrial Average erased a triple-digit loss to rise 9 points, or 0.1%, to 17,649.
The Nasdaq Composite was off 14 points, or 0.3%, at 4,820.
A drop by oil futures, which pushed the shares of energy companies lower, added to the negative tone.
Meanwhile, the financial sector was hit by the prospect of interest rates staying lower for longer, after the Fed signaled Wednesday that it will delay interest rate increases (http://www.marketwatch.com/story/downgraded-dot-plot-hints-at-longer-term-fed-worries-on-economy-2016-06-15), demonstrating it's not overly confident in the economy.
Overall the market was caught in risk-off mode, analysts said, with risk assets like equities and oil selling off world-wide, while havens like gold, the yen and government bonds rallied.
Still, despite the global flight to quality, the S&P remained Thursday within "a sizable trading range from the last two months," marked roughly between 2,025 and 2,120, said Frank Cappelleri, technical analyst at Instinet.
But the question now becomes whether the index can use this extended period of sideways movement as a "high-level launching pad to new highs." According to Cappelleri, a positive sign for this scenario would be if the S&P holds near 2,100 even after next week's Brexit vote.
But investors across the world were fretting about the potential consequences of a Brexit vote, particularly after three major central banks--the Federal Reserve, the Bank of England and the Bank of Japan--raised concerns about the Brexit vote.
U.K. voters head to the polls on June 23 to decide whether to remain a member of the European Union. Economists and market strategists say an "out" vote could instigate widespread turmoil in global markets..
"If we get through it and there's a 'remain' vote, we will have a pretty quick risk-on rally" next week, with investors selling bonds and buying stocks, allowing for at least a partial retracement of the selloff, Hogan said. "If this is a 'leave' vote, we have no road map for what happens next."
Meanwhile, the Japanese central bank on Thursday made no changes to its asset-purchase program or interest rates. The lack of action was interpreted as caution ahead of the June 23 Brexit referendum.
Read:Brexit fears lead Bank of Japan to leave rates unchanged (http://www.marketwatch.com/story/brexit-fears-lead-bank-of-japan-to-leave-rates-unchanged-2016-06-15)
Asian markets slumped (http://www.marketwatch.com/story/asian-markets-down-after-bank-of-japan-stays-pat-2016-06-15) after the BOJ decision, while the yen rallied, reaching a two-year high against the dollar. (http://www.marketwatch.com/story/yen-soars-to-multi-month-highs-vs-dollar-euro-after-boj-holds-fire-2016-06-16)
On Thursday, the Bank of England also kept its key interest rate unchanged (http://www.marketwatch.com/story/bank-of-england-holds-key-rate-at-05-ahead-of-brexit-referendum-2016-06-16) at a record low of 0.5% and made no changes to its 375-billion-pound ($530 billion) asset-purchase program. The BOE said in a statement that a potential vote to leave the EU could materially alter the outlook for output and inflation in the U.K.
In another sign of safe-haven flows, gold continued to march higher and sovereign bond yields across the world tumbled to fresh record lows, with the yield on the 30-year Swiss bond (http://www.marketwatch.com/story/swiss-30-year-government-bond-yield-turns-negative-2016-06-16)becoming the longest-dated bond to ever fall into negative territory.
Other economic news: On the U.S. economic front, a flurry of fresh data offered a mixed picture of the U.S. economy.
A reading on U.S. inflation missed expectations (http://www.marketwatch.com/story/us-inflation-climb-02-in-may-cpi-shows-2016-06-16) on Thursday, while initial jobless claims rose (http://www.marketwatch.com/story/jobless-claims-rise-13000-to-277000-2016-06-16). But rent rose at the fastest monthly pace since 2007 (http://www.marketwatch.com/story/rent-rose-at-the-fastest-pace-in-more-than-9-years-in-may-2016-06-16)last month, a reminder that one of the biggest expenses for most Americans isn't easing up.
The Philadelphia Fed manufacturing index (http://www.marketwatch.com/story/philly-fed-survey-shows-mild-improvement-in-june-2016-06-16)showed mild improvement in June, logging its second positive reading in the past 10 months. And a closely watched index of home builder sentiment (http://www.marketwatch.com/story/home-builder-sentiment-jumps-2-points-in-may-nahb-says-2016-06-16) rose to its highest reading since January.
Movers & shakers: Drug store chain Rite Aid Corp.(RAD) fell 0.7% after the company reported a quarterly loss Thursday, missing expectations (http://www.marketwatch.com/story/rite-aid-misses-profit-sales-expectations-2016-06-16) on profit and sales.
Gold-related assets were among biggest advancers premarket on Thursday, with shares of Eldorado Gold Corp.(ELD.T) gaining 0.7% and the Direxion Daily Gold Miners Index Bull 3x Shares(NUGT) climbing 1.6%.
Jabil Circuit Inc. (JBL) inched lower by 0.3% after the Apple Inc. (AAPL) supplier late Wednesday released a weak outlook (http://www.marketwatch.com/story/jabil-shares-volatile-on-weak-fourth-quarter-outlook-2016-06-15) for the fourth quarter.
Airbnb Inc. has signed a $1 billion debt facility deal (http://www.marketwatch.com/story/airbnb-secures-1-billion-debt-deal-to-fund-new-services-2016-06-16) with a group of large U.S. banks, Bloomberg reported Thursday, citing people familiar with the matter. The home-rental company is not a publicly traded company.
Other markets: European markets ended lower (http://www.marketwatch.com/story/european-stocks-fall-as-worries-about-growth-brexit-weigh-2016-06-16), as traders grappled with the results of an influential Brexit poll that showed (http://www.marketwatch.com/story/pound-slumps-as-fresh-poll-shows-surge-in-brexit-support-2016-06-16) a lead for the "leave" camp (http://www.marketwatch.com/story/pound-slumps-as-fresh-poll-shows-surge-in-brexit-support-2016-06-16).
The dollar was mostly higher against other major currencies, but slid against the yen.
--Sara Sjolin contributed to this report.
By Ellie Ismailidou and Sara Sjolin, MarketWatch