Stocks New Moms Will Love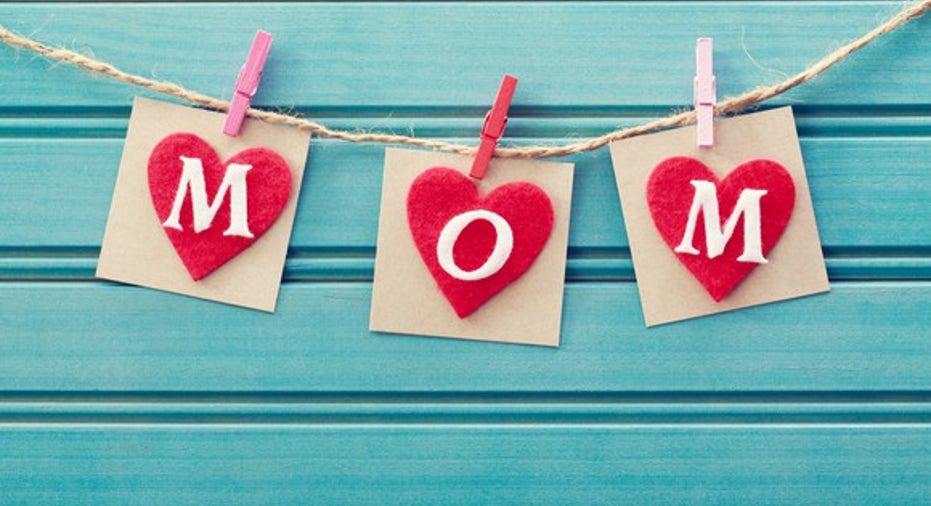 If you're a new mom, then we at The Motley Fool would like to be among the first to wish you a happy Mother's Day!
You doubtless have a lot on your mind, but between changing diapers and installing car seats, perhaps some of your thoughts have also turned toward your family's financial future. Whether you're investing for your child's education or for a bigger home for your growing family, stocks can help you get there -- and often faster than most other types of investments.
To that end, here's a list of outstanding stocks for new moms.
Image source: Getty Images.
Amazon (NASDAQ: AMZN)
Perhaps you used to be like a Navy SEAL on your shopping trips, snatching up bargains, checking off your whole list, and checking out before anyone knew you were there. But with a child, getting to the store becomes a lot harder -- and at the same time, you need a lot more stuff than you ever have before. Enter Amazon.com, the e-commerce king and savior of new moms.
The same value proposition that makes Amazon so useful for new moms -- an unmatched selection of goods, low prices, fast and often free shipping, excellent customer service, and a highly convenient online shopping experience -- is what also gives Amazon a powerful competitive advantage over its rivals. In turn, this has helped Amazon produce some of the best investment returns in the stock market over the last two decades. Even better, Amazon's stock appears poised for continued strong gains in the years ahead, making it a great stock for new moms to consider buying today.
Facebook (NASDAQ: FB)
Taking pictures of your beautiful baby may have become a fun hobby for you (or an obsession, if you're anything like my wife -- but I digress).Perhaps you've turned to Facebook to share these pictures with your family. You're not alone. In fact, nearly 2 billion people around the world use Facebook every month to connect with friends and family and to share what's important to them.
Ad dollars follow eyeballs, and Facebook's staggering user base has become a veritable goldmine for marketers. More than 5 million businesses spend good money to advertise on the social network. That has led to an explosion of revenue and profit growth for Facebook, and its stock has been a star performer in recent years. Yet those 5 million advertisers represent just a small fraction of the more than 70 million businesses currently on Facebook, leaving tremendous growth still ahead for the social media titan. And as marketers continue to flock to its platform, Facebook's investors should be well rewarded in the coming years.
Netflix (NASDAQ: NFLX)
With all the added expenses that come along with being a new parent, you're likely looking for ways to cut costs. One way to do so is to "cut the cord" and cancel your cable subscription in favor of a less expensive internet TV option, such as Netflix.
The cord-cutting trend has helped Netflix amass more than 100 million subscribersand propelled its stock to incredible heights, with gains of nearly 5,000% over the last decade. But don't let that stop you from buying today.
Netflix just recently completed its international rollout, and in the process it has become the world's first truly global internet TV provider. With much of the cost of this expansion now behind it, Netflix is poised to reap the profits of its rapidly growing international business.
The company is also investing aggressively in original content, including a slate of promising films on the horizon. This exclusive content should only help to strengthen Netflix's value proposition to its users and further boost its already impressive subscriber growth.
So consider picking up some shares of Netflix, and the next time you cozy up with your baby for some kid-friendly entertainment, you can smile as you see Netflix's red logo flash across your screen. You'll know that millions of moms around the world are doing the same, and each one is helping to increase the value of your investment.
10 stocks we like better than NetflixWhen investing geniuses David and Tom Gardner have a stock tip, it can pay to listen. After all, the newsletter they have run for over a decade, Motley Fool Stock Advisor, has tripled the market.*
David and Tom just revealed what they believe are the 10 best stocks for investors to buy right now... and Netflix wasn't one of them! That's right -- they think these 10 stocks are even better buys.
Click here to learn about these picks!
*Stock Advisor returns as of May 1, 2017
Joe Tenebruso has no position in any stocks mentioned. The Motley Fool owns shares of and recommends Amazon, Facebook, and Netflix. The Motley Fool has a disclosure policy.