Stocks Jump on Optimism Over French Election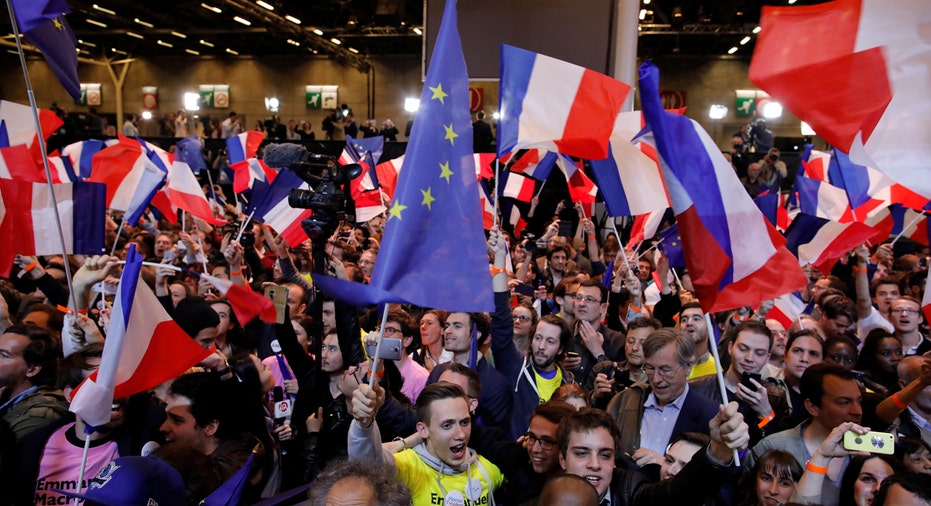 The Nasdaq Composite hit a fresh record high on Monday as U.S. stocks jumped more than 1% while optimism over the first round of the French presidential elections Sunday spread to the U.S. after European stocks saw their best day in nearly two years.
French voters sent independent centrist Emmanuel Macron to a May 7 runoff election facing far-right leader Marine Le Pen – the first time in six decades no candidate from an establishment French political party was to be represented in the final round. Pollsters have pegged Macron to secure the presidency, a call that sent global stocks and risk assets higher as traditional safe havens – gold and government debt – came under pressure.
"In Macron we see the strongest opponent pitted against Le Pen in what is likely to be the final vote of confidence for the EU in what was always going to be a critical year for the future of Europe," said IG market analyst Joshua Mahony, referring to Le Pen's desire to follow in the United Kingdom's footsteps to hold a referendum on France's membership in the European Union should she become president.
"While the result was widely anticipated, we are seeing a substantial amount of hedges unwound this morning with most seeing this as the end of the political upheaval," Mahony said.
The Dow Jones Industrial Average jumped 216 points, or 1.05% to 20763 while the broader S&P 500 rallied 25 points, or 1.08% to 2374 and the tech-heavy Nasdaq Composite index gained 73 points, or 1.24% to 5983.
Momentum was widespread with nine of 11 S&P 500 industry sectors in positive territory at the start of trade. Financials, industrials, technology and materials all rallied more than 1% in early trade as the CBOE's VIX index – Wall Street's so-called fear gauge – saw its biggest drop since November to 11.18.
Meanwhile, gold prices declined 0.90% to $1,275 a troy ounce as Treasury yields, which move inversely to prices, rose. The yield on the benchmark 10-year Treasury note rose 0.041 percentage point to 2.275 while the longer-term 30-year bond yield gained 0.035 percentage point to 2.928%. As the euro rallied to a five-month high versus the dollar, the greenback fell 0.81% against a basket of global currencies – its largest decline in five weeks.
Despite the optimism over the first-round vote in France and near-term positive momentum for global markets, BlackRock (NYSE:BLK) Investment Institute sees some lingering risk until French legislative elections in June.
"If Macron becomes France's next president, he may struggle to implement his agenda without a stable parliamentary majority," BlackRock strategists warned.
Back in the U.S., investors also remained focused on first-quarter earnings season which kicks into high gear this week with more than 190 S&P 500 companies set to report their results, including tech heavyweights Alphabet (NASDAQ:GOOGL), Microsoft (NASDAQ:MSFT) and Amazon (NASDAQ:AMZN).
Wall Street is also keeping a keen eye on Washington after President Donald Trump on Friday said he planned to unveil his tax-reform plan Wednesday.