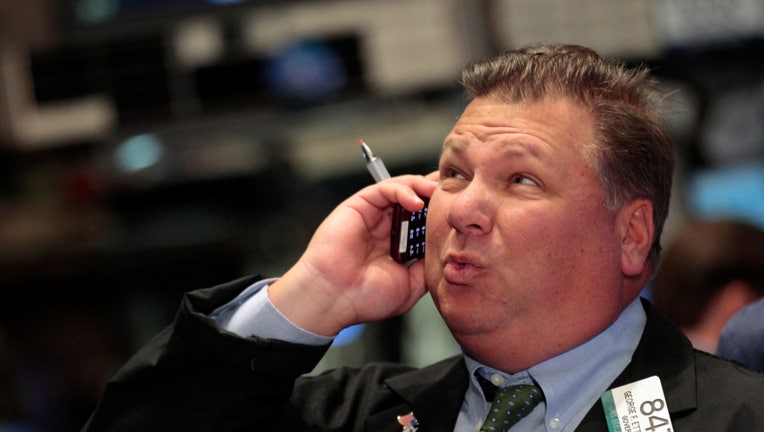 FOX Business: Capitalism Lives Here
The markets dipped into the red on Tuesday after a Fed official made remarks suggesting the central bank should begin paring back its bond buying soon.
Today's Markets
As of 3:00 p.m. ET, the Dow Jones Industrial Average fell 48 points, or 0.31%, to 15435, the S&P 500 dipped 8.5 points, or 0.5%, to 1674 and the Nasdaq Composite slumped 14.8 points, or 0.41%, to 3593.
The S&P 500 extended its winning streak to eight days on Monday, and notched yet another record closing high during a fairly tepid trading day. Wall Street had a busy morning Tuesday.
Kansas City Federal Reserve President Esther George said in an exclusive interview with FOX Business that "it's time" for the central bank to begin "adjusting" its vast bond-buying program. George, who is a member of the Fed's policy-setting committee, said "the message is clear" that with an improving economy and labor market, it is time for the central bank to begin signaling what the future will hold for the central bank's super-accommodative monetary policy.
Remarks from Fed officials have taken on considerable significance in recent months as Wall Street works to determine when the Fed will begin letting its foot off the economic accelerator.
Traders also had a slew of earnings to digest.
Goldman Sachs (NYSE:GS) revealed second-quarter profits of $3.70 a share, whizzing by expectations of $2.82 a share. The investment-banking giant's revenues of $8.61 billion also easily topped estimates of $7.98 billion.
Coca-Cola (NYSE:KO) revealed adjusted second-quarter profits of 63 cents a share, matching expectations. However, sales of $12.79 billion came in shy of estimates of $12.96 billion. Johnson & Johnson (NYSE:JNJ) posted an adjusted second-quarter EPS of $1.48, beating Wall Street's forecast of $1.39. Sales of $17.9 billion also topped views of $17.71 billion. The blue-chip health-care company also raised its full-year view to a range of $5.40 to $5.47 a share, compared to estimates of $5.41 a share.
On the economic front, the Labor Department said consumer prices heated up 0.5% in June from the month prior, a slightly larger gain the the 0.3% economists expected. Excluding the food and energy components, prices were up 0.2%, matching estimates. The Federal Reserve has a mandate to keep inflation and unemployment in check so the data have taken on even more significance in recent months.
"There is absolutely nothing in today's report that should alter the view that inflation data remain of little concern," Dan Greenhaus, chief global strategist at BTIG, wrote in an email.
The Fed said industrial production revved up 0.3% in June after stalling in May. Meanwhile, the National Association of Home Builders' gauge of homebuilder sentiment soared to 57 in July from 51 in June, easily beating expectations of 52. It was the highest reading since January 2006.
In commodities, oil climbed 68 cents, or 0.7%, to $107.01 a barrel. Wholesale New York Harbor gasoline edged up 0.47% to $3.118 a gallon. Gold gained $7.90, or 0.62%, to $1,292 a troy once.