Stocks Face Resistance in Extending Columbus Day Rally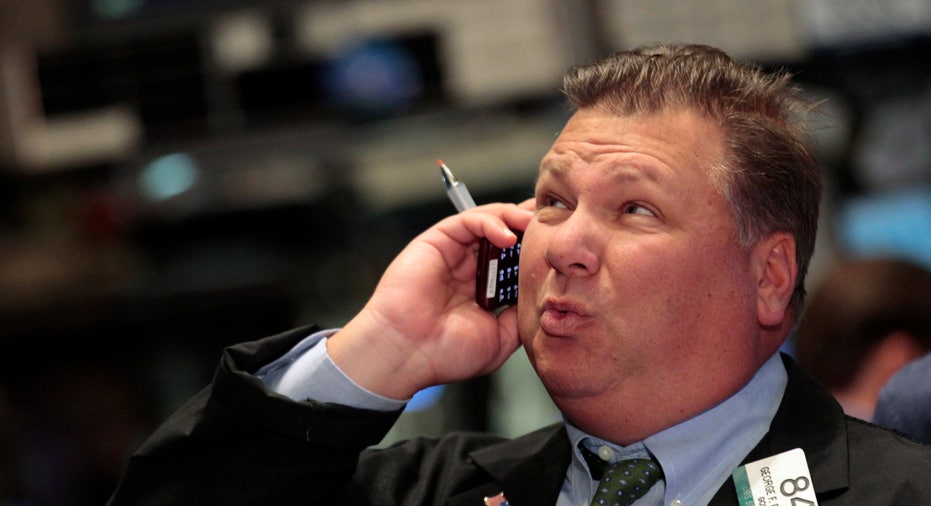 FOX Business: The Power to Prosper
U.S. stocks bounced between minor gains and losses Tuesday afternoon as the bulls on Wall Street struggle to build onto their best day in nearly two months.
Today's Markets
As of 2:51 p.m. ET, the Dow Jones Industrial Average fell 41.70 points, or 0.36%, to 11391.63, the Standard & Poor's 500 declined 2.41 points, or 0.20%, to 1192.55 and the Nasdaq Composite jumped 7.11 points, or 0.28%, to 2573.24. The FOX 50 slipped 0.35 points, or 0.04%, to 872.01.
The mixed action comes after the Dow surged 330 points to three-week highs on Monday on enthusiasm for new signs Europe is racing to get its debt debacle under control by stabilizing its banking system.
"Yesterday was such an up day and there was so much euphoria tied to Europe. I think today people are sobering a little bit," said Nick Kalivas, vice president of financial research at MF Global.
Stocks opened solidly lower, but have since bounced well off session lows as bullish traders look forward to earnings season, which is set to begin after the closing bell. The markets saw very little volatility as the Dow moved in a trading range of just 82.19 points -- its narrowest range since July 30.
Without any major economic indicators to use for direction, the markets continued to take their cues from Europe, which is still grappling with its debt crisis.
Traders backed a bit away from risky assets as Slovakia's Parliament may reject on Tuesday the euro zone plan to bolster the bailout fund to 440 euros ($600.34 billion). Slovakia is the last of the 17 nations that needs to approve the measure, which is seen as central to easing the crisis. However, the legislature can take the matter up again, likely under a different ruling government.
Policy makers must also decide how big of a haircut banks must take on their holdings of toxic Greek debt. According to Dow Jones Newswires, haircuts, or writedowns, of 40% to 60% are being mulled, well higher than the 21% tentatively agreed to in July.
Meanwhile, debt inspectors in Greece said the country will most likely receive the next batch of rescue loans in early November, relieving some who feared Athens would default if the money was withheld.
Despite those concerns, European markets maintained most of Monday's gains after an early slide and the euro ticked slightly higher against the dollar. However, Greek banking stocks plunged on the haircut talk and recapitalization concerns.
Wall Street is allowing at least some of its attention to shift back to the U.S. as earnings season is set to kick off after the closing bell when aluminum maker Alcoa (NYSE:AA) is scheduled to release results. The Dow member, which is traditionally the first company to report, is expected to earn 22 cents a share on revenue just north of $6 billion.
Analysts have been trimming their forecasts for earnings as concerns of a double-dip recession increased last month. S&P 500 companies are expected to grow quarterly profits by 12.6% year-over-year, down from 17% on July 1, according to Thomson Reuters. Results from JPMorgan Chase (NYSE:JPM) and Google (NASDAQ:GOOG) are likely to make waves on Thursday.
Tech stocks helped push the Nasdaq Composite modestly higher. Apple (NASDAQ:AAPL) extended Monday's gains, rallying almost 3%. BlackBerry maker Research in Motion (NASDAQ:RIMM) jumped nearly 4% as pressure from institutional shareholders to consider its strategic alternatives (such as a sale) continues to mount.
About half of the Dow's 30 stocks were stuck in the red, led by defensive plays Pfizer (NYSE:PEF) and AT&T (NYSE:T). The benchmark index's biggest percentage winners were Alcoa and McDonald's (NYSE:MCD).
In the commodities complex, crude oil reversed early losses and closed up 42 cents a barrel, or 0.49%, to $86.01. Gold slid $9.80 a troy ounce, or 0.59%, to $1,661.00. Economically-sensitive copper snapped a four-day winning streak, falling 2.22% a pound to $3.2875.
Corporate Movers
Dollar Thrifty (NYSE:DTG) abandoned its long-standing plans to sell itself after the car rental service failed to come to terms with rivals Avis (NYSE:CAR) or Hertz (NYSE:HTZ).
99 Cents Only Stores (NYSE:NDN) inked a $1.6 billion deal to be acquired by Ares Management and Canada Pension Plan Investment board, trumping a rejected $1.3 billion bid from Leonard Green in March. The offer represents a 32% premium to 99 Cents' closing price the day before the Leonard offer was made public.
Global Markets
London's FTSE 100 slipped 0.06% to 5395.70, Germany's DAX gained 0.30% to 5865.01 and France's CAC 40 lost 0.25% to 3153.52.
In Asia, the Japanese Nikkei 225 rallied 1.95% and Hong Kong's Hang Seng leaped 2.43% to 18141.60.