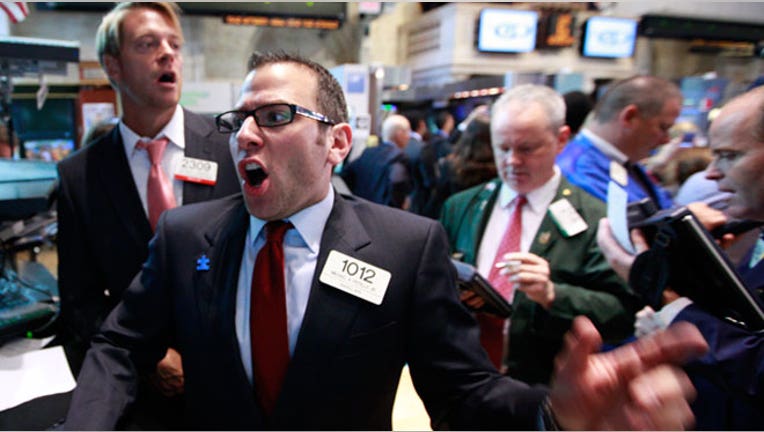 FOX Business: Capitalism Lives Here
The Dow posted its second triple-digit rally in a row as lawmakers continued hammering out a deal aimed at averting or at least dulling the fiscal cliff's blow.
Today's Markets
The Dow Jones Industrial Average climbed 116 points, or 0.87%, to 13351, the S&P 500 gained 16.4 points, or 1.2%, to 1447 and the Nasdaq Composite rose 43.9 points, or 1.5%, to 3055.
The broad S&P 500 posted its best two-day rally in nearly a month and ended at its highest level in nearly two months. Every major sector ended higher, led by technology, energy, financial, industrial and consumer discretionary stocks. Traditionally defensive plays like consumer staples, telecommunications and utilities performed the worst.
Meanwhile, volatility crumbled 4.7% and traders ditched the safety of U.S. Treasury bonds. The yield on the 10-year jumped 0.065-percentage point to 1.827%. Volume was about 500 million shares higher than the year-to-date average on the New York Stock Exchange in a sign of the conviction in the rally.
The upbeat sentiment that started Monday persisted on Tuesday on news reports both sides are coming closer to a deal. Sources told Fox News the Obama administration offered Republicans a higher threshold for tax increases in a move House Speaker John Boehner's office called "a step in the right direction." At present, there is a framework for $1 trillion in revenue increases coupled with $1 trillion in spending cuts, according to Fox News. However, sticking points remain, including raising the debt ceiling, which would be important in staving off a debt debacle like the one that roiled markets last summer.
House Republicans also offered a 'Plan B' to would avoid tax hikes on most Americans should a deal not come through in time, FOX Business' Rich Edson first reported. However, the White House nearly immediately rejected the notion of a plan, but said it remains hopeful a deal will be struck.
The trading community remained cautiously optimistic. Art Cashin, UBS director of floor operations at the New York Stock Exchange, wrote of the reported proposals, "unfortunately, none of the give and take sounds like a grand design package."  He wrote that instead, it "looks like cobbling together a short-term band-aid solution."
The economic calendar was set to be fairly light on the day, with the pace of releases heating up toward the middle and end of the week.
Energy futures were broadly higher. The benchmark crude contract climbed 73 cents, or 0.84%, to $87.93 a barrel. Wholesale New York Harbor gasoline jumped 1.4% to $2.691 a gallon. In metals, gold dropped $27.50, or 1.6%, to $1,671 a troy ounce.
Foreign Markets
The Euro Stoxx 50 gained 0.31% to 2636, the English FTSE 100 rose 0.41% to 5936 and the German DAX climbed 0.42% to 7637.
In Asia, the Japanese Nikkei 225 rallied 0.96% to 9923 and the Chinese Hang Seng slipped 0.08% to 22495.