Stocks End Lower Ahead of Holiday-Shortened Week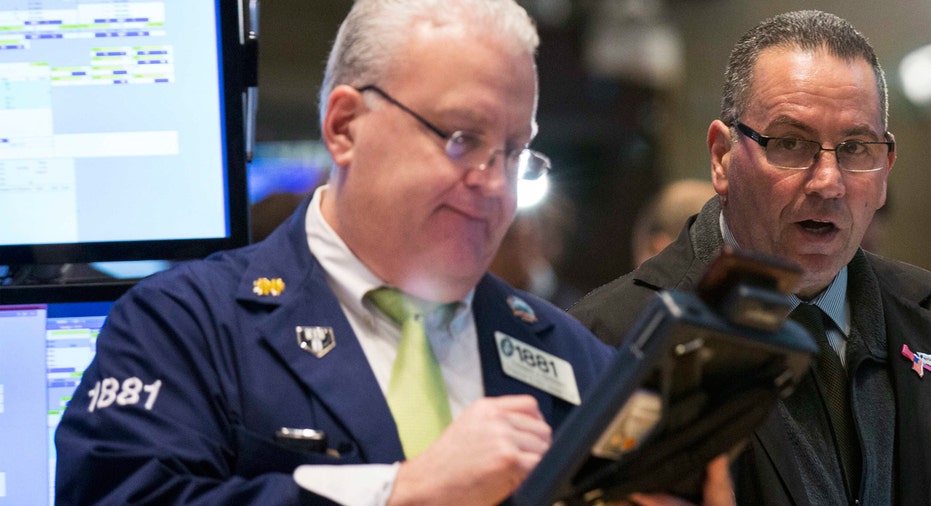 U.S. equity markets saw a relatively flat start to the holiday-shortened week, though Pfizer shares proved to be a drag on the Dow after an announced deal with Allergan.
The Dow Jones Industrial Average was 30 points lower, or 0.17% to 17793. The S&P 500 shed 2 points, or 0.12% to 2086, while the Nasdaq Composite lost 2 points, or 0.05% to 5102.
Energy and materials led the S&P sectors in advancement, while industrials and technology declined the most.
Today's Markets
Stock markets traded along the flat line as traders in the U.S. looked ahead to the Thanksgiving Day-shortened trading week and parsed another mega merger in the health-care space.
Pfizer (NYSE:PFE) and Allergan (NYSE:AGN) made things official on Monday when the companies announced they would combine in a deal valued at $160 billion. The combination, if approved by regulators, would create the world's biggest drug maker by sales, and the biggest ever inversion deal in which Pfizer, one of the nation's top companies would move its headquarters to Ireland, where it could take advantage of a lower corporate tax rate. Shares of both companies moved lower on the news.
Elsewhere in the deal space, in what could be one of the biggest leveraged buyouts of 2015, private-equity firm CVC Capital Partners, alongside a Canadian pension fund, said they are close to a deal to buy pet-supply company Petco. The deal would be about $4.5 billion.
On the corporate news front, Amazon shares touched a new 52-week high ahead of a big week for the retail sector with Black Friday looming on the horizon.
Billionaire investor Carl Ichan again reiterated his opinion that American International Group should be split into three separate entities. He said the company's CEO was not likely to "seriously consider" the suggestion, and said he could propose adding a new director to the board.
Meanwhile Chipotle shares jumped 5% after hitting a fresh 52-week low at the market open as worries that an e. coli outbreak would hit the Mexican restaurant's same-store sales. On Friday, following the e.coli outbreak reports, Chipotle shares plunged, closing at $6.11.
Meanwhile, a packed economic-data calendar was sure to keep investors busy before they clocked out for the week. The National Association of Realtors reported sales of existing single-family homes declined more than expected last month. Sales slipped 3.4% to an annualized rate of 5.36 million units, while economists expected a smaller drop to 5.40 million units from 5.55 million in September. The NAR said sales in all regions but the Northeast experienced declines.
Things heat up on Tuesday with a slew of data including the second read on third-quarter GDP, S&P/Case-Shiller home prices, U.S. factory data, and consumer confidence. Wednesday wraps up the data onslaught with durable goods, services PMI, new home sales, and consumer sentiment.
The Federal Open Market Committee will no doubt be closely monitoring incoming data, as it has reassured markets it will do, ahead of its December policy meeting where many suspect the committee will likely hike short-term rates for the first time since the Great Recession.
In recent action, the yield on the benchmark 10-year U.S. Treasury bond fell 0.012 percentage point to 2.250%. Meanwhile, the euro slipped 0.30% against the U.S. dollar, while the greenback rose against a basket of global currencies.
On the commodities front, global oil prices experienced choppy trade after Saudi Arabia reiterated its stance that it was willing to work with other nations to stabilize prices amid conditions of a strong dollar and a global supply glut. U.S. crude declined 0.36% to $41.75, while Brent, the international benchmark, rose 0.38% to $44.83.
Metals were lower: Gold shed 0.89% to $1,066 a troy ounce, silver, meanwhile, declined 0.45% to $14.04 an ounce, while copper dropped 1.68% to $2.02 a pound.
Across the world, European equity markets were lower after fresh security concerns put residents there on high alerts, especially as Brussels remains on lockdown after new terrorism threats forced the city to close schools and the underground transportation system.
The Euro Stoxx 50, which tracks large-cap companies in the eurozone, gained 0.05%, while the German Dax added 0.02%, the French CAC 40 shed 0.20%, and the UK's FTSE 100 declined 0.31%.
Meanwhile, Markit's preliminary eurozone PMI gauge jumped to 54.4 in November, up from the prior month as the bloc's manufacturing sector proved stronger than its services sector, while job creation hit a four-and-a-half year high.