Stocks Edge Up on Housing Data, But Energy Shares Weigh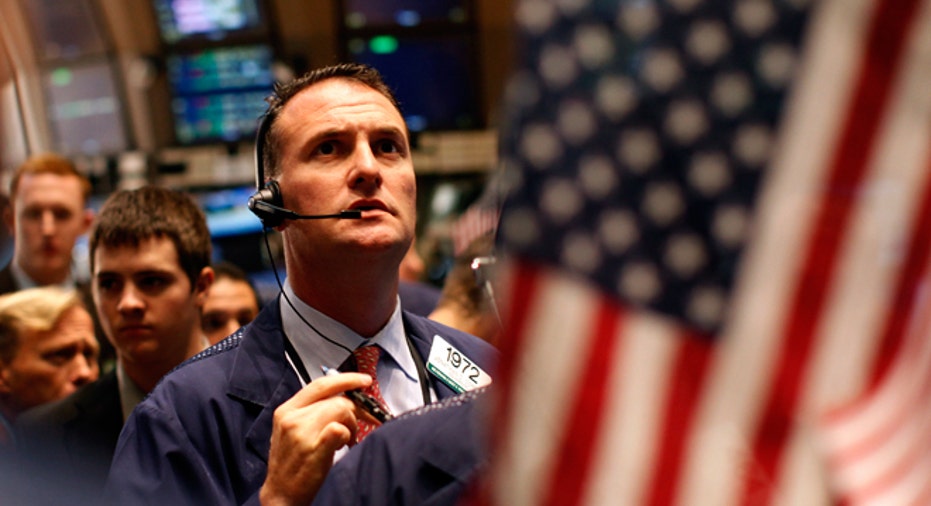 FOX Business: The Power to Prosper
A report revealing more bright spots for the embattled housing market helped lift stocks mildly higher Wednesday. However, falling energy shares held back the gains for the broad markets.
Today's Markets
The Dow Jones Industrial Average climbed 13 points, or 0.1%, to 13578, the S&P 500 gained 1.7 points, or 0.12%, to 1461 and the Nasdaq Composite rose 4.8 points, or 0.15%, to 3183.
Every major S&P 500 sector ended the day to the upside besides energy. Sinking oil prices acted as a heavy weight on those shares. However, 7% of the stocks on the S&P 500 hit all-time highs on the day, including Apple (NASDAQ:AAPL) and General Electric (NYSE:GE).
The National Association of Realtors said sales of existing U.S. homes rose 7.8% in August from July to an annualized rate of 4.82 million units, topping estimates of a 4.55-million unit rate and the highest since May 2010. The median national price soared 9.5% from 2011 to $187,400.
"This may be the most promising existing home sales report in five years," IHS Global Insight economists Patrick Newport and Michelle Valverde wrote in a research note. "Fundamentals—an improving economy, low interest rates, and, possibly, a drop in the cancellation rate—appear to be the driving force behind August's strong and broad-based gains."
Still, the economists note that "normal conditions are still at least a couple of years away."
A separate report from the Commerce Department reported housing starts rose 2.3% in August from July to a 750,000-unit rate, missing estimates of a 765,000-unit rate. Permits, a more forward-looking indicator, fell 1% to an 803,000-unit rate, but topped estimates of a 796,000-unit rate.
"We continue to see the U.S. housing market as engaged in a gradual recovery," Michael Gapen, an analyst at Barclays wrote in a note to clients. Gapen added that residential investment is expected to add to growth in gross domestic product in coming quarters.
These data come amid a slew of reports pointing to a recovery taking place in one of the markets that was hardest hit during the recession. Homebuilders like KB Home (NYSE:KBH) and Toll Brothers (NYSE:TOL) could be particularly affected by the reports, analysts said.
Energy futures came under heavy selling pressure on data from the Energy Department showing crude oil inventories jumped 8.5 million barrels last week. Analysts expected a much more mild 500,000-barrel build. The benchmark oil contract traded in New York fell $3.31, or 3.5%, to $91.98 a barrel. Wholesale New York Harbor gasoline dipped 2.4% to $2.829 a gallon.
In metals, gold tacked on 50 cents, or 0.5%, to $1,772 a troy ounce.
Sentiment had gotten a lift early from an unexpected policy move from the Bank of Japan. The BoJ boosted the size of its asset-purchase program by 10 trillion yen (roughly $126 billion). The move came after the Federal Reserve and European Central Bank took easing action.
The export-driven economy is struggling with waning global demand. A territorial dispute with China, its biggest trading partner, over islands in the East China Sea have also raised fresh economic concerns.
"The move ... has overtaken concerns over the escalating Sino-Japanese tensions over the Senkaku for now at least," analysts at Nomura, the Japan-based investment bank wrote in a note to clients. Indeed, benchmark exchanges in Japan and China rallied more than 1%.
Foreign Markets
The Euro Stoxx 50 gained 0.56% to 2568, the English FTSE 100 rose 0.35% to 5888 and the German DAX climbed 0.59% to 7391.
In Asia, the Japanese Nikkei 225 rallied 1.2% to 9232 and the Chinese Hang Seng jumped 1.2% to 20842.