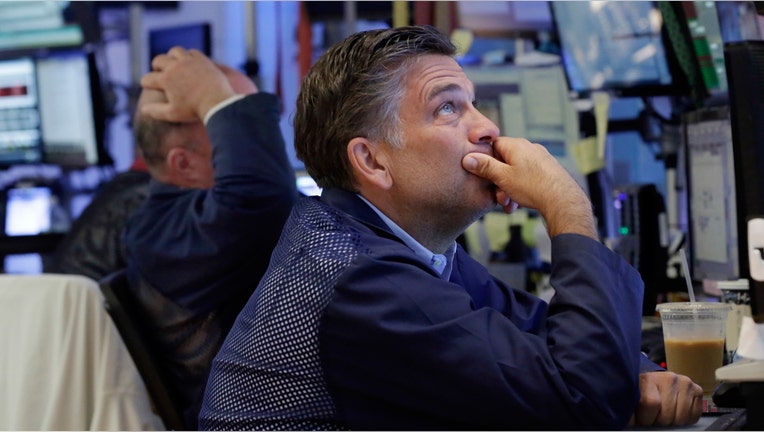 Stocks dropped sharply Friday and traded near session lows following hawkish comments from Federal Reserve officials and a slump in oil prices hit energy shares.
Boston Fed President Eric Rosengren--a voter this year on the Fed's interest-rate setting board--said the U.S. central bank could resume gradual rate increases as the risks facing the economy are more in balance, reigniting Wall Street's fears about the end of easy-money policies.
Rosengren's comments drove the U.S. dollar firmly higher, while the yield on the 10-year Treasury note jumped to levels hit before the U.K.'s June 23 vote to break from the European Union roiled global markets.
The S&P 500 index tumbled 36 points, or 1.7%, to 2,145.06 with all 10 main sectors trading in negative territory. So-called defensive sectors--utilities and telecoms--were leading the losses, while energy shares declined sharply amid a drop in crude-oil futures. The index hit an intraday low below 2,145 at one point and continued to challenge fresh lows in afternoon action.
Katie Stockton, chief technical strategist at BTIG, sees support around 2,135, which represents a break out level from early July.
"2,150 is not a big level, but I can see why people place psychological significance on its because of the round number," Stockton said.
As secondary support, Stockton is looking at 2,057, the 200-day daily moving average for the S&P 500. As long as we don't have a few days of closes below that, Stockton still sees the uptrend as being intact.
If the S&P 500 closes at current levels, it will be the first time since June 27 that the benchmark logged a drop of more than 1%. It will also be the steepest decline for the Dow industrials since late June, in the aftermath of the U.K.'s vote to leave the EU, dubbed Brexit.
Wall Street losses followed declines for European and Asian markets, which were unsettled by North Korea's confirmation that it has successfully carried out a fifth nuclear test.
The Dow Jones Industrial Average dropped 267 points, or 1.5%, to 18,210, with all 30 blue-chip companies in the red, led lower by shares of Verizon Communications Inc.(VZ), Boeing Co.(BA), and Caterpillar Inc. (CAT). Meanwhile, the Nasdaq Composite Index shed 85 points, or 1.6%, to 5,175.
The CBOE Volatility Index jumped 23% to 15.36, its largest one-day jump since June 24.
On the New York Stock Exchange, 12 stocks declined for each one advancing, and on the Nasdaq for every five stocks declining, one advanced.
"When the market is near its top--as this market has been--any piece of bad news will results in a selloff," said Thomas Siomades, head of Hartford Funds Investment Consulting Group.
Some analysts think that a rate increase by the Fed in September could be greeted positively by the market.
"If the Fed does it for the right reasons--that the economy is on solid footing--then, markets would welcome a rate increase," Saluzzi said.
Other analysts suggest that investors are losing confidence in the effectiveness of monetary policy.
"With the ECB's inaction sparking fears that central banks have lost confidence in the benefits of further monetary easing, Wall Street could find itself vulnerable to steeper losses," said FXTM Research analyst Lukman Otunuga in a note.
"Bears are on the prowl for the catalyst which could trigger a heavy market selloff, and [that] should force investors to remain alert," he said.
Other central-bank talk: Fed Gov. Daniel Tarullo, who's viewed as dovish on monetary policy, said he couldn't rule out a rate increase this year, but would like to see more inflation., during an interview on CNBC.
Fed officials will gather on Sept. 20-21 to set interest rate policy, and the quiet period before that meeting begins Tuesday.
Oil factor: Energy shares came under pressure Friday as oil prices pulled back by nearly 3%.
Corporate docket: Home builder HovnanianEnterprises Inc. (HOV) shares tumbled 11% after disappointing results and a lowered outlook.
Restoration Hardware Holdings Inc.(RH) shares jumped 7% after the home-furnishings retailer posted better-than-expected quarterly sales and per-share earnings late Thursday.
Lexicon Pharmaceuticals Inc. (LXRX) shares rallied 19%, as the company reported positive results from a late-stage trial of a treatment for Type 1 diabetes.
Finisar Corp. (FNSR) shares jumped 16% as networking company late Thursday posted earnings that surpassed expectations.
A review deadline for the proposed merger between Dow Chemical Co.(DOW) and DuPont Co.(DD) by the European Union's antitrust regulator has been suspended. The regulator said the companies haven't submitted important information demanded of them. Shares of both companies fell about 1%.
Logistics company CAI International Inc.(CAI) shares fell 2.8% as it expects its exposure to the bankruptcy of South Korean shipping company Hanjin Shipping Co. Ltd (117930.SE) will be about $2.6 million.
Other markets: Asian stocks dropped, with South Korea's Kospi falling 1.3% as investors took in North Korea's nuclear test. Gold futures declined 0.5%, as the ICE U.S. Dollar Index jumped 0.5% following Rosengren's comments.
By Wallace Witkowski and Anora Mahmudova, MarketWatch
--Carla Mozee in London contributed to this report.