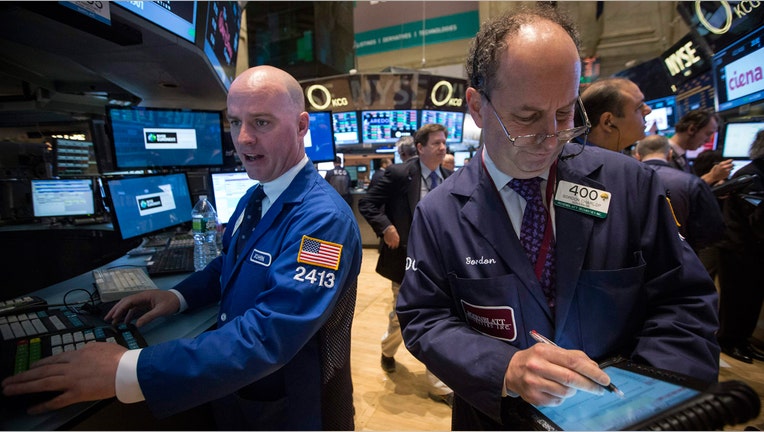 A new week brought new sentiment to U.S. equity markets, which bounced in a wide range as traders balanced the kick off to fourth-quarter earnings season with a fresh drop in oil prices.
The Dow Jones Industrial Average was 52 points higher, or 0.32% to 16397. The S&P 500 was higher by 1 point, or 0.08% to 1923, while the Nasdaq Composite 5 points lower, or 0.12% to 4637.
Energy was the biggest decliner on the session, while consumer discretionary stocks were among the biggest gainers.
Today's Markets
While markets in China continued their descent after losing nearly 10% last week on concerns about emerging-market currency wars and national economic growth, markets in the U.S. began to shrug off their worries about global growth, returning focus to issues at home.
After gyrating between substantial gains and losses, the Dow and S&P 500 ended the session in positive territory, while the Nasdaq fell for its eighth-straight day, its longest losing streak in eight years.
Corporate earnings season was set to kick off this week with aluminum heavyweight Alcoa (NYSE:AA) due to report fourth-quarter results after the bell on Monday.
"As with any story eventually the power to shock wears off. We are seeing this with China this morning, and while there will still be plenty of concerns, the impending arrival of US earnings season provides a new story to focus on," IG senior market analyst Chris Beauchamp said in a note.
However, while data has shown the U.S. economy might be on solid footing, corporate profits might not be. Unusually warm winter weather, changing consumer habits, and a lack of willingness to spend money saved at the gas pump are expected to hit big consumer names.
According to data from S&P Capital IQ, aggregate earnings for S&P 500 companies are expected to see a 5.53% drop from the same period a year prior. Additionally, only four of the ten S&P 500 sectors, including telecommunications, consumer discretionary, health care, and financials, are poised for advancement. Meanwhile, the energy sector is set for a 68.3% year-over-year plunge in the fourth quarter.
The nation's biggest banks will unveil their results near the end of the week as JPMorgan (NYSE:JPM) reports on Thursday, while Citigroup (NYSE:C) and Wells Fargo (NYSE:WFC) open their books on Friday. The major banks are all set to unveil their results ahead of the bell.
"Concerns about declining earnings are front and center, so any upside surprises, however modest, could see markets take the positive news and run higher. After last week, most investors can be forgiven for wanting to focus on things other than China," Beauchamp said.
Meanwhile, oil prices continued to drive the market's direction on Monday as the broad market looked to move in lockstep with the commodity, a pattern that dominated last week's action on Wall Street.
West Texas Intermediate crude plunged 5.28% to $31.41 a barrel, the lowest settlement value since December 2003, while Brent, the international benchmark, shed 5.96% to $31.55 a barrel.
Peter Kenny, independent market strategist, suspected oil was due for a bounce in the near term.
"I expect crude oil to find some support above $30 a barrel his week. Stability in Chinese markets is the variable but given the markdown we have seen and continue to see in the overnight, I suspect we are due for a bounce," he said in a note.
Elsewhere in the commodities complex, metals were mixed. Gold rose 0.01% to $1,098 a troy ounce. Silver added 0.45% to $13.98 an ounce, while copper declined 2.57% to $1.97 a pound.
No significant data was set for release in the U.S., however, speeches from one key Federal Reserve official was on tap. At 12:40 p.m., Atlanta Fed President Dennis Lockhart was set to give remarks in New York on his economic outlook.
"Several Fed officials speak this week, including Atlanta's Lockhart later today. So far, they have largely stuck to the dot-plots script of around four rate increases this year, barring further economic or market surprises," Larry Shover, chief investment officer at Solutions Funds Group, said.