Stocks Climb After BoJ Unleashes Massive Stimulus Plan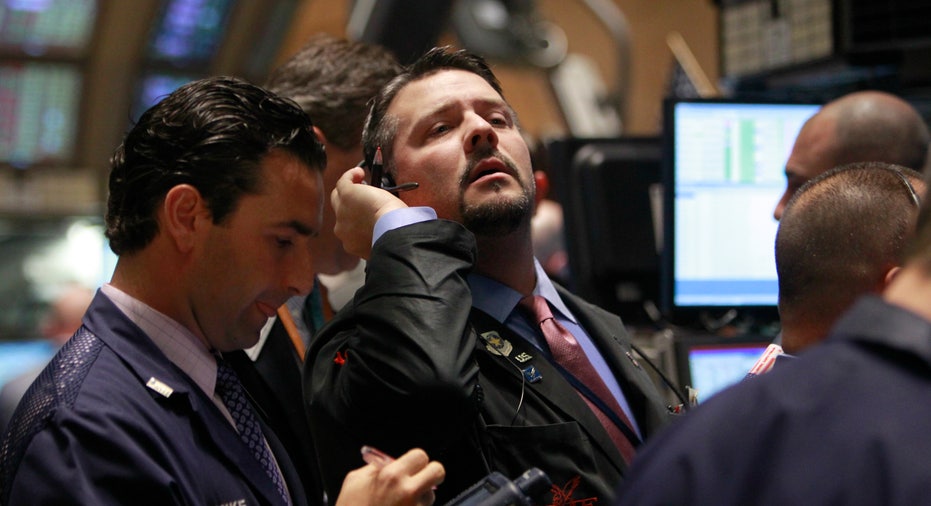 FOX Business: Capitalism Lives Here
Wall Street posted solid gains on Thursday after the Bank of Japan unveiled an aggressive plan aimed at jumpstarting the island nation's flagging economy. However, traders remained cautious after a round of weak data on the jobs market.
Today's Markets
The Dow Jones Industrial Average rose 55.8 points, or 0.38%, to 14606, the S&P 500 gained 6.3 points, or 0.4%, to 1560 and the Nasdaq Composite ticked up 6.4 points, or 0.2%, to 3225.
The Dow climbed Thursday, completing its eleventh up-down-up-down pattern day -- something that has only happened three other times since 2000, according to FOX Business research.
The Japanese economy has been stuck in neutral for two decades, with Tokyo struggling with a toxic mixture of deflation and low growth that is often very difficult to combat. However, new BoJ Governor Haruhiko Kuroda has vowed to jumpstart the island nation's economy and start creating modest levels of inflation by setting a 2% year-over-year target. On Thursday, Kuroda unveiled a $1.4 trillion open-ended bond buying program in which the central bank will buy debt across the yield curve over the next two years.
The move is similar to the Federal Reserve's quantitative easing program and represents what many economists see as an extension of unconventional monetary policy that began during the financial crisis.
Todd Schoenberger, managing partner at LandColt Capital, called Japan's new plans "very aggressive" and said it comes as "wonderful news from a trader's perspective." Indeed, the Nikkei 225 surged 2.2%, and the U.S. dollar rallied 2.6% against the yen.
However, Schoenberger warns that when the BoJ finally does begin unwinding the unprecedented program years from now, it can present a problem for equity markets.
In U.S. news, the Labor Department said new claims for unemployment benefits increased by 28,000 to 385,000 last week. Claims were expected to fall from 357,000 to 350,000. Meanwhile, firms announced plans to cut 49,255 jobs in March, down 11% from February, but up 30% from the same month in 2012, according to Challenger, Gray & Christmas, Inc.
The all-important monthly jobs report is on tap for Friday. Economists forecast the U.S. economy to have tacked on 200,000 jobs in March, with the unemployment rate holding steady at 7.7%. A weaker-than-consensus report on private payrolls from ADP on Wednesday has some economists paring back expectations for the government's report.
On the European front, the European Central Bank held its main refinancing rate at 0.75% as expected. ECB President Mario Draghi said at a press conference that the central bank stands ready to keep its foot on the monetary accelerator as long as needed. The Bank of England also held its benchmark rate at 0.5% and the scope of its quantitative easing program at 375 billion pounds.
In commodities, oil and gasoline futures sold off for the second session in a row. The benchmark U.S. crude oil contract slid $1.44, or 1.5%, to $93.02 a barrel. Wholesale New York Harbor gasoline slumped 0.83% to $2.888 a gallon. Gold fell $4.80, or 0.32%, to $1,549 a troy ounce after logging the lowest settle of the year Wednesday.
Foreign Markets
The Euro Stoxx 50 rallied 1.1% to 2668, the English FTSE 100 fell 0.19% to 6407 and the German DAX rose 0.62% to 7924.
In Asia, the Japanese 225 soared 2.2% to 12635.