Stocks Cap Seesaw Session Mixed on First Day of 4Q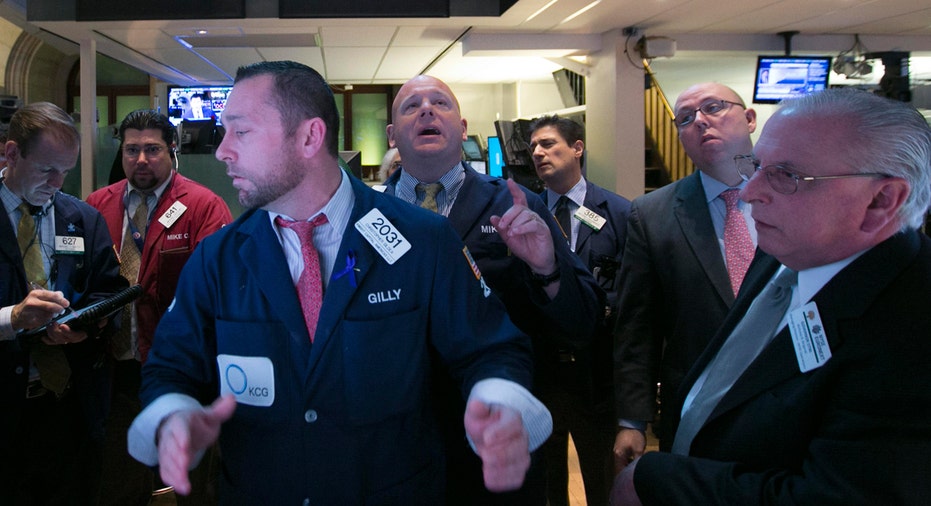 It was the same story, different quarter for Wall Street as stocks seesawed through the first trading session of the fourth quarter.
The Dow Jones Industrial Average was down 13 points, or 0.08% to 16271. The S&P 500 reversed course to end up 3 points, or 0.20% to 1923, while the Nasdaq Composite gained 6 points, or 0.15% to 4627.
Today's Markets
A new quarter didn't mean a new direction for the markets as they wobbled between gains and losses throughout session, though the major averages ended mostly flat.
U.S. data from the Institute for Supply Management showed factory activity slowed more than expected last month. The ISM gauge fell to 50.2, its lowest level since May 2013, from 51.1 in August. Wall Street had largely anticipated a shallower fall to 50.6.
Overnight, data from the region showed the manufacturing sector gained a bit of steam, though it was still rooted in contraction territory. China's official purchasing manager's index (PMI) rose to 49.8 in September from 49.7 the month prior, in line with expectations. Eurozone PMI data was also out overnight from Markit. The gauge fell to 52 last month from 52.3 in August.
The Chinese stock markets are closed until the middle of next week to celebrate President Xi Jinping's 66 birthday.
David Madden, IG market analyst, said with traders at home in China, other buyers might be enticed back into the mix.
"The Chinese market is shut until mid-next week, and this will help remove volatility from the global markets, as the nation has been the epicenter of major selloffs recently," David Madden, IG market analyst wrote in a note. "When it comes to China these days, as long as the figures are not terrible, they are deemed respectable."
Elsewhere on the economic calendar, weekly jobless claims rose more than expected last week to 277,000 from an unrevised 267,000 the week prior. Wall Street had forecasted claims to rise to 270,000.
As the data-dependent Federal Reserve continues to monitor key pieces of economic data, so do the markets. Bringing the latest commentary on the state of the economy and where it's headed was San Francisco Fed President John Williams who gave a speech at a Salt Lake Area community leader's event.
"Janet Yellen's lack of commentary regarding monetary policy has kept the sellers at bay. Ms. Yellen likes to warn from time to time that interest rates will rise soon, but since there were no words of caution last night, traders are taking it as a positive sign," Madden said.
In recent action, the yield on the benchmark 10-year U.S. Treasury bond declined 0.041 percentage point to 2.019%.
Monthly auto sales figures, which were also out on Thursday, blew past consensus estimates. The big three – GM (NYSE:GM), Ford (NYSE: F), and Fiat Chrysler (NYSE:FCAU) – posted a jump of 12%, 23%, and 14%, respectively, in September sales as cheap gas and low rates drove consumers to the lots.
In commodities, global crude oil prices declined as U.S. prices fell 0.78% to $44.74 a barrel. Brent, the international benchmark, declined 1.41% to $47.69 a barrel. Driving the action was more risk premium over the conflict in Syria that countered worries about a global economic slowdown.
Metals were lower as gold declined 0.12% to $1,114 a troy ounce and silver rose 0.05% to $14.51 an ounce. Copper declined 1.62% to $2.31 a pound.
Elsewhere in the global markets European equities kicked off the fresh quarter on a higher note. The Euro Stoxx 50, which tracks large-cap companies in the eurozone, slipped 1.02%, while the German Dax declined 1.57%, the French CAC 40 rose 0.65%, and the UK's FTSE 100 rose 0.18%.
Asia markets also ended higher with China markets closed. Hong Kong's Hang Seng rose 1.41% while Japan's Nikkei popped 1.92%.