Stocks Bounce After Extended Selloff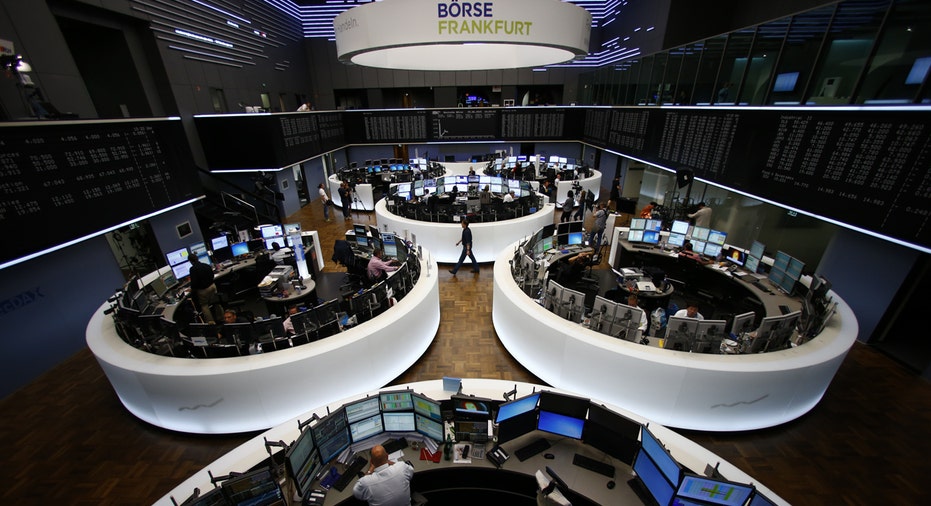 Global stock markets mostly advanced Tuesday, showing further signs of steadying following a recent selloff.
The Stoxx Europe 600 rose 0.6% in early trade, buoyed by gains in mining and banking stocks, while U.S. futures pointed to a 0.2% opening gain for the Dow Jones Industrial Average. Stocks in the Asia-Pacific region mostly pushed higher.
The moves follow the largest two-week decline for the Dow and the S&P 500 this year, when a combination of disappointing corporate results, geopolitical tensions and investor concerns over the fate of the White House's policy agenda jolted markets.
The S&P 500 is still up 8.5% in 2017, but many investors think further gains could be muted absent a surprise uptick in economic growth or company earnings.
"The byword seems to be exhaustion," said Larry Hatheway, global chief economist at Swiss money-manager GAM Holding.
Mr. Hatheway said he expects markets to trade in a range, and to be more volatile, given the lack of upside surprises in global growth and earnings--the two main drivers of the equity rally.
"There is some loss of momentum," he said.
In Europe, mining stocks led the market higher, with the Stoxx Europe 600 Basic Resources subindex rising 1.5%. That comes on the back of industrial metals prices hitting multiyear highs and solid results from companies in the sector.
BHP Billiton declared on Tuesday that it would triple its final dividend, joining fellow miners in rewarding shareholders as its fortunes have rebounded with a recovery in commodity prices. It also said it would sell its U.S. shale operations following months of investor pressure. In London trade, shares in BHP rose 3.6%.
A rise in the Stoxx Europe 600 Banks subindex, which was up 0.7%, also helped push European stocks higher. European banking stocks have climbed this year amid a brightening local economy. But the sector is down 2.6% in August on lower government bond yields, which tend to make banks' lending practices less profitable.
Stock markets were broadly higher across Asia on Tuesday. Hong Kong's Hang Seng Index gained 1.1%, Korea's Kospi was up 0.4%, and mining stocks helped push Australia's S&P/ASX 200 0.4% higher.
In Hong Kong, shares of Great Wall Motor halted trading after the company confirmed its interest in buying Fiat Chrysler's Jeep brand. The Chinese auto maker's stock was up almost 40% so far this year.
In Japan, the Nikkei Stock Average declined 0.1%, as a stronger yen weighed on the exporter-heavy index. The Nikkei has now declined 11 times in 13 trading sessions, cutting its year-to-date gain to 1.4%.
Investors were also looking ahead to the Jackson Hole economic symposium later this week. The roster of top central bankers includes Federal Reserve Chairwoman Janet Yellen and European Central Bank President Mario Draghi, who will gather at the annual conference that kicks off Thursday.
Investors are watching for further details on the Fed's plans to scale back its balance sheet and clues on when the ECB could trim its asset purchases, which have helped underpin markets in recent years.
"The market continues to wait on policy makers for direction," said Michala Marcussen, global head of economics at Société Générale. "Unless there is fresh guidance forthcoming from ECB President Draghi or from officials at Jackson Hole, markets are likely to keep" their listless trend, she said.
In bond markets, the yield on the 10-year Treasury note edged up to 2.205% from 2.182% on Monday, according to Tradeweb. Yields rise as prices fall. In currencies, the WSJ Dollar Index rose 0.3% after declining slightly on Monday.
In commodity markets, gold prices fell 0.5% to $1,290 an ounce. Brent crude oil prices rose 0.7% to $52.01 a barrel after falling 2% on Monday.
Kosaku Narioka contributed to this article.
Write to Christopher Whittall at christopher.whittall@wsj.com and Ese Erheriene at ese.erheriene@wsj.com