Stock Futures Point to Slight Dip at Open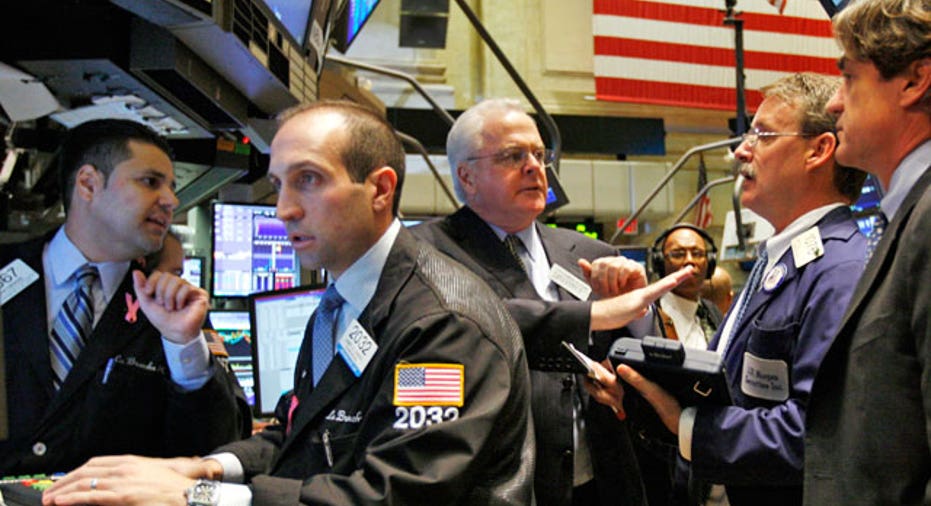 Stock index futures pointed to a slight dip at open on Wall Street on Wednesday, with futures for the S&P 500 down 0.2%, Dow Jones futures down 0.16% and Nasdaq 100 futures down 0.28% at 0824 GMT.
European shares fell in early trade on Wednesday in low volumes, consolidating four-month highs as investors awaited greater visibility on central bank action before committing new money. .EU
Kraft Foods Inc's (NASDAQ:KFT) board of directors on Tuesday approved the spinoff of its North American grocery business to shareholders, with the date for the spinoff set for October 1.
U.S. buyout fund Carlyle Group (NASDAQ:CG) said on Wednesday it has acquired a 13.5% stake in Meinian Onehealth Healthcare Group Co Ltd, placing a bet on rising spending on preventive healthcare from China's growing middle class and ageing populations.
Australia called on the rest of the world to match its tough new anti-tobacco marketing laws after its highest court on Wednesday dismissed a challenge from international cigarette companies in a major test case. Tobacco giants British American Tobacco, Britain's Imperial Tobacco, Philip Morris (PM.N) and Japan Tobacco challenged the laws in Australia's High Court, claiming the rules were unconstitutional because they effectively extinguished their intellectual property rights.
Liberty Media Corp (NASDAQ:LMCA) has bought more shares of Sirius XM (SIRI.O) in recent days, a securities filing showed, as the satellite radio operator's biggest shareholder continues to move ahead with its plan to wrest control of the company.
Warren Buffett's Berkshire Hathaway (NYSE:BRK) made two substantial bets on the oil business in the second quarter.
The famed money manager also cut three of his firm's biggest holdings sharply in the quarter that ended June 30, regulatory filings on Tuesday reveal.
Biodiesel maker Renewable Energy Group Inc (NASDAQ:REGI) posted a second-quarter profit on Tuesday versus a year-ago loss, as the company continued to increase production.
Goldman Sachs Group Inc (NYSE:GS) Chief Executive Lloyd Blankfein and other bank officials won the dismissal of a shareholder lawsuit accusing them of tolerating poor mortgage practices and quitting a federal bailout program early to boost executive pay.
BP Capital, the investment management firm led by billionaire energy investor T. Boone Pickens, sold all of its holdings in number two U.S. gas producer Chesapeake Energy (NYSE:CHK) and oil major BP PLC (according to second quarter filings posted with the U.S. Securities and Exchange Commission on Tuesday afternoon.
Two U.S. House Democrats investigating bribery allegations in Wal-Mart's Mexico affiliate said on Tuesday they have obtained new internal records that may point to evidence of tax evasion and money laundering.
JDS Uniphase Corp's quarterly results beat analysts' estimates on strong demand in the Americas region for its products used in broadband networks, sending its shares up 4 percent after the bell. The company also said Chief Financial Officer Dave Vellequette would step down on August 31.
Canadian yogawear retailer Lululemon Athletica Inc is suing PVH Corp's Calvin Klein and G-III Apparel Group Ltd , accusing the companies of infringing three pant patents.
Saudi Arabia and its closest regional partners have shown interest in buying the most advanced Lockheed Martin Corp (LMT.N) missile-defense system to counter perceived threats, executives of the Pentagon's top supplier said on Tuesday.
On the macro front, investors awaited July Consumer Price Index, due at 1230 GMT, New York Fed's Empire State Manufacturing Survey for August, also at 1230 GMT, as well as the August housing market index, due at 1400 GMT.
U.S. stocks ended little changed o n Tuesday in what investors described as a fatigued market after the S&P 500 rose in seven of the past eight sessions.
The Dow Jones industrial average .DJI rose 2.71 points, or 0.02%, to 13,172.14. The Standard & Poor's 500 Index .SPX was down 0.18 point, or 0.01%, at 1,403.93. The Nasdaq Composite Index .IXIC was down 5.54 points, or 0.18%, at 3,016.98.