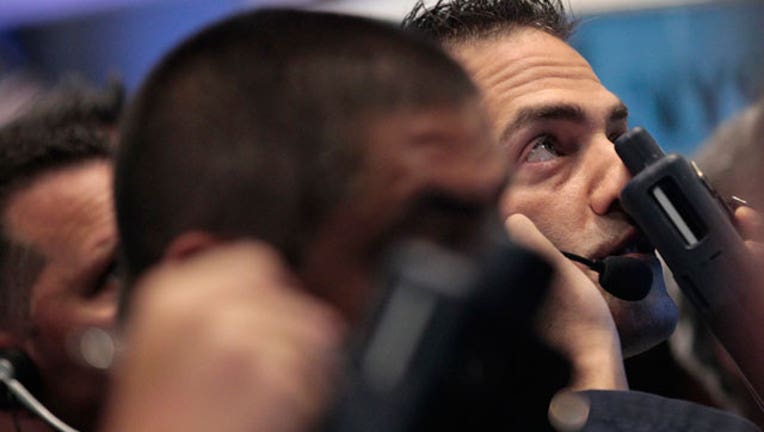 Stock futures were under water Tuesday, with Wall Street set to open below major psychological levels, as fears that the Federal Reserve could opt to taper its bond-buying program early.
Auto makers will report sales, putting Ford Motor Co. and General Motors Co. in the limelight.
Futures for the Dow Jones Industrial Average fell 48 points, or 0.3%, to 15951, while those for the Standard & Poor's 500 index was off 4 points to 1795.70. Futures for the Nasdaq-100 index eased 4 points to 3479.
With no data on the calendar, investors will be waiting to see if markets build on losses that came late Monday, briefly pushing the Dow industrials below 16000. The index closed down 77.64 points, or 0.5%, to 16008.77. The S&P 500 index fell 4.91 points, or 0.3%, to close at 1800.90.
That reaction came as investors began to worry about whether the record run for stocks has gotten too stretchy, and after a sharper-than-expected rise in the Institute for Supply Management's manufacturing index.
Jim Reid, strategist at Deutsche Bank, said the market has been in a state of confusion after the ISM data provided "further fuel to the taper flame.
"The best thing for markets longer-term is to have sustainable growth and a normalization in monetary policy. However, over the next 6-12 months we think markets would perform notably better if sub-trend (but positive) growth and high liquidity continued," said Reid.
"The latter scenario would be much less healthier longer-term, though, as asset prices would deviate further from fundamentals, leaving gap risk between the two. So with the recent strength in the data ,we're building up to a fascinating payrolls this Friday and one that could shape the early part of 2014," he added in a note to clients.
The U.S. is forecast to add a net 180,000 jobs in November, according to economists polled by MarketWatch. The unemployment rate is seen dropping to 7.2%. Most economist don't think numbers such as these will be enough to get the Federal Reserve to act by the December meeting.
Europe extended losses a third day on Fed tapering fears. Data showed a sharp drop in euro-zone producer prices, while the British pound rose after upbeat U.K. construction data.
Asia stocks were a mix with Japan lifted by a weaker yen, but Chinese shares extended Monday's selloff.
Gold prices eased and oil rose.