Stimulus Does the Trick as Detroit Autos Surge in China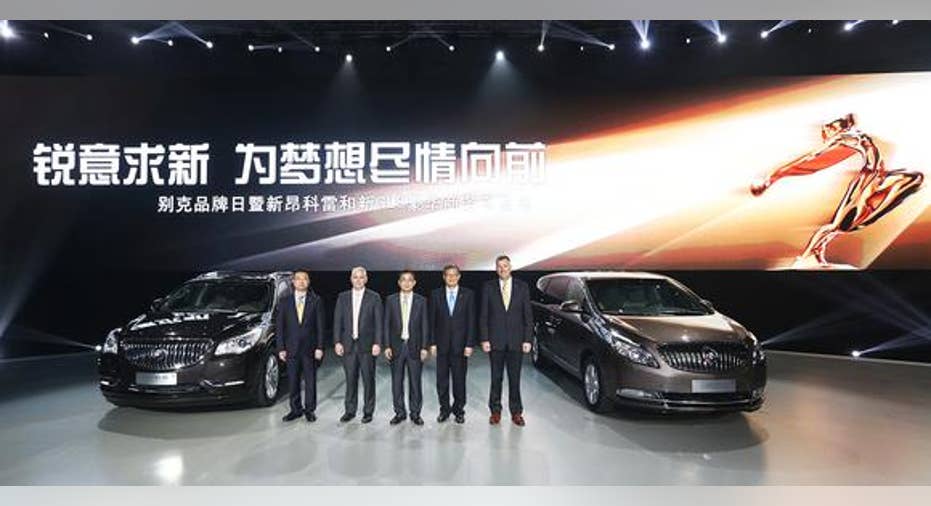 Buick continues to sell well in China. Image source: General Motors.
Investors understand that General Motors generates the majority of its profit right here in the United States. However, GM sells more cars in China than in any other market, and it was worrisome for investors when new-vehicle sales slowed in China over the summer. Sales slowed to the point that it forced China's government to dish out an incentive program that cut the purchase tax in half for consumers.
How has that incentive program turned out? Looking at GM's sales figures coming out of China for November, the program is working like a charm.
By the numbers General Motors' retail sales moved 14% higher to 346,671 units in November. If you're keeping track, that's good enough to pencil last month in as the automaker's best November sales in China ever.
"The market has been improving in the past two months," said GM Executive Vice President and GM China President Matt Tsien, in a press release. "We are well positioned to achieve a strong finish to the year backed by newly launched models, including the Chevrolet LOVA RV, Buick Verano Hatchback and Buick Verano GS."
The vehicles responsible for driving General Motors' sales in China higher last month weren't a surprise. GM's SUV sales soared 231% on an annual basis, powered by the Buick Envision and Baojun 560. Furthermore, the SUV segment accounted for 19% of GM's sales in China last month, which was much higher than the 6.5% the segment represented a year ago.
Looking at GM's brands in China, Buick remains the automaker's bright spot. Buick recorded its best-ever monthly sales in November as it exceeded 100,000 units for the second consecutive month. More specifically, Buick sales soared 45% year over year to nearly 108,000 units.
GM's luxury Cadillac lineup also posted healthy year-over-year sales gains of 57%, but with a far lower unit total of just under 8,000 units. Baojun sales jumped 100% on an annual basis to more than 58,000 units, and Chevrolet sales took an 11% dip year over year to 51,192 units in November.
Through the first 11 months of 2015, retail sales from GM and its joint ventures increased 4.1% compared to the same time frame last year, to a total of 3.16 million units.
GM isn't the only success story While crosstown rival Ford Motor Company (NYSE: F) trails GM in vehicle sales by a long shot in China, it's still making progress in a market it was late to enter. Ford's sales totaled 106,283 during November, which was a 9% increase over last year's November. Better yet, Ford's sales in China are quickly approaching the 1 million mark for the year, totaling 990,356 sales through November.
Ford's gains were led by its Mondeo (Fusion), which posted a sales increase of 13% to 12,431 units compared to last year, as well as its Kuga (Escape) and Edge, which both sold more than 10,000 units last month in China.
Here today, gone tomorrow?The major question facing investors in the automakers that operate in China is: Are these sales gains here to stay? It's clear that after a slow summer of new-vehicle sales in China, the government's stimulus program, which cuts the purchase tax from 10% to 5%, is definitely igniting sales. The good news is that this stimulus is slated to continue for the entirety of 2016.
This is a development worth watching, because if sales remain accelerated, rather than only a temporary boost, it'll be very positive news for investors of General Motors and other automakers hoping to fuel top- and bottom-line growth from its operations in China.
The article Stimulus Does the Trick as Detroit Autos Surge in China originally appeared on Fool.com.
Daniel Miller owns shares of Ford and General Motors. The Motley Fool recommends Ford and General Motors. Try any of our Foolish newsletter services free for 30 days. We Fools may not all hold the same opinions, but we all believe that considering a diverse range of insights makes us better investors. The Motley Fool has a disclosure policy.
Copyright 1995 - 2015 The Motley Fool, LLC. All rights reserved. The Motley Fool has a disclosure policy.