Stifel Likes Cedar Fair, Six Flags, and SeaWorld Stocks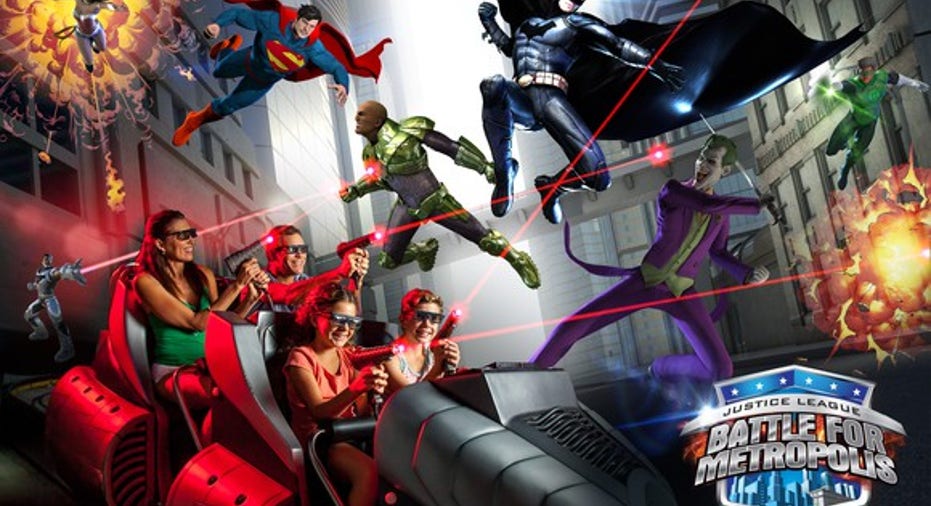 It's not just families making amusement park plans this time of year. Stifel analystSteven Wieczynski initiated coverage ofCedar Fair(NYSE: FUN),Six Flags(NYSE: SIX), andSeaWorld Entertainment(NYSE: SEAS) on Thursday afternoon with bullish ratings on all three stocks.
Kicking off coverage of the three largest theme park and regional amusement park operators that trade as pure plays -- Disneyland and Universal Studios are part of much larger media empires -- with buy ratings across the board may seem like an endorsement of the industry. However, Wieczynski has specific reasons for being upbeat on the market-beating prospects of all three investments.
Image source: Six Flags.
The gift shop at the end of the ride
Stifel's analyst is initiating coverage of Cedar Fair, the parent company of several coaster-anchored parks including Cedar Point in Ohio and Knott's Berry Farm in California, with a $78 price target. He feels the stock can deliver sustainable gains in the upper-single to low-double-digit range in perpetuity. He feels that Cedar Fair's plans for additional land will generate opportunities to pad revenue and accelerate EBITDA growth.
When it comes to Six Flags, Wieczynski feels that the chain's international licensing business should pick up in the next couple of years, allowing it to bankroll the capital initiatives that will keep guests coming back and spending more. He is establishing a $70 price goal on Six Flags stock.
Finally Wieczynski didn't shy away from making a bullish call on the controversial SeaWorld with a $23 price target. He's encouraged by SeaWorld's push into foreign markets.China'sZhonghong Zhuoye Group acquired a 21% equity stake in SeaWorld last month with plans to open parks in the world's most populous nation. This follows an announcement late last year that it has a partner opening a SeaWorld park in Abu Dhabi in 2022 that will be the concept's first park without the signature and in some eyes notorious killer whales. Wieczynskifeels that SeaWorld's top brass will be able to execute its brand-refreshing makeover plan as it adds more rides and attractions that don't involve marine life in captivity.
Wieczynski feels that SeaWorld Entertainment stock offers the most attractive risk/reward ratio among all of the park names that he covers. His $23 price target translates into 35% of upside off Thursday's market close, a much higher ceiling than his price targets for Cedar Fair and Six Flags that imply 13% and 14% of upside, respectively.
Stifel's bullish initiation for all three stocks comes as a sharp contrast to whatGoldman analyst Christopher Prykull did earlier this month. He kicked off coverage of Cedar Fair, Six Flags, and SeaWorld with three different ratings. He tagged Cedar Fair as a buy, like Wieczynski, but slapped Six Flags with a neutral call and pegged SeaWorld Entertainment as a sell recommendation. His price targets of $81 for Cedar Fair, $65 for Cedar Fair, and $16 for SeaWorld bear that out.
Wall Street pros may differ on their perspectives, but it's ultimately up to families and coaster buffs to decide which operators are worthy of their travel budgets this summer. Investors don't have to wait that long to see where their money will be allocated.
10 stocks we like better than Six FlagsWhen investing geniuses David and Tom Gardner have a stock tip, it can pay to listen. After all, the newsletter they have run for over a decade, Motley Fool Stock Advisor, has tripled the market.*
David and Tom just revealed what they believe are the 10 best stocks for investors to buy right now... and Six Flags wasn't one of them! That's right -- they think these 10 stocks are even better buys.
Click here to learn about these picks!
*Stock Advisor returns as of April 3, 2017
Rick Munarriz owns shares of SeaWorld Entertainment. The Motley Fool recommends Cedar Fair. The Motley Fool has a disclosure policy.