Steel Stocks Win Upgrades Amid Earnings: What You Need to Know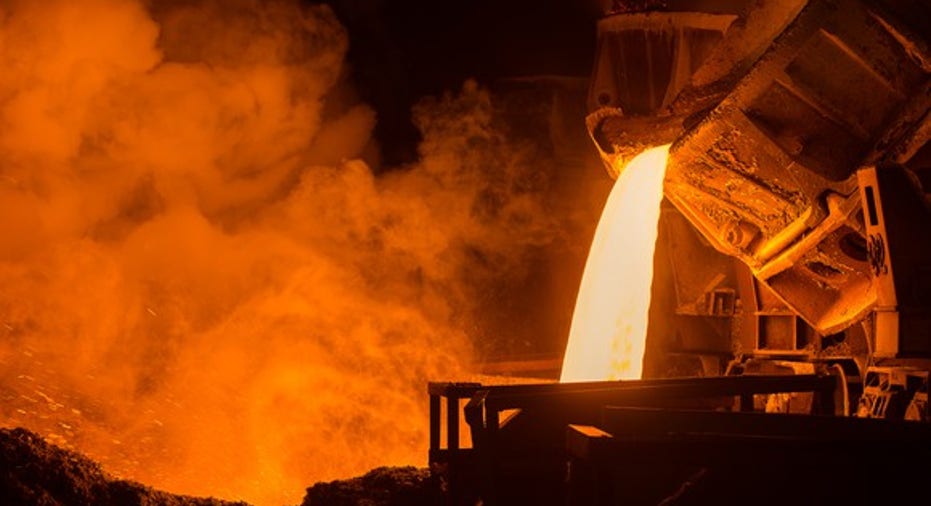 Every day, Wall Street analysts upgrade some stocks, downgrade others, and "initiate coverage" on a few more. But do these analysts even know what they're talking about? Today, we're taking one high-profile Wall Street pick and putting it under the microscope...
It's earnings season on Wall Street, and it's getting hard to keep track of all the good (and bad) news. This is because, for whatever reason, companies in individual industries tend to report their earnings in bunches. First come the aluminum makers, then the big banks, then the defense stocks, and so on.
Right now, for example, we're in the middle of steel earnings. Last week, we heard from minimill operators Nucor (NYSE: NUE) and Steel Dynamics (NASDAQ: STLD). Tomorrowcome earnings from old-guard steel titans like U.S. Steel (NYSE: X) and AK Steel (NYSE: AKS). And here's something that may surprise you: Based on what the first two steel stocks reported last week, analysts at Macquarie Capital believe that the latter two stocks are going to do pretty well, too. In fact, Macquarie just upgraded all four of these steel stocks this morning.
Here are three things you need to know about that.
Things are heating up in the steel sector. Image source: Getty Images.
1. Nucor reports
Let's begin with Nucor, which releasedits fiscal Q1 2017 earnings on April 20. Nucor reported $1.11 per share in net profit last week, which was more than twice the $0.50 it earned in the sequentially preceding fourth quarter 2016 -- and more than four times the $0.27 earned in the year-ago first quarter of 2016.
The price per ton of steel shipped rose 21% year over year, operating rates at the company's foundries improved by 9 percentage points to 89%, and Nucor's net sales jumped 30% year over year. Consequently, Nucor's operating profit margin boomed -- up 680 basis points to 11.4%.
Citing an improving demand environment and encouraged by the "material amount of volume growth" that Nucor showed, Macquarie raised its estimatefor Nucor's profit this year to $5 per share, and upgraded the stock to neutral with a $62 price target.
2. Steel Dynamics does, too
Good as the news was at Nucor, Steel Dynamics arguably did even better. Reporting one day before Nucor, Steel Dynamics announced that it had earned $0.82 per share in Q1 2017 (three times what it earned in Q1 2016), and grew its sales even faster -- up 41% year over year to $2.4 billion.
Steel Dynamics enjoyed a smaller increase in profits than did Nucor, perhaps because the price it charged for its steel grew a little less -- up 9% to $743 per ton. Nevertheless, Steel Dynamics' profit margin is rising nicely, as the $63-per-ton increase in the price of the steel it sells easily outstripped the $44-per-ton increase in the price of "ferrous scrap" that it buys for recycling into new steel.
This all makes Macquarie even more bullish about Steel Dynamics than it is about Nucor. According to StreetInsider.com, Macquarie has raised its rating on Steel Dynamics stock to outperform, and assigned a $44 price target that implies about 24% upside in the stock over the next year. Its estimate for Steel Dynamics' 2017 profit rises 20% to $3.60 per share -- meaning the stock now sells for less than 10 times current-year earnings.
3. What comes next
Next up, of course, will be the earnings from U.S. Steel and AK Steel. According to Zacks, both of these more traditional steelmakers will be reporting earnings tomorrow -- and analysts are expecting good things. Yahoo! Financeestimates predict that both U.S. Steel and AK Steel will reverse their losses of yesteryear, and report positive profits tomorrow -- $0.32 per share for U.S. Steel, and $0.15 per share for AK.
Macquarie, too, is bullish. According to the analyst, U.S. Steel is benefiting from "solid pricing" and improving volumes of steel shipped. While declining to predict precisely how much profit U.S. Steel will report tomorrow, the banker does think we will see profits rise 61% by year's end, to $2.70 per share.
The analyst does, however, worry that U.S. Steel is too dependent on the energy market, where demand for pipeline is increasing -- but U.S. Steel is currently losing money. Accordingly, Macquarie upgrades U.S. Steel only to neutral (with a $30 price target).
Macquarie's more enthused about what we might see happen at AK Steelthis year. Predicting a 73% jump in full-year profit to $0.38 per share, the analyst is raising its price target on AK Steel shares to $8.10 (implying 20% upside from today's prices), and upgrading the stock to outperform.
Final thing: Context is everything
Now let's put all of this in context for you. Based on Macquarie's full-year earnings predictions for these four stocks, their current-year valuations look like this:
Steel Dynamics: $3.60 per share in full-year profit, weighed against a $36 share price, equals a price-to-earnings ratio of 10.
Nucor: $5 per share on a $60 stock price equals a P/E of 12.
U.S. Steel: If it earns $2.70 per share, as predicted, then with its $31 share price it costs 11.5 times earnings.
And finally AK Steel: $0.38 on a $7 stock price works out to a P/E of more than 18.
Now let's look at the growth rates. Fastest to slowest, Yahoo! Finance estimates have AK Steel growing its earnings 38% annually over the next five years; followed by Nucor at a 25% growth rate, Steel Dynamics at 15%, and finally U.S. Steel at 8%.
These expectations show you why Macquarie likes AK Steel despite it carrying the most expensive P/E of the group, and why Macquarie likes Steel Dynamics as well. They also tell you why U.S. Steel, even at only 11.5 times earnings, may be no great bargain as the slowest-growing steelmaker in America. I do find it curious, though, that Nucor isn't getting more love.
At only 12 times earnings, with a growth rate in the mid-20s, Nucor looks to me like potentially the best bargain of the bunch. Were I in Macquarie's shoes, I'd go ahead and recommend that one, as well.
10 stocks we like better than NucorWhen investing geniuses David and Tom Gardner have a stock tip, it can pay to listen. After all, the newsletter they have run for over a decade, Motley Fool Stock Advisor, has tripled the market.*
David and Tom just revealed what they believe are the 10 best stocks for investors to buy right now... and Nucor wasn't one of them! That's right -- they think these 10 stocks are even better buys.
Click here to learn about these picks!
*Stock Advisor returns as of April 3, 2017
Rich Smith has no position in any stocks mentioned. The Motley Fool recommends Nucor. The Motley Fool has a disclosure policy.