Starbucks Says Its Biggest Problem Is Too Much Demand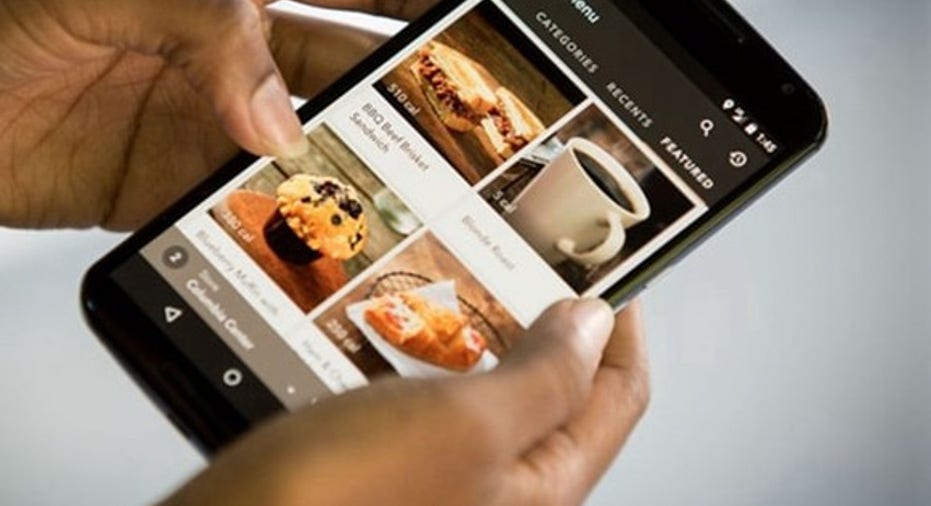 Image source: Starbucks.
A lot of people prefer to avoid any and all human contact before getting their morning coffee, and that's a problem for Starbucks (NASDAQ: SBUX).
Too many people are opting to use its mobile order and pay system, which allows customers to order ahead on their app and pick up their coffee in store -- no need to talk to anyone. Management says the influx of mobile orders resulted in too much congestion in stores, leading some walk-in customers to leave before ordering. As a result, same-store sales grew a disappointing 3%. That's its lowest level since 2009.
Well, that escalated quickly
Starbucks just launched mobile order and pay during the first fiscal quarter of 2015. It was seen as a way to relieve long morning lines in stores. After rolling it out to every store in the U.S. a year later, soon-to-be-CEO Kevin Johnson boasted, "In many of our busiest stores where morning peak demand is high, mobile order and pay exceeds 10% of total transactions." Just 13 stores saw 20% of orders during peak hours come from mobile order and pay a year ago.
By the fourth quarter of last year, mobile order and pay accounted for 20% of orders during peak times at 600 stores. That doubled to 1,200 stores in the first quarter.
Starbucks wasn't prepared for the sudden surge in mobile ordering. Without best practices in place, baristas were slowed down by mobile orders while walk-ins lined up out the doors. Meanwhile, mobile orderers struggled to pick up their own orders because of congestion at the handoff plane. "This congestion resulted in some number of customers who either entered the store or considered visiting a Starbucks store and then did not complete a transaction," according to Johnson.
Can Starbucks fix this?
Management sounded very upbeat about the progress it's already making tackling this issue during the earnings call. It's implementing new tools and practices in the 1,000 stores with the highest volume of mobile orders, including new roles and resources specifically for mobile order & pay and text message alerts for when orders are ready.
But Starbucks' fiscal 2017 guidance may give some investors pause. Management lowered revenue growth guidance to 8-10% from the 10% growth guidance it provided a quarter earlier.It still expects same-store sales growth to pick up in the second half of the year, resulting in full-year same-store sales growth in the mid-single-digits.
If things don't start clearing up in the second quarter, with a path to completely fixing the problem by the third quarter, investors may get worried.
A good problem to have
When it comes down to it, there are worse problems to have than too many people wanting to order your product. Other companies have experienced similar problems and managed to make the most of them.
For example, Amazon.com (NASDAQ: AMZN) experienced a huge increase in the number of businesses utilizingits Fulfilled by Amazon program in the fourth quarter of 2015. That resulted in significant pressure on operating margin expansion as Amazon's warehouses were filled to the gills and fulfillment costs ballooned.
Amazon prepared for a similar surge this year by asking merchants to hold back inventory they didn't expect to sell until the first quarter while continuing to build out its fulfillment center network. The stock price and the company's margin growth continued to improve throughout 2016.
Indeed, the decline in Starbucks' stock price could present a buying opportunity for investors who believe in management's ability to solve problems like it's experiencing. They were all keen to point out they've solved similar problems before, and there's no reason to doubt they can solve another high-quality problem yet again.
Find out why Starbucks is one of the 10 best stocks to buy nowMotley Fool co-founders Tom and David Gardner have spent more than a decade beating the market. (In fact, the newsletter they run, Motley Fool Stock Advisor, has tripled the market!*)
Tom and David just revealed their 10 top stock picks for investors to buy right now. Starbucks is on the list -- but there are nine others you may be overlooking.
Click here to get access to the full list!
*Stock Advisor returns as of January 4, 2017.
Adam Levy owns shares of Amazon.com. The Motley Fool owns shares of and recommends Amazon.com and Starbucks. The Motley Fool has a disclosure policy.