Starbucks' Fizzio Soda Line Has Gone Flat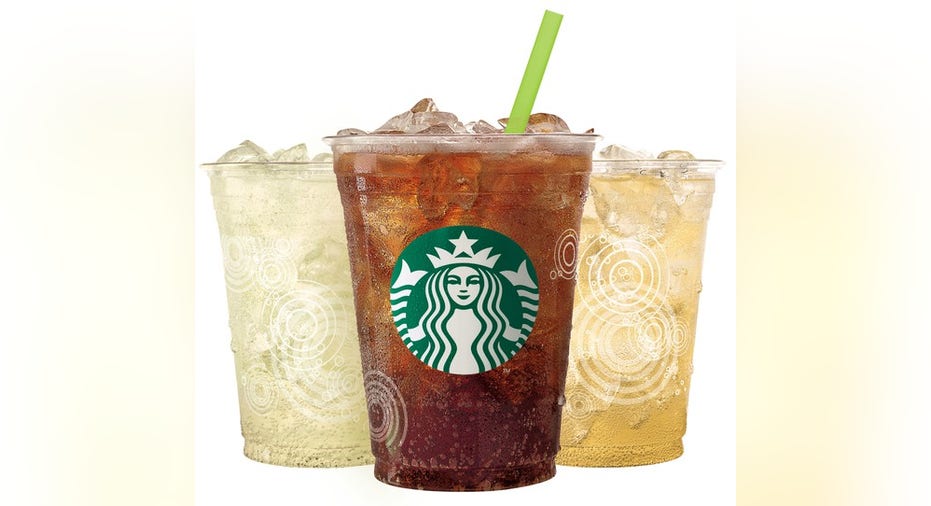 Starbucks rolled out its soda line to great fanfare two years ago. Image source: Starbucks.
For Starbucks (NASDAQ: SBUX), perhaps the fastest path to same-store sales growth involves attracting customers during its slower afternoon and evening hours.
To do that, the chain has done everything from offering its now-discontinued Sunset Menu, which had finely shaved ice granitas and layered trifles after 3 p.m., to tapas-like items and alcohol at some locations during evening hours.
Another key way to attract customers in the afternoon and evening, when people may not be as inclined to drink coffee, was the 2014 introduction of Fizzio carbonated drinks. The soda line, which was rolled out in 3,500 Starbucks cafes in 16 states (roughly a third of its U.S. stores), featured three flavors --spiced root beer, golden ginger ale, and lemon ale.
The sodas, which got a big marketing push and were expected to be introduced nationwide, contained no artificial flavors, no preservatives or high fructose corn syrup, and had 100 calories or less in a grande size (16 fl. oz.).
"We have heard from our customers that they're looking for more refreshing, cold beverages, especially during the warm summer months," said Starbucks Group President Cliff Burrows at the time. "Fizzio Handcrafted Soda is unlike any soda in the marketplace because it's handcrafted and made-to-order each time. The addition of Fizzio and Teavana Iced Teas gives our customers more refreshing beverage choices made with the premium ingredients they expect from Starbucks."
That sounded nice and on the surface -- low-calorie sodas in flavors designed to appeal to grownups -- seemed likely to attract an afternoon and evening crowd made up of people who consider coffee a morning beverage and those who don't drink it at all. It seemed like a good idea, but it wasn't, and a little over two years after launch, instead of being available all over the country, Fizzio has quietly gone away.
What happened to Fizzio?
When a Starbucks product line fails, the company tends to just have it quietly disappear from stores. As stocks get depleted, items simply stop being available, and they disappear from menu boards. In the case of Fizzio, the chain never made any sort of announcement about the soda line going away, and it even still has a page on the company's website.
It's a practice that minimizes attention to items going away. That may stop a backlash from fans of a given product as they think that their local store just ran out or no longer stocks a particular item. By the time they realize it's not coming back, it's too late to complain or they've moved on to a different drink.
In the case of Fizzio, Starbucks has not made any sort of announcement as to the end of the line, but a company spokesperson confirmed to The Motley Fool that it has in fact been discontinued.
"Regarding your question about Fizzio, as our carbonation offerings evolve, handcrafted sodas are no longer a part of our menu," wrote a company spokesperson. "We remain committed to the carbonation platform and look forward to bringing even more experiences to our customers soon. We frequently bring new and innovative products to our customers as part of Starbucks Experience -- there are actually 170,000 ways to customize a Starbucks beverage, and carbonation is another way to create that perfect Starbucks moment.
What comes next?
While Fizzio failed, Starbucks did put carbonation machines in at least 3,500 of its stores, so It seems likely that it will find a way to use them. The failure of the soda line shows exactly how hard it is for the company to succeed with products outside its core competency.
Fizzio joins the Vivanno smoothie as ideas that, despite being clever and well-executed, did not work. Smoothies are actually back on the menu at some Starbucks locations (although not under the Vivanno brand) and soda -- or something like it -- may find its way back in the future.
Afternoons, evenings, and non-coffee drinkers remain attractive targets for the chain and this certainly won't be its last attempt to reach that audience.
Find out why Starbucksis one of the 10 best stocks to buy now
Motley Fool co-founders Tom and David Gardner have spent more than a decade beating the market. (In fact, the newsletter they run, Motley Fool Stock Advisor, has tripled the market!*)
Tom and David just revealed their ten top stock picks for investors to buy right now. Starbucks is on the list- but there are nine others you may be overlooking.
Click here to get access to the full list!
*StockAdvisor returns as of September1, 2016
Daniel Kline has no position in any stocks mentioned. He actually really liked the Fizzio line. The Motley Fool owns shares of and recommends Starbucks. Try any of our Foolish newsletter services free for 30 days. We Fools may not all hold the same opinions, but we all believe that considering a diverse range of insights makes us better investors. The Motley Fool has a disclosure policy.