Starbucks Corporation and Boston Beer Sink on Flat Day for Stocks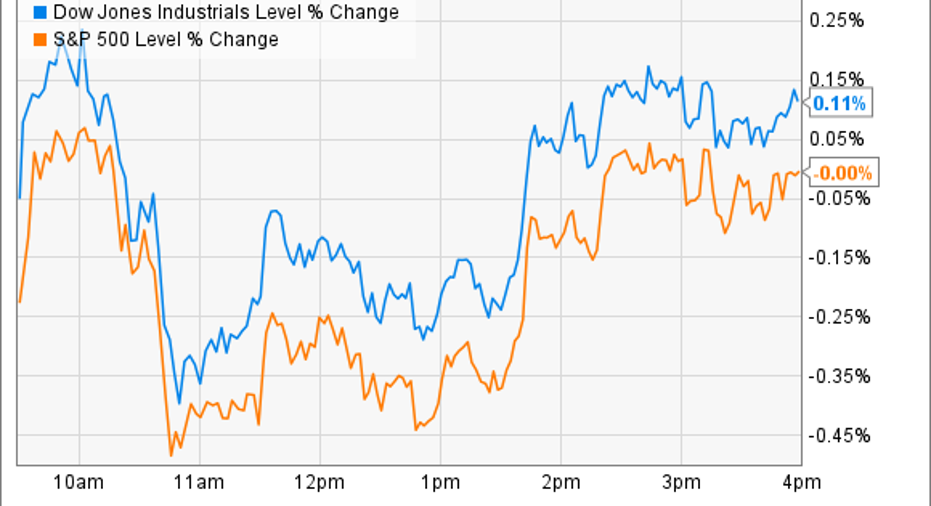 Broader indexes barely budged on Friday even as tech stocks fell thanks to disappointing earnings results from a few of the industry's biggest players. The Dow Jones Industrial Average gained 22 points, or 0.1%, and the S&P 500 finished flat at 2,092 points:
Individual stocks making big moves included Starbucks and Boston Beer , which both posted quarterly results ahead of the opening bell.
Starbucks sets a new record Starbucks' stock fell 5% even as its report showed impressive operating momentum across the board: Sales, profit margin, and earnings all set new records for the coffee titan in fiscal Q2. Overall revenue climbed 9% and earnings soared 18%, with both the top and bottom-line figures meeting consensus estimates.
As usual, comparable-store sales growth led the way. Comps were up 6% as customer traffic rose 2% and average spending improved by 4%. Sure, that marked a deceleration from the prior quarter's 8% comps growth (split evenly between traffic and average spending), but it was still Starbucks' best Q2 yet. In fact, even the slower 2% traffic growth pace translated into 16 million additional customer visits over the three-month period globally 12 million in just the U.S. market.
Starbucks' packaged goods business, which sells K-Cups and ready-to-drink products like Double-Shot, is getting more profitable. Image Source: Starbucks.
Meanwhile, the packaged goods business continued to flex its financial muscles, booking 8% sales growth as operating margin jumped to 40% from 37% a year ago. "Starbucksrecord Q2 financial and operating performance...underscores the strength of the Starbucks brand and the resiliency of our global retail and CPG businesses," CEOHoward Schultz said in a press release. The company affirmed its full-year outlook as well, which suggests the stock decline was mostly a function of Starbucks' expensive 40 price-to-earnings valuation, and not a reflection of worsening growth prospects.
Boston Beer loses ground to competitors Craft beer specialist Boston Beer fell 8% to set a new 52-week low after announcing surprisingly weak first-quarter results before the opening bell. Sales fell 5% as increased prices couldn't offset declining demand for its products. Meanwhile, net income was nearly cut in half, which translated into earnings per share of just $0.55 compared to $1.04 in the prior year.
New introductions like Grapefruit IPA aren't catching on with craft beer fans. Image source: Boston Beer.
Boston Beer is losing market share in its core Samuel Adams and Angry Orchard brands while its new releases, including Sam Adams Nitro White Ale and Sam Adams Rebel Grapefruit IPA, struggle to find their footing in a crowded craft beer marketplace.
Management was surprised on both of these fronts. "We believe Samuel Adams has lost share due to the increased competition and continued growth of drinker interest in variety and innovation," CEO Jim Koch said in a press release. "Our total company [growth] trends declined in the first quarter, even as the better beer and craft categories appear healthy," he continued.
The new reality is forcing big changes at Boston Beer, including cost cutting initiatives that aim at returning the company to steady profit growth. Koch and his team plan to step up product and marketing investments to help its brands stand out more from the surge of new brewer competition. In the meantime, investors can expect 2016 revenue and earnings to come in significantly lower than management initially projected.
The article Starbucks Corporation and Boston Beer Sink on Flat Day for Stocks originally appeared on Fool.com.
Demitrios Kalogeropoulos owns shares of Boston Beer and Starbucks. The Motley Fool owns shares of and recommends Boston Beer and Starbucks. Try any of our Foolish newsletter services free for 30 days. We Fools may not all hold the same opinions, but we all believe that considering a diverse range of insights makes us better investors. The Motley Fool has a disclosure policy.
Copyright 1995 - 2016 The Motley Fool, LLC. All rights reserved. The Motley Fool has a disclosure policy.