Starbucks Corp. Isn't the Customer Favorite Among Limited-Service Restaurants; Guess Who Is?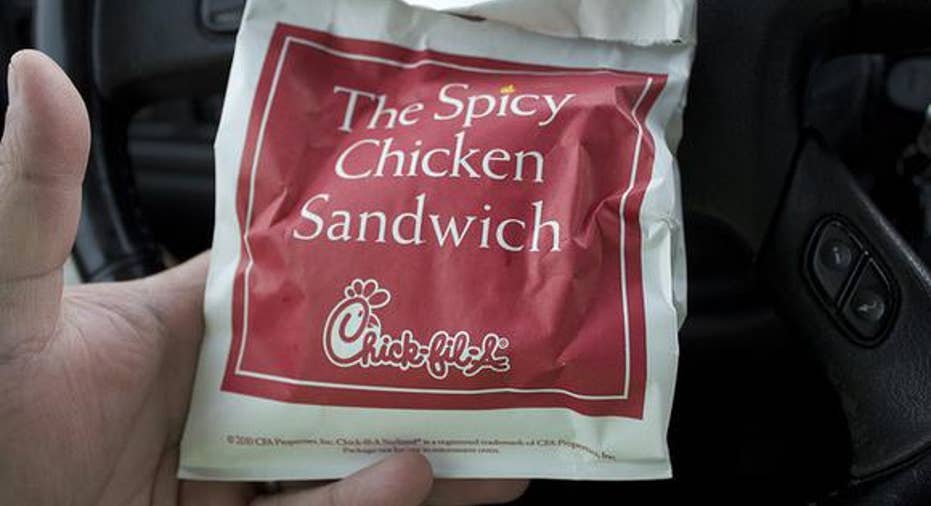 Millions may swear by their daily cup of joe from Starbucks, but it seems the coffeehouse is still lacking something when it comes to satisfying its customers. Image source: allisonmseward12.
Forget the kerfuffle over the changes made by Starbucks to its member rewards program. Having to make an extra trip or two to earn a free coffee isn't going to make its customers suddenly start buying Dunkin Donuts. The change is really only for relatively infrequent buyers, and loyal customers, the ones who make Starbucks part of their daily routine and spend heavily, will be more richly rewarded.
And those customers are legion. The java slinger sees 75 million customers walk through its doors every month, and though fewer than one in six are members of the My Starbucks Rewards program, that still translates to 11 million customers. They also spend three times more at Starbucks restaurants than do non-members, so there's a reason it wants you to make more frequent trips.
Yet even beyond the rewards program, those millions of loyal customers don't rank the coffee house all that highly.
A limited opportunityThe American Customer Satisfaction Index recently released its latest annual survey of more than 70,000 consumers on how satisfied they are with more than 300 companies across 43 industries and 10 economic sectors. Based on the responses, the market researchers assign a score to the companies between 100 and -100.
The latest index results for limited-service restaurants gave Starbucks a 74 rating in customer satisfaction, a 2.6% drop from last year's ranking of 76, and almost 4% below its score of 77, recorded in 2006 when it first joined the consumer opinion tracking survey. Significantly, Starbucks score is also below the industry average of 77.
When it comes to limited-service restaurants, consumers have a dizzying array of options to choose from -- from fast-food chains like McDonald's , which came in dead last in the survey with a customer satisfaction rating of 67, to fast-casual chains like industry leader Chipotle Mexican Grill, which came in second place with a score of 83.
In between are pizzerias like Domino's (with a rating of 75) and sandwich shops like Subway (which tied with the industry average). And Dunkin Donuts did rank higher than Starbucks, garnering a rating of 78.
So out of the gamut of limited-service chains consumers frequent, which one did they choose as best? Chick-fil-A.
A simple menu consisting of little more than several ways to make a chicken sandwich makes Chick-fil-A a popular spot that leaves customers satisfied. Image source: Chris Harrison.
"Eat mor chikin"The crispy chicken sandwich joint operates 1,950 restaurants that generated more than $6 billion in sales last year, making it the No. 1 chicken restaurant in the U.S. by sales, a position it's held since 2012 when it stole the crown from rival KFC, which is operated by Yum! Brands (notably, Yum! Brands' Pizza Hut was the only pizzeria ranked above the industry average in the customer satisfaction index).
According to a Business Insider report, Chick-fil-A's restaurants earned $3.1 million in sales on average last year, placing them well ahead of both Chipotle Mexican Grill and McDonald's, which averaged about $2.5 million per restaurant. It also notes it enjoyed double-digit comparable sales growth whereas the industry benchmark was less than 2%.
Comparable sales are an important retail metric because they largely strip out the growth that a chain can achieve simply by opening more stores. While there are a number of puts and takes in the figure, it's generally seen as a more organic growth number.
Chick-fil-A isn't ready to rest on its laurels, either. It recently dropped staple coleslaw from its menu because it's no longer as popular as it once was. In its place, it's substituted the go-to food even McDonald's felt could improve its image: kale.But overall, the chicken joint has stuck to its roots and image as a family-friendly restaurant with good, basic food to enjoy.
Ruffling feathers in the industryThe popularity of Chick-fil-A can even be seen in the attempts by KFC to reinvigorate its brand. It's attempted to harken back to the down-home image of its founder Col. Sanders, though the ever-changing roster of actors portraying him is likely defeating their efforts.
Certainly, many of Starbucks' customers are loyal to the chain, and it's also finding the need to broaden its appeal by expanding the foods it serves and turning to adult beverages. But it's also clear the coffee house is coming up short in offering them a fully satisfying experience.
In contrast, Chick-fil-A seems to prove the maxim that says to do just a few things but do them well. This marks the chicken chain's first year in the survey, yet its rating is higher than any marks attained by any other restaurant since the survey began. Chick-fil-A rules the roost, and it will be it's crown to lose next year.
The article Starbucks Corp. Isn't the Customer Favorite Among Limited-Service Restaurants; Guess Who Is? originally appeared on Fool.com.
Rich Duprey has no position in any stocks mentioned. The Motley Fool owns shares of and recommends Chipotle Mexican Grill and Starbucks. Try any of our Foolish newsletter services free for 30 days. We Fools may not all hold the same opinions, but we all believe that considering a diverse range of insights makes us better investors. The Motley Fool has a disclosure policy.
Copyright 1995 - 2016 The Motley Fool, LLC. All rights reserved. The Motley Fool has a disclosure policy.