Starbucks' CEO transition unlikely to disrupt growth: analysts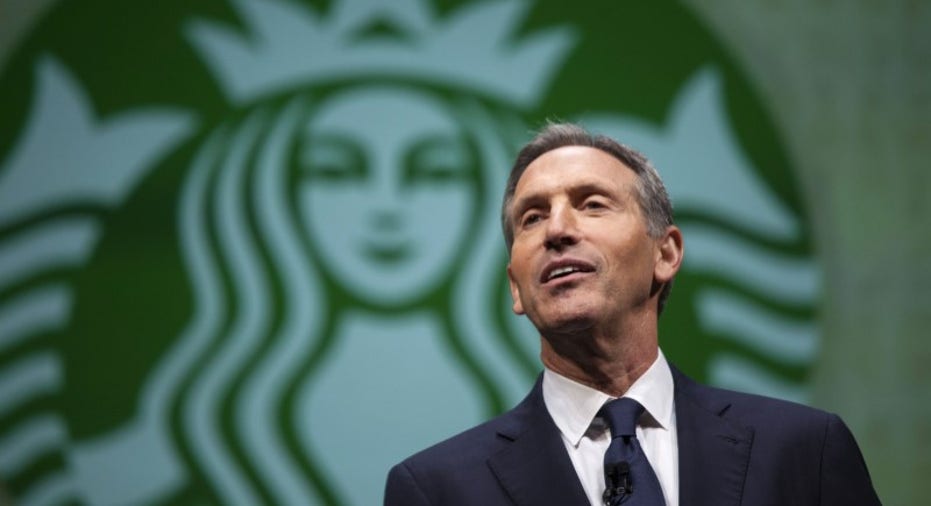 Starbucks Chief Executive Howard Schultz's decision to step down is unlikely to disrupt growth at the world's biggest coffee chain as his successor Kevin Johnson is well suited to take the helm, analysts said.
Starbucks Corp said on Thursday that Schultz would step down as CEO on April 3 to focus on new high-end coffee shops, handing the top job to Chief Operating Officer Johnson, a long-time technology executive.
The company's shares were down 2.6 percent in premarket trading as investors worried that the legendary CEO's exit would spell trouble for the company.
The last time Schultz stepped down as CEO - in 2000 - the company's shares had plunged.
Schultz returned to the top job in 2008. Since then the company's annual sales have more than doubled and its stock has risen six-fold.
"Unlike the period surrounding Mr. Schultz's previous departure, we believe the company is transitioning to a new CEO during a period of strength, with a solid macro-economic backdrop, a strong leadership team, and a robust pipeline of innovation in technology, food, beverages," RBC Capital Markets analyst David Palmer wrote in a note.
Johnson's experience of working with Schultz for nearly two years as well as his technology background, including stints at Microsoft Corp and Juniper Networks Inc , sets him up for the job, analysts said.
Schultz said on Thursday that he had personally asked Johnson to take the CEO job, highlighting Johnson's technology chops at a time when the company is trying to project itself as a pioneer in mobile payments technology.
Starbucks was the first to push into mobile ordering and payments through its app, allowing customers to avoid standing in long lines and forcing rivals like Dunkin' Brands Group Inc and Panera Bread Co to follow suit.
The mobile payments strategy has proved hugely successful - a quarter of all transactions in Starbucks' latest quarter was through mobile phones.
Starbucks' quarterly revenue has risen at a pace of least 7 percent since 2009, much faster than that of Dunkin' and McDonald's Corp .
"While we acknowledge that Schultz is without question one of the strongest and most visionary leaders in the consumer/retail world, we believe the succession planning put in place several years ago assures the recent exceptional performance will likely continue," Wells Fargo Securities analyst Bonnie Herzog said in a note.
Schultz's plans to "premiumize" the Starbucks brand should allow the broader store network to continue to thrive, Herzog added.
The outgoing CEO said on Thursday that in his new role he would focus on building the ultra-premium Starbucks Reserve stores and showcase Roastery and Tasting Rooms around the world.
These efforts come as Starbucks is trying to stave off competition from super-premium coffee rivals such as Blue Bottle and Intelligentsia.
The company opened its first Reserve Roastery and Tasting Room in 2014 in Seattle - Starbucks' birthplace - to roast and sell limited-supply Reserve coffees. It plans to open three more in Shanghai, New York and Tokyo.
(Reporting by Sruthi Ramakrishnan in Bengaluru; Editing by Sayantani Ghosh and Saumyadeb Chakrabarty)