Starbucks CEO Howard Schultz to Step Down, But Not Out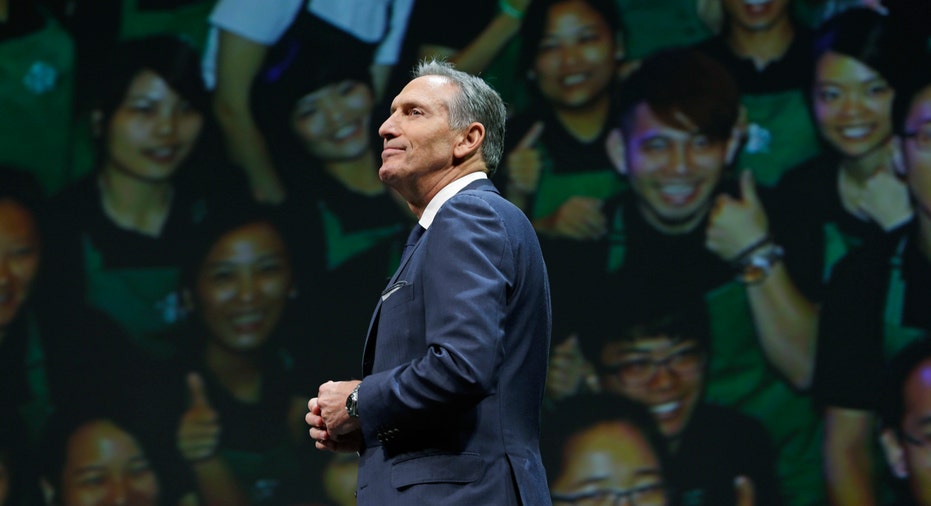 Starbucks (NYSE:SBUX) founder and longtime chief executive, Howard Schultz, will step down from his post in April and assume the role of executive chairman, the coffee giant announced after the closing bell Thursday.
Schultz made clear that although he will no longer lead from the C-Suite, he's not going too far.  During a conference call immediately following the announcement, the CEO explained that he will shift his focus to continued innovation of the chain's retail stores, and growth of its ultra-premium retail formats like the Starbucks Reserve Roastery and Tasting Room it opened two years ago in Seattle.
"I'm here every single day and I'm going to contribute on what I think is a significant growth opportunity to build a new franchise within Starbucks and help the team whenever Kevin and others think it's necessary. But Kevin and the team are in charge," Schultz said.
Stepping in as chief executive will be current president and chief operating officer, Kevin Johnson, who has both served in the role since March 2015 and on the board of directors for seven years.  During his tenure, Johnson helped lead the coffee chain to record financial performance. On November 3, Starbucks announced a 5% increase in global same-store sales for its 2016 fiscal year, 16% growth in operating income, and its most profitable year in its history as a public company. During its fiscal fourth quarter, Starbucks opened 690 net new stores, bringing its store count to more than 25,000 operating in 75 countries.
Johnson's career spans 33 years across industries including a 16-year tenure at Microsoft (NASDAQ:MSFT) and five years as CEO of Juniper Networks (NYSE:JNPR). Given that experience and the close relationship between Schultz and Johnson, the two men reiterated their confidence in their continued partnership to keep growing Starbucks after the leadership transition is completed.
"We are two people that value the diverse perspective or set of experiences that each of us brings together, and cherish what we share in common," Johnson explained. "I see that relationship as a huge asset and certainly I think that relationship will continue to flourish and blossom even with this change."
Still, some on Wall Street worry Starbucks could lose its way without Schultz at the helm. Rob Lutts, Cabot Wealth Management chief investment officer, during an appearance on the FOX Business Network's 'After the Bell' worried the CEO's decision to step back will be a "blow for all shareholders." Shares of the company fell more than 3% on the news in extended trade Thursday.
Still, Schultz reassured investors the announcement, which comes about five months after changes among the company's senior management team, was the final of its planned leadership changes.
Will Starbucks Thrive Without Schultz as CEO?
While the news of Schultz's departure was unexpected to Starbucks fans, it's not the first time he's vacated the CEO seat. In 2000 he departed, only to return eight years later after the company lost its way and shareholders saw the stock drop nearly 50%.
Since then, Starbucks shares have gained nearly 500% on a price basis as Schultz expanded the chain's business strategy – experimenting with high-end retail stores and reserve coffee offerings – as well as café menu items that now include breakfast and tea. The company acquired Teavana in 2012 for $620 million.
In addition to continued focus on premium store and customer experiences, Schultz vowed to remain focused on the company's social agenda, and said he's "never been more energized or exhilarated" in the future of his company.
Schultz, who was raised in the projects in Brooklyn New York, was an early champion of employee benefits. The coffee chain provides broad healthcare for part-time and full-time employees and college tuition coverage for all eligible employees through Arizona State University (ASU).
Schultz, no stranger to social causes, jumped into the election fray. Following Donald Trump's victory, in a letter to company partners he noted he was "stunned" yet advised all to honor the "democratic process".  A portion of the letter reads; "We cannot know what the precise impact will be on our country and the rest of the world. I am hopeful that we will overcome the vitriol and division of this unprecedented election season."