Staples Profit Misses Views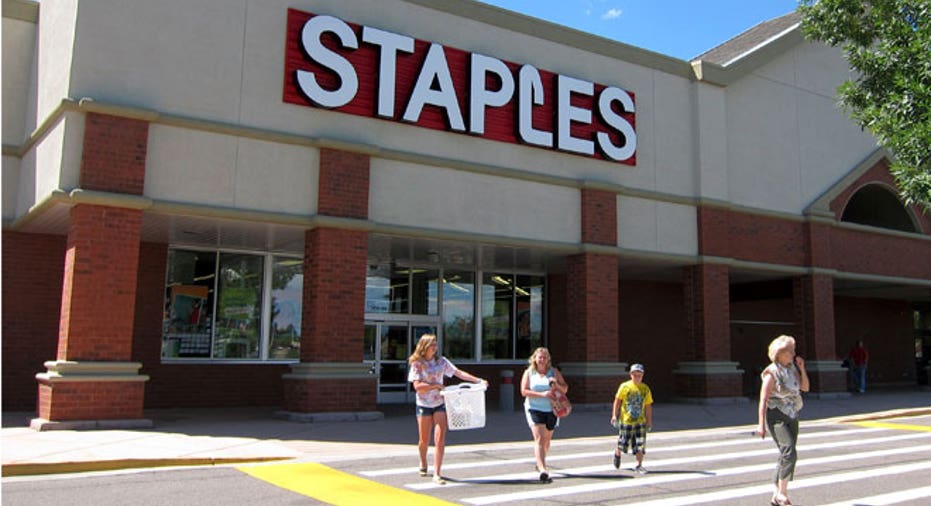 Staples swung to a fourth-quarter profit, though its results came in below Wall Street views, as sales declined while the company continues to seeks regulatory approval for its deal to buy rival Office Depot.
Staples said fourth-quarter sales declines in business machines, technology accessories and mobility offset growth in copy and print, and mail and ship supplies.
Staples Chairman and Chief Executive Ron Sargent said that though the quarterly results were underwhelming, the company had a plan to "get back to earnings growth in 2016."
The Federal Trade Commission filed a lawsuit in December to block the current deal with Office Depot, agreed upon in February 2015, arguing that a tie-up would mean higher prices and fewer options for big companies that buy office supplies in bulk. Staples received approval from European regulators last month.
In a move aimed to please regulators, Staples said in February it had agreed to sell certain wholesale contracts, representing annual sales of more than $550 million, to Essendant Inc. for about $22.5 million. The Essendant deal is subject to the closing of the Office Depot purchase.
Office Depot last month reported softer than expected fourth-quarter earnings and revenue amid market headwinds and store closures as the company, along with Staples, eagerly seek to gain approval for the tie-up. The U.S. Federal Trade Commission rejected Staples' first attempt to buy Office Depot in 1997. In 2013, the agency approved Office Depot's takeover of the smaller OfficeMax.
Staples results for the fourth quarter came amid a declining market in an increasingly digital workplace. In North America, the company closed 12 stores in during the quarter, with 73 total closures last year. Staples said it expects to close about 50 North American stores in 2016.
In all for the quarter, Staples earned $86 million, or 13 cents a share, compared with a year-earlier loss of $260 million, or 41 cents a share. Excluding items, such as certain charges taken a year ago, Staples earned 26 cents a share, compared with 31 cents a year ago.
Revenue slipped by 6.9% to $5.27 billion.
Analysts surveyed by Thomson Reuters had projected per-share profit of 28 cents on revenue of $5.41 billion.
Comparable sales slipped 4% from a year ago. Over all, North American sales fell 9.3% to $2.45 billion.
Staples shares, down 20% over the past three months, were inactive premarket.
Write to Joshua Jamerson at joshua.jamerson@wsj.com